Event: Glassilaun War Paint Named Champion; Doube Deuce Sage, Runner-Up
Result: U. S. Complete Open Invitational Championship
Location: Mcbee, South Carolina
Post Date: Mar 17, 2023
Submitted By: Margaret C. Drew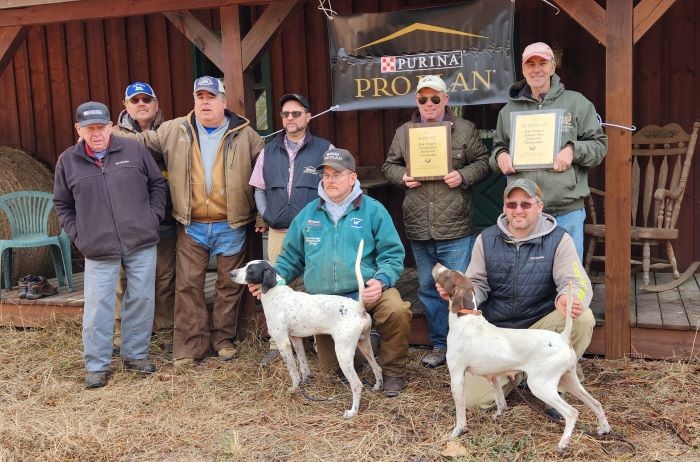 U.S. Complete Open Invitational Championship Winners (standing, from left): Earl Drew, Tony Bingham, Lefty Henry, Robert Ecker, Jamie Nee, and David Huffine. (Front, from left): Gary Miller with Glassilaun War Paint, and Mark Hughes with Double Deuce Sage.
The United States Complete Shooting Dog Association, founded in 1981, was established on the foundation to improve the quality of pointing breeds. Today most of the participants are pointers and setters. The goal (or standards for judgment) is a dog that covers a prescribed course while showing bird sense, independent hunting, and remaining in contact with the handler to some degree. These dogs' range should be so that a walking hunter could shoot at birds located by the dog. There should be no extremes of closeness or distance, although this objective remains controversial in today's trial events. However, those objects which remain a priority are a dog with extreme class, style pointing, and stamina in run. These dogs must show that they can adjust their gait and range as the terrain of the course changes. Excellent manners around birds are a must.
The invitational calls upon 12 dogs, chosen from the points accumulated during the calendar year from trial placements. Sometimes an eligible dog declines to come, and the next dog on the list is invited until 12 is reached. The preceding year's winner is invited to attend.
Those accepting the invitation for December 2022 at the Sawtooth Plantation in McBee, S. C., were: Double Deuce Zeke (PM/Douglas McMillen, Jr., owner); Hirollins Gone and Doneit (PM/Warren Parrott, owner); Bo of Piney Woods (PM/Richard Warters, owner); Glassilaun War Paint (PM/Jamie Nee, owner); Smoke Rise Jake (PM/Fred Rose, owner); Miss Penn Star (ESF/George Najor, owner); Double Deuce Sage (PF/Douglas McMillen, owner); Dun Rovens Midnite Ike (ESM/Peter Millett, owner); Little Miss Margaret (PF/Timothy Cavanaugh, owner); Suemac's Sashay (PF/Roger and Suzie McPherson, owners); Sterlingworth Jack (ESM/ James Millett, owner); Kendal Hills Dawson Creek (PM/Tim Tuffs and Tim Perschke, owners).
These five setters and seven pointers ranged in age from 2.5 to almost 11 years, with an average age of 6. Reviewing the pedigrees of those competing, I noticed five entries heavy with Champion Chasehill Little Bud's parallel genes (Kendal Hills Dawson Creek, Suemac's Sashay, Smoke Rise Jake, Little Miss Margaret, and Bo of Piney Woods).
The handlers were once again Robert Ecker (Pa.) with five, Mark Hughes (Pa.) with four, joined by professionals John Stolgitis (R. I.) and Tony Bingham (N. C.), with one each, as well as an amateur, Warren Parrot (S. C.) with one.
The U. S. Complete Shooting Dog group had voted at the annual summer meeting to have this open event hosted by the association as usual, with President Chris Catanzarite chairing the event this year; however, due to health issues, Chris delegated the running to several folks. Ecker obtained the plagues, Catanzarite obtained judges' gifts, Bingham made arrangements for the grounds, brought 150 additional quail, and ensured there were lunch fixings. Thanks to John Ivester and Lefty Henry for arranging the use of the Sawtooth Plantation and helping lay out the course. The plantation provided a dog/people wagon. Judging the trial was "Lefty" Henry and David Huffine. Larry Wade volunteered to bring his ATV and plant birds on both days. Rich Waters drove the dog wagon on Monday, and Earl Drew drove it on Tuesday. Your reporter was Margaret Drew. Purina sent coupons for the champion and runner-up.
The Winners
The champion was awarded to Glassilaun War Paint, PM, owned by Jamie Nee from Cape Cod, Mass., and handled by Robert Ecker from Quakake, Pa. The judges commented on his classy and forward race, always strong on the ground from beginning to end on both days. On day one, his race was all that, although he had only one find. The runner-up went to Double Deuce Sage, PF, owned by Douglas McMillen from Dubois, Pa., and handled by Mark Hughes from Grampian, Pa. Sage's first-day performance was a pleasing animated race consistent from beginning to end while scoring four finds, a nonproductive and one back. *Both of these races are included before.
Brace No. 3 on day two called the eventual winners to the line. This brace had both dogs named to the winners' circle, so I have left the hour for you to read as it occurred. Double Deuce Sage, PF, with Mark Hughes and Glassilaun War Paint, PM, with Robert Ecker. It was 11:12 as both dogs received the command to hunt and began their way down the walking path. Both dogs checked in a few times before setting out on a hunting course.
At 6, we found the pair standing, Sage pointing and War Point backing. Hughes quickly made his way to the front as he saw a quail walking across the path. The bird was flown, shot taken, and Sage happily awaited the handler's tap to return to hunting. Nearing 11, Sage stood tall again, proud to await Hughes to flush her located quail. She watched the flight but awaited the handler's ok to resume hunting. War Paint had already exited the clearing, made his way along the lower pathway, and was making his way through the cover along the fence line where he stopped to point, his erect posture and good bird manners flawless at 14. Sage had point called about of the way through this area just above War Paint's point. It looked like Sage would get a nonproductive; however, handler Hughes gave Sage one last relocation attempt. She did not disappoint but systematically covered the area and stopped with a new determination.
Hughes walked in and pushed a quail to flight. Good manners on a good relocation by Sage. During this lengthy situation, War Paint had made his way up the right outer edge, crossed the green deer plot, and moved on out of sight. At 22, War Paint had point called by the scout for a nice limb find. As handler Ecker walked a flushing arch, Sage approached and stopped to honor War Paint--a very nice piece of birdwork for both dogs. The pair moved forward and were seen crossing in the front as they knew where feed plots were and where birds would be waiting. At 26, Sage stood with War Paint coming in to back. Both dogs, pleased with the find, accepted a drink and returned to hunt. By 32, War Paint treated all to a display of his power on the ground and his stylish gait as he moved forward along the ridge; however, our attention was diverted when Sage had point called as she stood just inside the feed plot adjacent the course. The well-indicated quail was flushed and then turned over her head. Sage remained standing. Hughes flushed a nice covey at 40 for Sage which allowed us a good photo opportunity. At 44, War Paint stood casually with Sage backing. This stand required a relocation, which was handled well by all. Four minutes later, War Paint was pointing again with quail easily flushed by Ecker. The hour finished with two dogs swinging in front, still eager to show handlers where the quail were. Sage required some coaxing on a long cast before she returned to the handler, and War Paint promptly returned. Even before we had run all the dogs, the gallery knew they had just observed two races which would have made a great panoramic video of how dogs should hunt, with speed and style displayed in their intelligent patterns taking them near and around feed plots.
The Running
Day one found all 12 nominees present and eager to get started. The first brace called upon Dun Rovens Midnite Ike, ESM, owned by Peter Millett, under the training of Robert Ecker as bracemate with Double Deuce Sage, PF, owned by Douglas McMillen, Jr., under the guidance of Mark Hughes. Peter's father, James Millett, was present to watch Ike's performance. The opening brace had participants eager to check out these grounds at the Sawtooth Plantation in McBee, S. C. Although many trials have been held here, this area was new to the U. S. Complete group. The cover was high in some areas due to a dry summer and no frosts yet having occurred this fall; consequently, we were not surprised that we could not see Sage only twice and Dun Rovens Midnite Ike once until birds stopped the pair for a divided find at 7.
With all in order, birds were flown, shots taken by handlers, and the dogs returned to hunt. At 9, Sage had a nice find with Ike having point called a litter further to the right of the course where a sizeable covey was flown. Ike covered the ground with a pleasing gait, hitting the birdy areas with three more quail flown before he had to back at 34. Ike was reaching forward and easily seen with his large white body bouncing around. He had a single at 13 and hit the cover with purpose before standing at 34. As he awaited the handler, he lost a little intensity, especially as Sage approached and backed automatically. With the pair hunting to the front, the next piece of birdwork was seeing Sage point just off course. Ike had a commanded back at this time. Sage scored a nonproductive when a relocation attempt did not produce quail. Ike hunted diligently, scoring additional quail at 44, 48, and 54, although he was slightly fatigued as the hour continued. He responded to the handler when called for pick up. At pick-up, Sage had cast to the left over a knoll which should have crossed her to our front as the course meanders in that direction; however, it was 12 minutes before we spotted her, and she was put in the dog wagon box.
This first brace had exposed the new guests to the beauty and easy flow of the course for horseback and now walking dogs at Sawtooth Plantation. A big thank you to owner John Ivester of Sawtooth Plantation and Robert (Lefty) Henry, his trainer, and groundskeeper, who was one of our judges these two days.
Brace No. 2 called Ecker to the line with Sterlingworth Jack, ESM, owned by James Millett, who was present to watch. Bracemate was John Stolgitis with Little Miss Margaret, PF, owned by Tim Cavanaugh. Little Miss Margaret, just two and half years of age, was the youngest to participate. These two dogs pounced forward with eagerness. Miss Margaret took to the cover, leading her to a point well off course at 7. Her staunch and tall indication rewarded with a large covey that thundered skyward, including even more lifting as the handler took Miss Margaret back toward the course.
Jack had trekked briskly forward, stopping at the edge of a feed strip at 10. When nothing was flown, Jack was tapped on. He took two steps and stood loosely until the handler flushed a quail. At flight, he sidestepped slightly, but to no real fault. He was quickly released to catch the front; however, Margaret was standing near the opening of the woods area entrance, and Jack chose not to go back. Jack's fly-by did not phase Margaret, continuing her point, although handler Stolgitis did not produce quail. We caught up to Jack at 17, where he stood again and was picked up due to his nonbacking situation. Margaret zipped through the cover with all the style and power one would want in a slight pointer female. She located a dead quail in the woods at 25 as we entered the lower field after exiting the woods. From this time on, her performance fell apart. At 27, she spun around and helped point for a good flush and shot by the handler. She had a nonproductive at 31, followed by a second at 38. Her hour came to a close.
Brace No. 3 found Ecker again, this time with Glassilaun War Paint, owned by Jamie Nee, who was present to watch and share many shots and videos online. He was accompanied by his friend Mariangela. This was her first field trial; what a great experience for her. Bracemate was Mark Hughes with Roger and Susie McPherson's PF, Suemac's Sashay. We did not see much of these two as they reached forward, sometimes seeming independent, although always returning or crossing in time to be considered hunting with the handler.
War Paint was found standing well to the front at 10. A point was called, and the handler approached; it seemed as if Sashay had heard and slid into view for a back. War Paint stood in the awesome tall and tight poise he is known for today for a lengthy search. When Ecker found no quail, the dog was tapped to relocate, which he did quickly. This time a single was flown, shot taken with all in order, and on we went. As we made our way around the hour course, Sashay had a perfect in every way stand for a single quail to be flushed and shot taken at 19. She cast outward, sometimes very independent of the handler, sometimes in a spiral pattern before marching to the front or checking in with handler Hughes. She had a good find at 38, followed by a down the hillside into the deep cover for a find at 41. She finished her hour primarily out of sight. War Paint was seen making his way thru the woods, along the fence line, and then popping out in front most of his hour, causing his range to be a little inconsistent although very animated to watch. It was reported that he had a bird contact at 40, which I missed. Following a brief lunch of self-made sandwiches, brace four was put on the time clock.
Hirollins Gone and Doneit, PM, owned and handled by Warren Parrott, was braced with Miss Penn Star, ESF, owned by Dr. George Najor with Ecker. Miss Penn Star is a slight female who has graced the field trial scene for almost 11 years. She started with Donald Terrell over ten years ago and has been with Robert Ecker's Midnight Kennels team ever since. She will be eleven in January. The first we saw of Penn Star after the breakaway was at 16, with her standing deep in the feed plot to the right of the pathway into the wooded area.
We had seen Doneit hunt his way forward, requiring a little scouting, but with the official party. We now found him backing Penn Star. A large covey was flown, and both dogs praised and watered as they were returned to hunting. We saw these two dogs infrequently during their hour. At 25, Doneit stood, although the handler had to tap the dog before he could indicate the quail for the handler to fly. Shot was taken with all in order. At 28, he scored a small covey with nice manners, even when bracemate Penn Star approached from the lower edge, was watered, and taken around him. Doneit had another covey at 48 and stood again at 56 when bracemate Penn Star came in to back. When these dogs were gathered up, watered, and about to be tapped on, their hour ended.
Brace No. 5 asked for Bo of Piney Woods, PM, owned by Rich Warters, who was present and drove the dog wagon. Ecker is Bo's trainer and handler. Bracemate was last year's winner, Double Deuce Zeke, PM, owned by Douglas McMillen, Jr., and handled by Mark Hughes. Bo ranged out of sight for the first quarter of the hour, returning down the path to point. It looked like all was in order, although he lost some style and had to take a nonproductive when no birds were located. Zeke was piling up the quail finds and looking good doing it. Beyond the water hole, the course opens up, and you ease up a slight knoll. Both dogs were halfway up
this knoll, stopping, and soon we watched Bo under several lifting quail. His hour was now complete and uncharacteristic of him. Zeke covered the ground with a pleasing gait and located quail with ease. He scored finds at 14, 20, 25, and 33. On 33, the bracemate joined for a back. Zeke continues to search all the right spots with good animation and at a good range. He stood again at 50 and 55. In an attempt to avoid an unproductive, he was asked to relocate while standing in the feed patch, causing quail to lift before he could get stopped. His hour came to a close with three minutes to go.
The final brace of day one called upon Kendal Hills Dawson Creek, PM, owned by Tim Tufts and Tim Perschke, with Mark Hughes, to be braced with Smoke Rise Jake, PM, owned by Fred Rose, although handled by Tony Bingham. Jake was qualified to run in the championship by Fred placing him in the Southeast Championship last March at the Hoffman Field Trial grounds. Due to illness, Fred could not attend; therefore, Bingham was the handler. Kendal Hills Dawson Creek and Smoke Rise Jake earned the status of Dog of the Day. The judges stated that Jake's marvelous old style on point and best ground application of the day, including the day's best finish, earned him the title. This brace was by far the most exciting of the day. Dawson Creek had a good breakaway as he got down to business immediately, showing everyone how a bird dog should hunt and locate quail, including three perfect finds at 6, 12, and 22. He shortened his range as the hour progressed, and his intensity was slightly minimized. Jake was strong on the ground, although a bit too independent sometimes. He swung through the cover with a strong stride moving to the front always. He had a stop to flush at 8, followed by three good finds at 24, 40, and 53. Both judges and the gallery spoke of the sportsmanship shown by Tony Bingham toward Mark Hughes on one of the finds. Someone in the gallery called point for Jake as he ranged out on a great cast. After walking some 300 feet and starting to flush, Bingham noticed Dawson Creek down over the knoll deep in the cover. He called to Mark, and
he and Jake awaited handler Hughes to reach his dog. Birds were flushed with all in order all around. When this brace reached the 60-minute mark, the gallery knew they had seen two very challenging performances and probably the most exciting race of the day. This pair had good range and style, plenty of bird sense resulting in multiple finds in various spots, and good sportsmanship by both handlers.
Day two recalled eight dogs with clean first-day performances. As the morning and afternoon dogs are reversed for day two, Kendal Hills Dawson Creek, PM, was drawn as top dog with Mark Hughes, and bracemate Hirollins Gone and Doneit, PM, with Warren Parrott. Hilrollins Gone and Doneit was wide open from the "get-go," although obediently stopping for birds at 6. It looked like the beginning of a great hour until the handler flushed quail from a thick cover with Doneit taking the liberty of eager, happy feet, which cut his hour short. From his find at 8, Dawson Creek took a wide swing forward, taking the lower edge of the course straight forward where the course turns left up a slight knoll. His pace was consistent, and his range was acceptable from start to finish showing his desire to hunt and please his handler. At 26, he got a brief rest while the handler had difficulty flushing. After a lengthy flush, two quail lifted, a shot taken, and Dawson Creek watered before being taken back to the course. With his "second wind" gathered, Dawson Creek hit every possible bird spot, again dropping down to hunt the edge of the fence line, seen only by the scout at this time. Scout soon called point. The handler and judges made their way to see that all was handled well by the handler and dog. The dog was returned to the course, where the gallery and dog wagon awaited. At 54, the second weak bird was found while attempting to flush for Dawson Creek. The quail was scooped and tossed, shot taken, and we moved on. Bird planter Larry Wade picked up the bird to not distract other dogs yet to run. His hour continued with judges recording a point well off the left, at 56, just beyond a feed patch; however, this stand resulted in a nonproductive.
Brace No. 2 of day two called Smoke Rise Jake, PM, with Bingham and Miss Penn Star, ESF, with Ecker. It was 10:04 when this brace broke away. Jake is a bigger pointer male and used his power as if shot from a slingshot off the line. The slighter Miss Penn Star was not too outdone; she disappeared down the walking path and was out of sight. Scouts were dispatched for both dogs as the cover in this opening 15 minutes is pretty high, and the terrain is rolling. No dogs were seen as we entered the wooded path into the wooded area. At 16, Penn Star was found pointed. Handler flew a single, and she happily awaited to be tapped on. She located and pointed three more quail spots in the next 30 minutes. Her race was consistent, from start to finish, making many distant casts where we could watch her hunt. She had more birdwork at 47, 55, and 59 bringing her total to seven. At 55, we watched her swinging distantly to the left and making her way forward. She altered her gait and soon showed us how a great hunting dog handles a wild bird hunt. She had to wait for the long walk by the handler and judges, but wait, she did, and all was flushed and handled with good manners. The judges had been given two days of good bird hunting to evaluate; now, they had to consider range, pattern, and moving and pointing styles.
Brace No. 3 on day two called the eventual winners to the line. Double Deuce Sage, PF, with Mark Hughes and Glassilaun War Paint, PM, with Robert Ecker. This exciting brace is covered with the winners above.
Brace No. 4 came to the line after a brief break calling upon Dun Rovens Midnite Ike, ESM, with Ecker and Suemac's Sashay, PF, with Hughes. We saw each of these two dogs only once in the opening minutes. At 8, Sashay was found standing in an open high broom straw area just before the walkway into the wooded section of the course. When attempting to flush, Hughes found Ike buried in more tall cover to the right. As a gentleman, Hughes called to bracemate's handler, Ecker, and awaited his arrival before continuing the flush. No bird was produced, and Sashay took a nonproductive. As the two moved down the walkway, Ike continued running with his animated and classy style reaching from side to side as he moved around the course. Ike had unproductives at 29 lifted from the side of the woods where Ecker was walking, and 47, bringing his hour to an early closure. Sashay moved more easily on this second day, having a more mature pattern in a forward motion.
Sashay backed Ike at 29 but ended her hour early with a stop to flush at 47.
McBee, S. C., December 12 - One Course Judges: Robert Henry and David Huffine
U. S. COMPLETE OPEN INVITATIONAL CHAMPIONSHIP [One-Hour Heats] - 9 Pointers and 3 Setters
Winner--GLASSILAUN WAR PAINT, 1667331, pointer male, by Sugarknoll War Paint-Neely's Hot Pepper. Jamie Nee, owner; R. J. Ecker, Jr., handler.
Runner-Up--DOUBLE DEUCE SAGE, 1673986, pointer female, by Double Deuce Peter-Funseeker's Holiday. Douglas McMillen, Jr., owner; Mark Hughes, handler.