Event: Miller's Upgraded Version Named Champion; Rentz's Hijacked, Runner-Up
Result: National Amateur Shooting Dog Invitational Championship
Location: Leslie, Georgia
Post Date: Mar 15, 2023
Submitted By: Cayla Key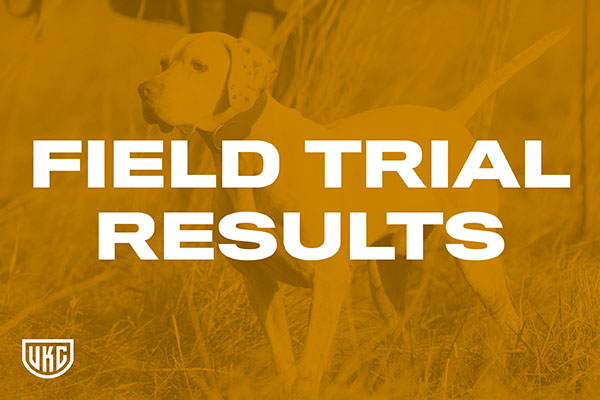 The Amateur Field Trial Clubs of America held its 41st running of the National Amateur Shooting Dog Invitational Championship December 10-12 at the beautiful Round Pond and Pretty Pond Plantation in Leslie, Ga. The top 12 dogs with the most invitational points earned were competing. Miller's Upgraded Version, owned and handled by Jack and Fran Miller, was declared the true champion. Rentz's Hijacked, owned and handled by Joe and Trish Rentz, claimed the runner-up title. A crowd gathered Thursday evening for dinner hosted by last year's winner, Ross Leonard; a special thank you to him. We would also like to thank Sandy, Pam, and Neil Walker for allowing the AFTCA to run this prestigious event on their plantation. Introductions, acknowledgments, thanks to hosts and sponsors, and rules of the championship were conducted.
The judicial saddles were ridden by two well-known, very successful dog trainers, John Mathys and Scott Jordan. This incredible duo judiciously watched all the contenders during the two-and-one-half days of competition. Their time and effort were appreciated. It was an honor to have such accomplished and knowledgeable bird dog men for judges. Also, we would like to thank Cayla Key for riding and reporting this trial.
Round Pond and Pretty Pond Plantation was in mint condition, with plenty of Bobwhite quail throughout the plantation. Tracy Swearingen does a great job managing and tending to all aspects of the plantation along with his sweet wife, Christy. The AFTCA is fortunate to have Purina and Garmin as their sponsors, along with Bruce Fox plaques. Their support and all they do for the AFTCA are appreciated. Dog food was awarded to the winners. Bruce Fox plaques were presented to the eventual winners. Heartfelt gratitude to Greg Blair and the Purina team for all they do for this sport we love. Tracy Swearingen and Neil Walker did an excellent job preparing the grounds for this trial. Thanks to Tracy Swearingen for marshaling every brace and Al Swearingen for driving the bird buggy. Christy Swearingen and Debbie Hofer helped prepare lunch and dinner daily. We would also like to thank the Walkers for allowing us to keep this incredible trial on their beautiful grounds. If it weren't for them, we would not be able to put on this fantastic trial.
The Champion and Runner-up
Miller's Upgraded Version, owned and handled by Jack and Fran Miller, topped the field finishing the last day of the callbacks in dramatic fashion earning the championship title. His performance kept you high in the saddle as he impressed with each step displaying strength, high style, and lots of class. His performance was solid, with plenty of reach as he hunted diligently and pointed birds with handsome style and perfect manners on each find. The final day separated himself as the deserving champion from the two-and-one-half days of the competition. On day one, he pointed at 16, 42, and 51. He scored a divided find at 26 with his bracemate, Nickajack Pathfinder, owned by Ross Leonard. On day two, he pointed at 5 and 18. During the callback, he chalked up finds at 8, 15, 20, and 42. He also backed his bracemate, Rentz's Hijacked, owned by Joe Rentz, at 2. He displayed a strong race, consistent and solid all three days. Every find on all three performances displayed high style and impeccable manners. The bar had been set at the end of his last performance, and a true Invitational champion was on top.
Rentz's Hijacked, owned and handled by Joe Rentz, was all heart throughout the competition, with a solid drive hunting with each step. He was all class with excellent overall performance throughout his three-day bid. On his birdwork, all three days of competition, he stood beautifully with impeccable manners. On day one, he ran a beautiful race with no birdwork. On day two, he chalked up finds at 4 and 26. Each step he took displayed high class. During the callback, he scored at 2, 14, 19, and 26. He backed his bracemate, Miller's Upgraded Version, at 8. He impressed with a forward race claiming the Invitational runner-up title. His performance was consistent on all three days.
Day one was a beautiful sunny day with humid temperatures. Lone Tree Splish Splash (Owen) stepped out quickly, seen at her first find at 6. She also backed her bracemate, Miller's Packing Heat, Miller, at 2 and 25. Miller's Packing Heat (Miller) was solid in her hour bid, scoring on 2, 25, 45, and 55. She had bird hunting on her mind.
Seekin A Thrill (Leonard), impressed with a reaching front ground race complimented with finds at 23 and 37. He displayed high class and perfect manners.
One Day Lucky Strike (Hodges) was classy and quick on his feet, showing an excellent hour bid. He chalked up a find at 44.
Lester's Top Recruit (Servais) displayed perfect manners and style.
Calico's Guns N Roses (Smith) put down a strong ground race with bird work at 4 and 14. She had a beautiful high style and a solid forward race throughout the hour.
J Maple Jester (Hughes) was strong and quick with finds at 6, 14, 50, and 54. She suffered an unproductive at 43.
Southern Shadows T Rex (Servais) was fast on the go, scoring at 23 and 26. He put down a strong ground and impressed with strong class and manner.
Warioto's Crazy Daisy (Little) put down an excellent, classy performance with four beautiful finds at 4, 11, 39, and 56. Throughout his hour, he put on a solid forward race impressing the judges.
Nickajack Pathfinder (Leonard) ran a good race throughout the hour with handsome style, scoring at first with a divided find with his bracemate, Miller's Upgraded Version (Miller).

Thank you to everyone who came out and supported this trial and to all the handlers and scouts who participated. We couldn't do this without you all.
Leslie, Ga., December 9
Judges: Scott Jordan and John Mathys
NATIONAL AMATEUR INVITATIONAL SHOOTING DOG CHAMPIONSHIP [One-Hour Heats] - 12 Pointers
Winner--MILLER'S UPGRADED VERSION, 1674987, pointer male, by Just Irresistible-Miller's Bring The Heat. Fran & Jack Miller, owners; Fran Miller, handler.
Runner-Up--RENTZ'S HIJACKED, 1696866, pointer male, by Redland's Jacked Up-F F Bit O'Honey. Joe & Tricia Rentz, owners; Joe Rentz, handler.