Result: Northern Michigan Cover Dog Championship
Location: Gladwin, Michigan
Post Date: Mar 10, 2023
Submitted By: Shane Haskin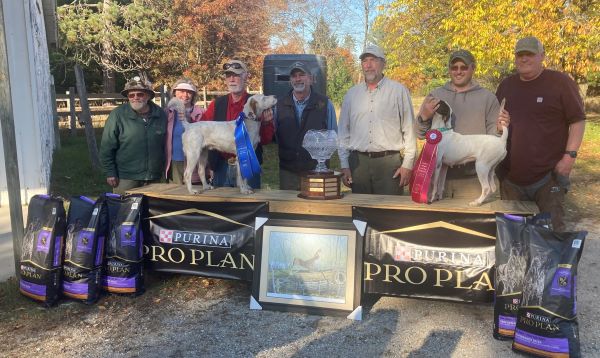 Northern Michigan Cover Dog Championship. From left: Bryan Wood, Stakes Manager, Fran Holmes. Dr. Harold Holmes and Travel Alert, Judge Dave Hawk, Judge Bob Wheelock, Mark Hughes and Braggabull, Dave Hughes.
The Beaverton Grouse Dog Club hosted the 2022 Northern Michigan Cover Dog Championship and companion stakes from October 18-23, at Alibi Hall in Gladwin, Mich. Bryan Wood was the Stakes Manager and did an excellent job keeping the pace moving throughout the five busy days and getting all the hour-long braces in with the limited daylight.
A special thank you to the judges for their time in the saddle in less-than-ideal conditions and to the Hollister family for their horses and the continuous help around the grounds. Wayne and Marlene Fruchey were wonderful hosts making sure both handlers and gallery had snacks and warm coffee each morning. Successful events like this cannot be done without the contributions of many both inside and outside of the club.
Another special thank you to Greg Blair and the continued support of Purina and their contribution to food for the winners. Running conditions were tough the first part of the week due to very high winds and temperatures in the 20's to low 30's. Snow and/or rain graced most of the braces the first two days keeping the bird finds to a minimum and the Handler pickups plentiful. It was easy for the dog and handler to get separated due to the noise of the winds in the Michigan Northwoods.
The weather decided to cooperate a bit more later in the week when the scenting conditions improved as the winds died down and temperatures became more favorable. After five days and thirty-six braces, judges Dave Hawk and Bob Wheelock agreed the top spot should be awarded to Travel Alert (Buster) owned and handled by Dr. Harold Holmes of Flint, Michigan. Buster ran in the 11th brace near the end of day two while the conditions were still difficult. The strong running male Setter made quick work of the course and scored a perfectly handled grouse hunkered down in a wet swale at the 2-minute mark. Once released, Buster continued running a forward and strong race hitting the preferred cover and had a perfect Stop to Flush of a grouse at minute 48. Buster required minimal handling and ran with little interference while putting on an impressive performance.
The runner-up was awarded to Braggabull, who is owned by Mark Hughes and was handled by his father Dave. The female pointer ran in the 22nd brace at the end of day 3 and had two fancy grouse finds (35' and 57') and one of her many deep casts led to a perfectly handled woodcock at minute 45. Even after the bracemate was picked up halfway through, the strong running Pointer ran with even more intention and grit and made many beautiful casts throughout the course.
Meredith, Mich., October 18
Judges: Dave Hawk and Bob Wheelock
NORTHERN MICHIGAN COVER DOG CHAMPIONSHIP [One-Hour Heats] - 26 Pointers and 45 Setters
Winner-TRAVEL ALERT, 1665621, setter male, by Moss Meadow Traveler-Wild Katrun. Dr. Harold Holmes, owner and handler.
Runner-Up-BRAGGABULL, 1670091, pointer female, by Bully Bragg-Bullerina. Mark Hughes, owner; Dave Hughes, handler.
BEAVERTON GROUSE DOG CLUB
Judges: Brandon Short and Mike Singleton
WOLVERINE DERBY CLASSIC - 6 Pointer and 11 Setters
1st-COUNTRY ROADS ACER, 1696811, setter female, by R C Spring Collins-Ruffed Country Belle. Chris Wasserman, owner and handler.
2d-MEREDITH GRADE LANGSHOT, 1699460, setter male, by Pine Straw Black Hawk-Pine Straw's Tupelo Honey. Dennis Keysor, owner; Scott Chaffee, handler.
3d-ROCK SOLID LILLY, 1694966, setter female, by Rock Solid Romeo-Rock Solid Reba. Douglas J. Dix, owner; Marc Forman, handler.
Judges: Reggie Durant and Jeff Sweet
OPEN SHOOTING DOG - 7 Pointers and 20 Setters
1st-BLUE RIBBON HARPER BELLE, 1682768, pointer female, by Bud of Piney Woods-Blue Ribbon Belle. Martin Festa, owner; R. J. Ecker, Jr., handler.
2d-DUN ROVENS MIDNIGHT IKE, 1685001, setter male, by Ponderosa Mac-Moonshine Cherry. Dr. Peter Millett, owner; R. J. Ecker, Jr., handler.
3d-RAMAPO MOUNTAIN DOC, 1680932, pointer male, by Bo of Piney Woods-Sweet Valley Stevie Nicks. Robert Shaban, owner; R. J. Ecker, Jr., handler.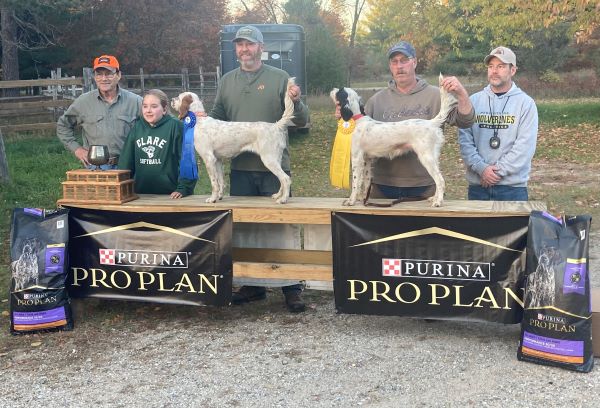 Wolverine Derby Classic. From left: Judge Mike Singleton, Josie Wasserman, Chris Wasserman and Country Roads Acer, Marc Forman and Rock Solid Lilly, Judge Brandon Short.