Result: Arizona Open Shooting Dog Championship
Location: California City, California
Post Date: Mar 9, 2023
Submitted By: John Beauchamp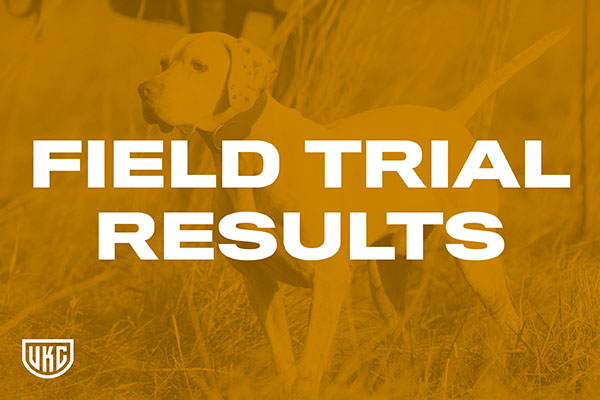 The Arizona Open Shooting Dog Championship was cast off the morning of Wednesday, January 11, following the conclusion of the Wally Wallace Derby Classic. The weather forecast had been for half an inch of rain before cast-off; the forecasters were off quite a bit. It started raining Tuesday afternoon and continued most of the night. The dog bowls left out overflowed Wednesday morning, and sheets of water had flown through camp overnight. But to our surprise, we had cool, clear conditions and, at times, breezy conditions on both days of running. The desert was soaking up the water quickly, and the coarse soil meant no mud. And for once, there was no wind in California City, so overall, very nice conditions for the championship.
We partnered with the AKC club running weekend trials before and after our stakes, and used their equipment. So, we had a large tent to cook and eat in, the port-a-potties were in place, and a water trailer. This minimized the set-up duties and allowed for cost sharing. The number of people participating in and supporting field trials is shrinking fast in the west, so we must look for opportunities to engage others where possible. This was a big help.
As with most western trials, we run on liberated birds. Unfortunately, we got stuck with very young birds this year. Quite a few died each night, and more in the field, resulting in dead-bird points, which was very disappointing. Almost all the braces had bird contact, and 75% of the dogs had birds. The winners distinguished themselves with multiple finds and quality bird work.
The championship was well contested, and the judges had several dogs to discuss. There were 18 starters (eight German shorthairs, seven pointers, and three setters). All looked good on the course, and none required excessive scouting. All were able to be rounded up at the close of each brace, making it a pleasant stake for the spectators.
Crowned champion was Aunt Troji's Dirty Nike ("Nike"), handled by owner Larry Metter, with Almosta's Wilma Flintstone ("Spot"), handled by John Beauchamp, in the sixth brace. Both dogs started well and crossed the big wash about the same time. Nike scored her first find on a hilltop in a rock cluster. It was a striking find, with the morning sun silhouetting her. Spot backed her at a good range. All was in order for both dogs. The brace continued up the drainage and around the corner. At this point, the dogs separated, with Nike taking the lead and going on to more clean finds and the sparkling ground race.
The runner-up champion, Tucalota's Rebel Rush ("Rush"), handled by owner Ed Mayhew was up in the fourth brace with Spec, handled by owner Tom Griffin. Rush ran a solid forward brace, requiring minimal scouting. Rush carded two clean finds with all in order, putting down an excellent performance for the entire hour.
Thank you to our judges, Greg Knight and Warren Esserman, who gave all the dogs a good look and were always in position.
Mr. Glenn Johnson, a bird dog man but not a field trialer, was considerate enough to run the dog truck. We were camped at Camp H but running most of the old grounds by the old corral, making for a long ride to the cast-off. And a real challenge for the dog truck is to load up six dogs, scramble back to camp after the third brace for the fourth and get out to the far end of the courses. There were no delays, nice work Glenn. The distance from camp to cast-off also made the bird planting difficult each morning; we want to thank Terry Erickson and Ed Dixon for dragging themselves out of bed and getting rolling in the dark. We were cast off at 8 a.m. daily.
And, of course, thanks to Purina and Greg Blair, who supported us again this year. Having worked with Greg for a few years, I know he is always responsive, timely, and accurate. With all the challenges and changes one may encounter in planning and executing these trials, Greg is a person you can count on.
SportDOG generously provided e-collars for the winners, and they were greatly appreciated.
Finally, Region 12 would like to thank Bruce Hale for taking the lion's share of the planning. I can't sign off without thanking my wife, Patti, for pulling the lunches together.
California City, Cal., January 11
Judges: Warren Esserman and Greg Knight
ARIZONA OPEN SHOOTING DOG CHAMPIONSHIP [One-Hour Heats] - 7 Pointers, 3 Setters and 8 German Shorthairs
Winner--AUNT TROJI'S DIRTY NIKE, 1668620, German Shorthair female, by Hardcore High N Tight-Dcr's White Sky. Larry Metter, owner and handler.
Runner-Up--TUCALOTA'S REBEL RUSH, 1662661, pointer male, by White Powder Grip-Rivertons Funseeker Riley. Ed Mayhew, owner and handler.