Event: 2022 Swamp Fox Classic Bully Rock Wins 2022 Running
Result: Cock-N-Fire Field Trial Club
Location: Hoffman, North Carolina
Post Date: Mar 6, 2023
Submitted By: Roger McPherson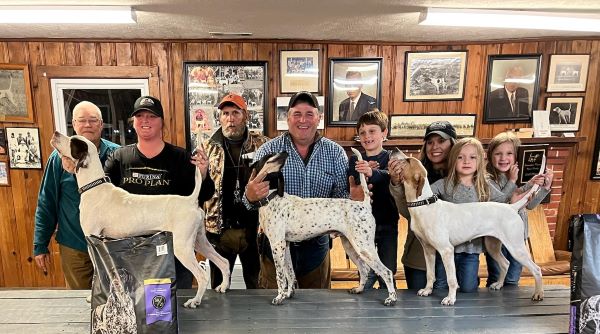 Swamp Fox Classic Winners (from left): Coach Johnson, Hailey Moreland with Bully Rock, Steve Browder, Mike Tracy with Bittersweet War Cry, Wyatt Puckett, Casey Hollander, Briar Rose Hollander with Faithful, and Hadley Mae Hollander.
In late December 2022, top shooting dogs east of the Mississippi gathered at the celebrated Robert J. Gordon Field Trial area, Hoffman, N. C. In recent years, December in the south would not be complete without strange weather. Unusual cold weather was forecast for the beginning of the week, followed by exceptionally warm weather with the possibility of rain at the end of the week. The Swamp Fox Classic is skillfully managed by the Cock-N-Fire Field Trial Club. While weather conditions affected the movement of birds, making it difficult to locate game, talented dogs, gifted handlers, and excellent food, good sportsmanship, and fellowship resulted in the Swamp Fox Classic's success.
This year, despite the weather forecast, 42 entries in the shooting dog and 20 in the derby vied for Swamp Fox honors. The Robert J. Gordon Field Trial area is under the management of the NC Wildlife Department; their work maintaining the grounds is gratefully appreciated by all. The grounds were in top shape with ample cover for coveys of Bobwhite quail.
The responsibility of handling the organization of the Classic, soliciting sponsors, and ensuring everyone were welcome, and all went effortlessly was again in the capable hands of Coach Allen Johnson. Assisting him were Jerry Raynor, Steve Browder (marshaling duties), Cliff and Raymond Brown (preparing meals), and Alford Wood (driving the dog wagon and providing coffee, drinks, and snacks during breaks). Thank you for a job well done.
A major sponsor of the Swamp Fox is AgSouth Farm Credit, ACA; without their monetary support, we would not be able to continue to host an event of this stature. Also vital to our sport is the assistance of Greg Blair and Nestl Purina, with monetary support and dog food for the winners. The help of all sponsors is appreciated.
This year's judges are familiar with Hoffman's Robert J. Gordon Field Trial Grounds, having handled and manned the judging duties at numerous trials over the years. Whitley Stephenson, a successful amateur handler and breeder from Smithfield, N. C., and Phil Stevenson, a frequently sought-after judge of shooting dogs and all-age dogs residing in Saltville, Va. Both gave their complete undivided attention to each dog that came to the line and were ready to lend a hand to all participants. Their decisions were well received by handlers and the gallery.
The Swamp Fox Shooting Dog Winners
The 2022 winner came to the line in the 20th brace on Thursday afternoon, December 29, handled capably by Pennsylvania professional Mike Tracy. Bully Rock, a white and liver pointer male, is no stranger to the winners' circle, recently winning the South Carolina Shooting Dog Championship in early December. Bill and Muriel Primm of New Jersey and Karen and Ernie Saniga of Pennsylvania own Bully Rock. He began his hour with tenacity attacking the cover in quest of the elusive Bobwhite quail. At 9, his handler hailed point.
After an extended flushing attempt, Mike asked Rock to relocate. As he approached his quarry, birds lifted, and Rock was credited with a stop to flush. His handler knowing that he would need to overcome this outcome, encouraged his charge to continue his attack on the Hoffman cover, searching for Bobwhite. Mike's urging paid off, and at 32, to the front, a call of point could be heard. This time Rock had a large covey pinned; the handler quickly put them to flight, as Rock remained high and tight. Releasing his dog, again Mike pressed his dog to continue his effort to hunt the reachable cover where a covey of quail might be located. At 40, once again, Rock was located pointing with high style. His handler flushed in the area, but no birds were put to flight. Mike then asked Rock to relocate; this time, Rock showed his ability to use the wind to find and pin the covey. The relocation was the icing on the cake, convincing the judges that this was the winner. Rock finished as he began, attacking the available cover, strong to the front, an excellent ground effort rewarded with multiple finds.
Second place in the shooting dog classic came from brace No. 11. Bittersweet War Cry is owned by Joe Lordi and Ralph Gillota of Atco, N. J. War Cry, a white, black, and ticked pointer male, was ably handled by Pennsylvania professional, Mike Tracy. War Cry's strong ground effort was rewarded with a find on a single at 8. Released by his handler, War Cry continued his pursuit of game in an effective manner. At 22, he struck again on course No. 5 across the main road, with his handler shouting point. A covey of Bobwhite was well located, Mike putting the large covey to flight, War Cry standing tall and proud throughout. After releasing his dog, Mike again urged him on; War Cry pleased, searching the cover methodically to the front. At 47, Tracy was heard calling out point once again. A second covey of quail was flushed for War Cry. After release, he continued his strong ground effort, earning the judges' nod for second place.
From the 4th brace earning third was Faithful, an orange and white pointer female, owned by Susan and Roger Duerksen of Hardeeville, S. C. Our third-place dog was handled capably by Mike Tracy. Tuesday morning temperatures were in the high 20s to low 30s, and braces were delayed, waiting for the dense fog to clear. Our first afternoon breakaway was at 1:30 PM, with the temperature rising to 45 F. Faithful began her hour energetically searching to the front pursuing Bobwhite. At 10, she was found pointing, indicating birds were around. Mike dismounted and soon flushed a large covey of quail, with faithful standing steadfastly. Again, at 35, a cry of point was heard, Faithful confidently signaling that birds were nearby. Handler soon flushed another covey of Bobwhite. She finished her hour forward, hunting the available cover.
Our first day began with temperatures in the 20s and dense fog on the grounds. Judges decided to delay the first brace until the fog cleared. At 8:30 a.m., the fog began to clear, and it was announced that the first brace would start at 9:00 a.m. Paired in the first brace were Jolene Jolene, handled by Mike Tracy, and Silver W Jill Z, handled by Illinois professional Shawn Kinkelaar. Jill ran an attractive forward race. Jolene was absent for an extended period, and Mike asked for the tracker at 24. Jill continued her appealing forward ground effort, entering the mile-long field at 28. She finished her hour hunting hard in search of quail but was not rewarded.
The second brace matched pointer male Erin's Primetime, handled by North Carolina professional Jerry Raynor and English setter male Erin's Big Casino, handled by Mike Tracy. Temperatures were finally above freezing. Big was not in sync with his handler today, with Mike asking for the tracker at 15. Jerry's dog hunted hard, attacking the cover; however, he suffered an unproductive at 15 and a second at 28 and was leashed, ending his bid.
Braced No. 3 paired pointer Dunn's True Reign (M. Tracy) and English setter Aristotle (Kinkelaar). Sunny skies and temperature remained in the 30s. Aristotle was not pleasing Shawn, and he leashed his dog at 24. Reign continued with a big forward race but did not contact birds today.
Brace No. 4 began after lunch at 1:30 p.m., with temperatures finally climbing into the 40s and clear skies. Faithful's effort was described previously. She was braced with English setter male Piney Grove Samson (Raynor). Samson was not giving his best effort; the handler leashed him.
Brace No. 5 paired pointer female, Thunder Bolt's Storm (Kinkelaar), and pointer male Hauser's Rollin Thunder (Tracy). Both dogs attacked the cover in search of game but did not connect today. At 58, Mike chose to leash Thunder. Storm finished his hour as he started with a strong forward search for birds.
The first day ended with brace No. 6, temperature remaining in the 40s. Braced together were L C Smith, handled by local amateur Gary Miller and Gambler's Next Edition, handled by Mike Tracy. Both dogs suffered an unproductive, no birds located.
Wednesday, at the breakaway of brace No. 7, the temperature was 24 degrees. This brace pitted Miller's High Heat Index (Tracy) with Tug O War (Kinkelaar). Twenty minutes into this brace, with both dogs presenting a strong forward race, the shout of point was heard. Both were found far off, standing high and tight, indicating their target was in the area. After both handlers flushed with no birds put to flight, they asked their charges to relocate. Relocation also produced no birds. At 30, both dogs were pointed to the front as we entered mile long field. At time, Tracy found High Heat pointing after flushing and asking him to relocate; birds were not home. Both dogs finished their hour to the front.
Brace No. 8 found the temperature rising to 35 degrees. Paired in this brace was Browntown Doc Holiday, handled by North Carolina professional Jerry Raynor and Southpoint's Hog Wild (Tracy). At 17, Hog Wild was found pointing, with Doc backing. Mike put the covey quickly airborne. At 45, Mike called point again for Hog Wild; this stand proved unproductive, and the handler elected to leash his dog. Doc continued his nice effort on the ground and, at time, was found pointing in a feed patch. Jerry flushed extensively but could not produce birds.
Brace No. 9 came to the line as the temperature reached 48 degrees. This brace paired Miller's Record Heat (Tracy) and Sweet Grass Slim handled by North Carolina amateur David Huffine. Mike called point for Heat at 23, with Slim honoring. After a wide effort to put birds in the air, Heat was asked to relocate. He moved forward a few steps, pointing again. Mike flushed, putting a large covey to flight. This covey was determined to escape discovery, as Mike seemed to cover this area thoroughly during his first attempt. At 32, Dave called point finding Slim pointing high and tight, with Heat backing. This stand, however, proved fruitless. As time was called, both dogs finished to the front.
The temperature was 54 degrees at the breakaway of brace No. 10, finally closer to the average for this time of the year. Erin's Thunder Backus (Kinkelaar) and Cheyenne Jack (Tracy) were paired together. Backus suffered an unproductive at 27, with Jack honoring. Backus was a little erratic today but finished his hour with no birds. Jack ran a big forward race but could not locate his quarry.
Temperatures remained in the 50s at the onset of brace No. 11. This brace found Bittersweet War Cry paired with Suemac's Roll Tide, handled by South Carolina professional Steve Browder. Both dogs went to work aggressively hunting the course for quail, War Cry striking first with a single, well-located. War Cry's effort was described earlier. At 22, Bama did not honor the flight of birds, ending his bid.
By brace No. 12, temperatures were falling but remained in the 50s. A pair of pointers came to the line, Miller's Extreme Heat (Tracy) and Erin's Silver Lining (Raynor). Silver struck first at 3 with a covey find. Extreme Heat was located pointing at 18; however, after relocation, no birds were found. Again at 31, she was found indicating game in the area. Mike soon put a covey to flight with his charge standing tight throughout. At 33, after an extended absence, Jerry asked for his tracker. Extreme Heat's ground effort was not pleasing her handler; she was leashed at 51.
On Thursday, rain is forecast for the remainder of the week; at the breakaway of brace No. 13, the temperature was 28 degrees. Upfront's Southern Star (Kinkelaar) and Miller's War Bonnet were paired in this brace. As we entered the mile-long field at 30, both handlers elected to leash their dogs.
Brace No. 14 pitted two pointers, Reedy Creek Dial Tone (Tracy) and Lester's Another Shockwave (Kinkelaar). We broke away in the mile-long field; at 33, we entered course No. 2. Shawn asked for his tracker ending Shockwave's bid. Soon after, Mike leashed his dog, ending this brace.
Brace No. 15 paired Game Ice (Raynor) and Waybetter Rocky (Tracy). Raynor asked for the tracker at 38, and Mike leashed Rock, ending the brace.
Afternoon temperatures are now reaching the 60s. Chelsea's Mae West (Kinkelaar) and J C L's Hap (Tracy) came to the line in brace No. 16. May suffered an unproductive at 19. Both dogs were leashed at 39.
Brace No. 17 found Answered Prayers (Tracy) braced with Upfront's McQuade (Kinkelaar). Four minutes into his effort, McQuade was credited with a stop to flush on a covey. Both handlers were not pleased with their dogs, leashing them at 24.
The temperature at the beginning of brace No. 18 was 65 degrees. Paired in this brace were Thunderbolt's Wild Again (Kinkelaar) and Raag's Rich And Rare (Kinkelaar). The weather affected both dogs' efforts, and handlers elected to pick up at 22.
Brace No. 19, temperatures still in the 60s, paired Waybetter Rebel (Tracy) and B K Final Legacy (Raynor). Weather again was an issue, with handlers choosing to leash their charges at 30.
Brace No. 20, with temperatures falling, paired Cock N Fire Bo Jackson (Browder) and Bully Rock (Tracy). Rock's effort is described in the winner's section. Bo is an attractive going pointer, snappy and quick. His forward hard-hunting ground effort, however, was not rewarded. Bo, the shorter of the two, finished his hour as he started.
Brace No. 21 began Friday morning with temperatures in the 30s. Trumped, the bye-dog, came to the line, handled by Mike Tracy. His bid did not last long as Mike requested his tracker at 20, thus ending the 2022 Swamp Fox Shooting Dog Classic.
Hoffman, N. C., December 27
Judges: Whitley Stephenson and Phil Stevenson
SWAMP FOX OPEN SHOOTING DOG CLASSIC [One-Hour Heats] - 37 Pointers and 4 Setters
1st--BULLY ROCK, 1674970, pointer male, by Bully Bragg-Bullerina. Ernie & Karen Saniga and Bill & Muriel Primm, owners; Mike Tracy, handler.
2d--BITTERSWEET WAR CRY, 1675754, pointer male, by Sugarknoll War Paint-Mohawk. Joe Lordi & Ralph Gillota, owners; Mike Tracy, handler.
3d--FAITHFUL, 1684597, pointer female, by Waybetter Rocky-Steel City Karen. Susan & Roger Duerksen, owners; Mike Tracy, handler.
Swamp Fox Open Derby Winners
Steve Browder and Gary Miller occupied the judges' saddles for the derby. Steve is a South Carolina professional with extensive experience judging the potential of young bird dogs. Gary, a North Carolina amateur, also has abundant experience judging class derbies. They both gave each entrant their undivided attention and offered help to participants when required.
As the derby began, the temperatures were in the 40s; by afternoon, the weather was changing, with temperatures increasing to the 70s before finishing. It was starting to cloud up by mid-afternoon, with rain anticipated for Saturday.
The blue ribbon was awarded to Miller's Miss Congeniality, a pointer female owned by Joe McHugh of Boston, Ga. Pennsylvania pro Mike Tracy handled her. In brace No. 8, Miss Congeniality displayed a moderate shooting dog ground race, easy handling, and always to the front attacking the cover. Her effort was rewarded with a covey find exhibiting advanced derby manners. Miss Congeniality finished her half-hour aggressively, hunting the cover with no letdown.
Awarded second place was Backus White Privilege, a pointer male handled capably by Illinois professional Shawn Kinkelaar. Backus, running in brace No. 5, exhibited a pleasing ground race with a find on a covey at 22, displaying acceptable derby manners. He also had a moderate shooting dog ground race, handling easily, finishing his bid hunting the cover vigorously.
From brace No. 6, Miller's Little Duce Coupe, a pointer female guided by Pennsylvania pro George Tracy, earned third place. She had a wider ground race than the other two, attacking the cover in search of her quarry. Requiring more effort to handle, she was rewarded with a find on a covey, demonstrating advanced derby manners. Like the other two, Duce Coupe finished going away still in pursuit of her game.
Judges: Steve Browder and Gary Miller
OPEN DERBY - 16 Pointers and 4 Setters
1st--MILLER'S MISS CONGENIALITY, 1699548, pointer female, by Miller's Upgraded Version-Quail Roost Too. Joe McHugh, owner; Mike Tracy, handler.
2d--BACKUS WHITE PRIVILEGE, 1698181, pointer male, by Touch's Malcolm Story-Silver W Joe Z. Dr. T. Jackson & Jerry Moisson, owners; Shawn Kinkelaar, handler.
3d--MILLER'S LITTLE DUCE COUPE, 1700309, pointer female, by Miller's Upgraded Version-Walden's Ice Breaker. Allen Linder & Madison McDonald, owners; George Tracy, handler.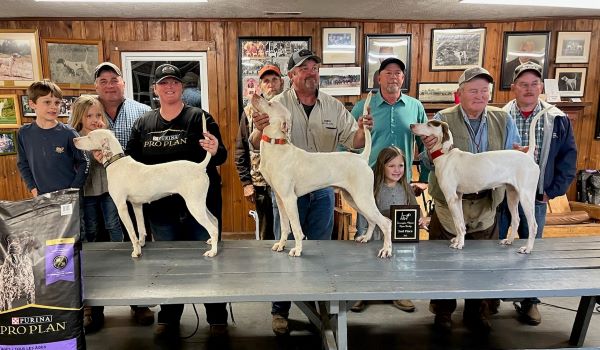 Open Derby Winners (from left): Wyatt Puckett, Briar Rose Hollander, Mike Tracy, Hailey Moreland with Miller's Miss Congeniality, Judge Steve Browder, Shawn Kinkelaar with Backus White Privilege, Jerry Raynor, Hadley Mae Hollander, George Tracy with Miller's Little Duce Coupe, and Judge Gary Miller.