Result: Region 3 (AFTCA) Amateur All-Age Championship
Location: Hoffman, North Carolina
Post Date: Mar 3, 2023
Submitted By: Gary Miller
The Region 3 (AFTCA) held the 2022 running of the Amateur All-Age Championship at the J. Robert Gordon Field Trial Area of the Sandhills Game Lands, known affectionately as "Hoffman" by the field trial community. Region 3 comprises the state of North Carolina, South Carolina, Virginia, Maryland, and the District of Columbia. Additional states represented during the running included Tennessee, Kentucky, Mississippi, and Louisiana. A fine entry of 36 dogs was drawn to run.
Judging this renewal were two North Carolina native sons, Jerry Raynor from Dunn and Mike Hester from Mebane. Both are long-time professional dog trainers and accorded themselves as such. Each entry was carefully watched and evaluated with an experienced eye. Their decision was well received.
The main topic of conversation at Hoffman always seems to be about the birds. There are few peers in public field trial venues when the birds are abundant. Unfortunately, birds are seldom what one would refer to as abundant. Most often, the word adequate is more descriptive; this year was no exception. An extremely dry late summer and early fall had the early-release birds under stress from the get-go. Those that had survived until mid-December were strong and healthy but not abundant. It takes a natural bird dog dedicated to finding birds in that situation. The one that stood out most prominent in the end was a spritely pointer female owned and handled by Kentuckian Matt Pendergest. Storm's End had two forward finds at 30 and 40, coupled with a strong all-age race to be named champion.
The runner-up was cut from similar cloth. Also, a female, albeit with a little more hair, could be best described by the late great George Jones as "hotter than a two-dollar pistol, she was the fastest thing around. Long and lean, every young man's dream." I'm A Southern Natural was handled in the last brace by her owner, Sammy Giddens, with Nida keeping a close eye during the hour. She also had two finds coupled with a strong, forward all-age race.
The Region 3 board of directors sincerely thanks all who came from near and far to participate, and we look forward to seeing you again next year.
Hoffman, N. C., December 16
Judges: Mike Hester and Jerry Raynor
REGION 3 AMATEUR ALL-AGE CHAMPIONSHIP [One-Hour Heats] - 29 Pointers and 7 Setters
Winner--STORM'S END, 1687221, pointer female, by Dunn's Tried'n True-K F Prairie Storm. Matt Pendergest & Megan Henry, owners; Matt Pendergest, handler.
Runner-Up--I'M A SOUTHERN NATURAL, 1683551, setter female, by I'm Southern Style-A Tarheel Pretty Penny. Hunter's Creek Kennels & Sammy & Nida Giddens, owners; Sammy Giddens, handler.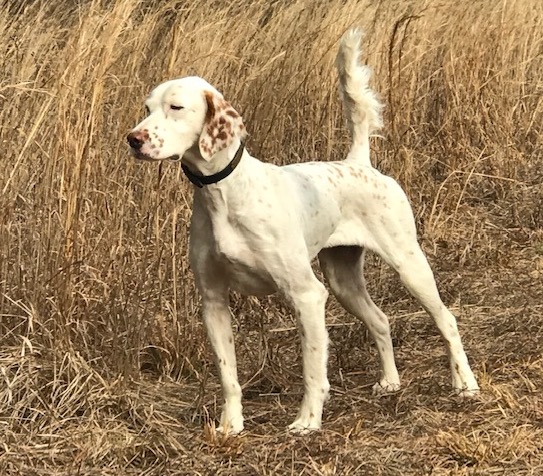 I'm A Southern Natural, Runner-Up in the Region 3 Amateur All-Age Championship