Result: Region 6 Amateur Shooting Dog Championship
Location: Conway, Arkansas
Post Date: Mar 2, 2023
Submitted By: Lisa Little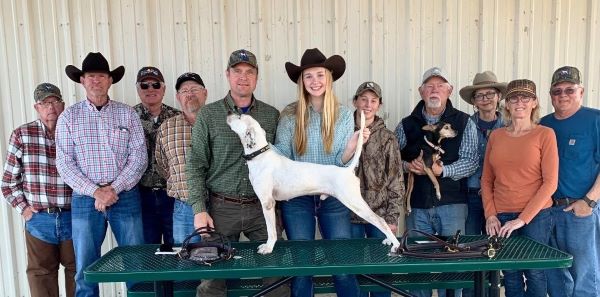 Region 6 Amateur Shooting Dog Championship Winners (from left): Ronnie Miller, Judge Jim Martin, Rick Thone, Judge Jon Davis, Dr. Jeffrey Hale, Lydia Hale with Hale's Kickstarter, Brenna Burk, Johnny Taylor, Joyce Taylor, Connie Crowell, and John Van Horn.
A field of 25 fierce canine competitors descended upon Camp Robinson Special Use Area near Conway, Ark., to compete in the Region 6 AFTCA Amateur Shooting Dog Championship. The Bear Creek Field Trial Club hosted the regional championship on the weekend of December 30-January 1. The trial experienced mild winter conditions with temperatures in the 40s each morning and rising to mid-60s in the afternoon. Scent conditions were prime due to the wonderful temperatures and the ground moisture supplied by rain showers on Wednesday and Thursday.
We were honored to have Jon Davis of Conway, Ark., and Jim Martin as our judges for the championship. Each brought a wealth of field trial expertise and experience to the judicial saddle. They gave each competitor their undivided attention and were witnessed complimenting handlers with the strengths shown by the dog at the end of their contested brace, even if it ended early. The judges had their work cut out during the three-day trial as every dog entered showed to the line for their assigned brace, and no one scratched.
Congratulations are to the champion and runner-up. Garnishing the distinguished honor of being awarded the winner of this season's championship are Hale's Kickstarter and his owner/handler Dr. Jeff Hale. The 9-year-old white and black male pointer is by Westfall's Jumpstarter and Button's War Dance Kim. Hale's Kickstarter had a fantastic ground race, was eager to please his handler, and stayed within visible range. During his 60-minute brace, he had two beautiful finds; the first was at Horseshoe Bend, and the second was a limb find of a large covey after crossing Nursery Pond Road. Kickstarter ran during the 8th brace of the trial, Saturday afternoon, second-hour course.
Earning the runner-up title of the championship was Shearjoy's Smooth As Silk for owner/handler Betty Shearouse. Silk is a 3-year-old orange and white English setter female by Shearjoy's Unforgiven and Erin's Smooth Shammy. Silk had a great ground race, always hunting and quick to respond to her handler's commands. Silk's determination paid off at 57 with a large covey find right before riding up the mountain on the first course of the afternoon. Silk ran during the 7th brace of the trial, Saturday afternoon, first-hour course.
First and foremost, the members of Region 6 would like to thank the handlers and owners that entered their canine competitors. It was a field of well-known first-class shooting dogs and handlers. Secondly, we would like to thank John Van Horn, trial stake manager, and his wife, Sandy, for their hard work in organizing every aspect of a successful event. Field trials take a team of volunteers to make it work, and Camp Robinson has a great one. Various members are involved in the bird release program; some assist in putting out the 5,000 quail between September and October, others make sure the feeders are well stocked, and many assist in keeping the grounds and facilities in tip-top shape. We want to thank Roger Martin for driving the dog wagon each day of the trial. As the former manager of Camp Robinson, he knows every nook and cranny of the grounds.
During the course of the championship, meals and a nightly cocktail bar were donated by individuals or groups. We would like to recognize those as well. Johnny "Chili" Cole and Robby and Tressia Robinson sponsored the cocktail bar each night. Jeff and Lydia Hale provided chili and sandwiches for lunch on Friday. Johnny and Joyce Taylor sponsored a pork barbeque supper on Friday evening. Rick Thone provided Saturday's lunch and dog wagon treats. On Saturday evening, Johnny and Rita Ornsby prepared grilled chicken, gumbo, and side dishes. All the meals were absolutely delicious, and everyone enjoyed socializing with old and new friends.
Conway, Ark., December 30
Judges: Jon Davis and Jim Martin
REGION 6 AMATEUR SHOOTING DOG CHAMPIONSHIP [One-Hour Heats] - 22 Pointers and 3 Setters
Winner--HALE'S KICKSTARTER, 1653074, pointer male, by Westfall's Jumpstarter-Button's War Dance Kim. Dr. Jeffrey Hale, owner and handler.
Runner-Up--SHEARJOY'S SMOOTH AS SILK, 1693150, setter female, by Shearjoy's Unforgiven-Erin's Smooth Shammy. Betty Shearouse, owner and handler.