Result: Central Carolina Amateur Field Trial Club
Location: Hoffman, North Carolina
Post Date: Jan 25, 2023
Submitted By: Sammy and Nida Giddens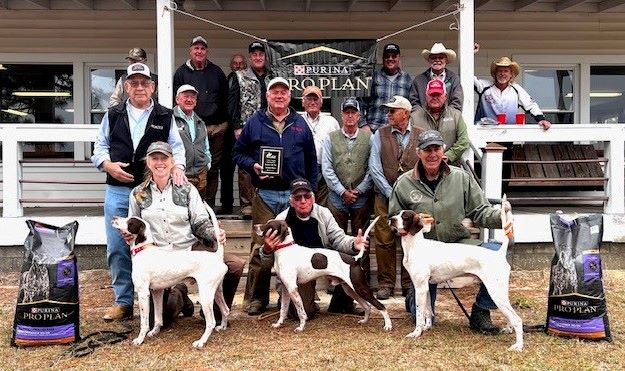 Amateur All-Age Winners (from left): Gary Winall and Ellen Clements with Mohawk Mill Good
Advice, Grayson Francis and Steve Mills with Rocky Ridge's Second Chance, and David Huffine with Mohawk Mill Knight Hawk. (Second row, from left): Jeff Smith, Dr. Duerksen, Whitley Stephenson, Sammy Giddens and Johnny Atkinson. (Back row, from left): Darrell Miller, Dennis Snyder, Alford Wood, Judges Jett Ferebeev and Tony Bingham, Ray Joye, and Bill Adams.
The Central Carolina FTA sponsored the 92nd Central Carolina Amateur Field Trial. It was a very successful three-day trial held October 28-30, at Robert Gordan Field Trial Grounds Hoffman, N. C. The trial was a very successful, competitive trial with 30 amateur all-age dogs and 10 derbies.
Our field trial ground facilities are very welcoming offering electrical hookups for trailers and campers, a huge horse barn with 52 stalls, outdoor corals including many new ones added in the past year, lots of dog kennels and a large club house equipped with bathrooms, full kitchen and large dining/fellowship room. A new well, well house, water lines, and tractor shelter is in the process of being added. Thank you to the NC Wildlife Commission, the Sandhills Wildlife team led by Lee Criscoe and the NC Field Trial Association--President-Ray Joye, Vice-President-Grayson Francis, Secretary/Treasurer-John Ivester-- for working hard to provide these wonderful grounds and facilities for all of us to enjoy.
The grounds offer 6 continuous one-hour courses considered by many to be the finest AA courses in the country. The grounds have an abundance of milo, pearl millet, switch grass, wire grasses and Black Jacks scattered throughout the long leaf pines with plum thickets for the quail to escape predators.
Throughout the six courses coveys of quail were pre-released in September and October. Thank you to John Ivester and his team--Lefty Henry, Greg Robinson, Steve Mills, Gary Miller, Mike Hester and Bob Young--for taking of their time to do the covey releases and to Lefty Henry for diligently keeping the quail fed.
Thank you to Purina Pro Plan--Greg Blair, area manager, for your generous sponsorship of our trial each year. It is thru your support that we are able to continue this trial.
Thank you to Surestay Plus-Best Western-Southern Pines for providing special rates for our judges and field trial participants. All the staff and courteous and strive to make our stays with them a pleasure.
Thank you to our other sponsors: Gun Dog Supply/Steve Snell, Johnny O's Awards-Martha/Aberdeen, Aberdeen Supply/Jason Vuncannon, Andi's Tack/Andi Neal Newton Grove and Union Leather/George Doyle-VA.
A special thank you to Alford Wood and Greg Robinson, our gallery dog wagon drivers.
We all appreciate your always having the right dogs in the right place and for providing us with refreshments at morning and afternoon breaks.
Lunches were prepared daily consisting of hot dogs with all the fixings, salad, baked beans,
homemade barbecue sandwiches, etc. Saturday night Nida prepared homemade appetizers, cocktails, lasagna, salad and bread. Our friend, Maggie Maier, was a welcome assistant that volunteered to help Nida. We were thrilled that Louise Wilcox was able to join us and even brought us delicious pumpkin pie topped with real whipped cream!
Thank you to all the participants who entered their dogs. A special thank you to Dr. Duerksen-our oldest handler 85 years young--for coming from SC to compete in our trial. Although Doc recently lost 2 of his horses and borrowed horses to compete in our trial, he did not give up.
Doc is one tough gentleman that we all love. We also were thrilled that Jett Ferebee's sons, Jo Jo and John along with a friend, joined us on Saturday.
Handling the judicial assignments were Tony Bingham from Shelby, N. C., and Jett Ferebee from Greenville, N. C.
Tony is a very successful pro and has judged many championships in walking, shooting dog and AA. His knowledge of bird dogs and horsemanship is highly respected.
Jett is a southern gentleman and is thoroughly versed in what a class bird dog is and what it takes to develop one. Jett was the breeder of Hamilton's Blue Diamond, an 8x champion and 2 RU setter which he accomplished in 2 years. Jett has several great dogs on the shooting dog circuit with pro handler, Doug Ray. Jett is also known for his fine horses and horsemanship.
Both judges were attentive while watching each dog and handler perform. They would ride to the top of hills to watch these AA dogs making long forward cast while hitting the edges.
The drawing was held at the home of Sammy and Nida Giddens. Thirty all-age and ten derbies were drawn for the trial. Enthusiasm was high at the trial as well was the temperature and humidity making it tough on the horses, dogs and handlers. Even with these weather conditions, there were many fine performances with coveys pointed throughout the trial.
Just before breakaway of the first brace, Sammy asked for all to have a moment of silence to have thoughts and prayers for several members of our field trial group who are dealing with health issues.
Amateur All-Age Winners
First Mohawk Mill Good Advice, handled by Gary Winall and scouted by Ellen Clements. Good Advice is a young pointer with great confirmation and great stride. He ran an AA race on course two As we rode up the hill, Ellen called point. Good Advice was in a feed patch next to woods. Since Gary is recovering from knee surgery, Ellen dismounted and flushed. A large covey lifted and Good Advice showed great style and manners. He finished a great race out front. He was braced with Saddle Tramp handled by Carl Owens. The judges and gallery were riding high in the saddle watching this AA race.
Second Rocky Ridges's Second Chance, handled by Grayson Francis and scouted by Steve Mills. Hitch is an impressive liver and white pointer. For his age and size, he is well coordinated and has outstanding desire and determination. Hitch ran on course 2 and was found on point just after crossing the dirt road. When point was called, Grayson had to ride fast to the front to get to him. Although Hitch endured a waiting period, he continued to show plenty of style and composure. Birds were flushed and all was in order. Hitch continued the brace with an impressive, forward finish. He was braced with LC Smith handled by Gary Miller.
Third Mohawk Mill Knight Hawk, handled by Gary Winall and scouted by Ellen Clements. Hawk ran as a bye dog on course 4. He was released behind the horse barn and as we made the first turn to the right we heard Ellen calling point. When Gary, the judges and the gallery approached, Hawk was found standing between plum thickets. Ellen flushed the covey and Hawk stood steady and stylish. Continuing down course 4 Gary was heard calling point as we approached the first water hole on the left. Another large covey was flushed by Ellen out of the briars and plum thickets. Hawk finished with a forward race.
Hoffman, N. C., October 28
Judges: Tony Bingham and Jett Ferebee
AMATEUR ALL-AGE [One-Hour Heats] - 27 Pointers and 3 Setters
1st-MOHAWK MILL GOOD ADVICE, 1685480, pointer male, by Stoney Run's Buddy-Miller's Fancy lady. Gary Winall, owner and handler.
2d-ROCKY RIDGE'S SECOND CHANCE, 1691423, pointer male, by Eri's Kentucky Gambler-Burning Edge Julie. Grayson Francis, owner and handler.
3d-MOHAWK MILL KNIGHT HAWK, 1685481, pointer male, by Mohawk Mill Pirate's Legacy-Katie Lee's Wild Side. Gary Winall, owner and handler.
Amateur Derby Winners
First I Dream of Jeanie, handled by Kyle Whitfield and scouted by David Huffine. Jeanie ran a forward race throughout the brace hunting hard between the edges of course 6 and moving strong from start to finish with high style and a lot of class. Her excellent ground race earned a first placement for the beautiful, young setter. Jeanie was braced with J C L's Jolene (the 3rd place dog) handled by Bill Adams.
Second Betty's Karma, handled by Darrel Miller and scouted by Steve Mills. Karma ran a fast, forward, classy race on course 5 showing consistently to the front. Many desired traits of a promising young derby were shown by this classy, young liver and white female. Karma was braced with Klee's Ben handled by Dr. Duerksen.
Third J C L's Jolene, handled by Bill Adams and scouted Whitley Stephenson. Jolene ran on course 6 and was braced with 1st place dog, I Dream of Jeanie, handled by Kyle Whitfield. Jolene, a beautiful orange and white pointer was always forward and bold completing wide range cast after cast hunting all the birds areas. She finished with high style and a lot of class as Bill and Whitley gathered her up at pickup.
Thank you to everyone who supported our All-Age trial with your time and entries. We look forward to next year!
AMATEUR DERBY - 8 Pointers and 2 Setters
1st-I DREAM OF JEANIE, 1699099, setter female, by Hot Blooded-Shamrock Miss Grace. Kyle Whitfield, owner and handler.
2d-BETTY'S KARMA, 1696872, pointer female, by Mohawk Mill Trail Warrior-Steel Valley Wardance. Darrel Miller, owner and handler.
3d-J C L'S JOLENE, 1694081, pointer female, by Lester's Sunny Hill Jo-Skyz the Limit. William Adams, owner and handler.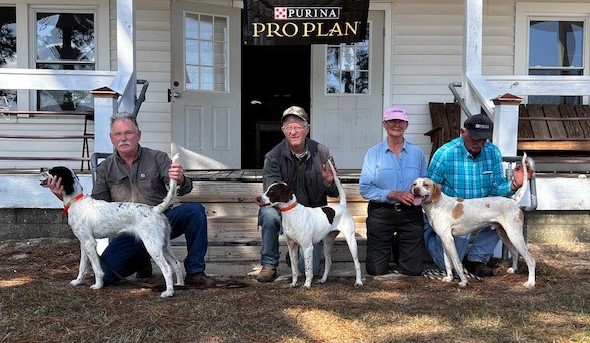 Amateur Derby Winners (from left): Kyle Whitfield with I Dream of Jeannie, Darrell Miller with Betty's Karma, and Nida Giddens and Larry Cox standing in for Bill Adams with J C L's Joleene.