Event: Kentucky Lake Open All-Age and Ricky Chism Memorial Derby
Result: Kentucky Lake Open All-Age
Location: Blue Mountain, Mississippi
Post Date: Jan 23, 2023
Submitted By: Jeff Blackwell
The Kentucky Lake Field Trial Club hosted their annual Kentucky Lake Open All-Age trial and companion Derby at Hell Creek WMA near Blue Mountain, Miss. This year's event kicked off Thursday November 10th, 2022 with 16 All-Age and 15 Derby contenders on the running order. In the judge's saddles were Sean Hauser, Manchester, Ia., and Jeff Blackwell, Shelbyville, Tenn. Directors Gary Lester, Joy Lester, Ike Todd, Weldon Bennett, Kory Rinehart, and Scott Mason were on hand to assist in the running. Jack Griffin and Ferrell Miller helped with dog wagon duties.
A beautiful, sunny Fall morning greeted the first brace with a new addition to Gary Lester's string Haney's Storm Warning and bracemate Whippoorwill Vette and Larry Huffman. Storm Warning had two very stylish finds and a stop to flush but had not gotten used to Lester being in charge yet. When they get on the same page, they will be an exciting team to watch. Vette had a breach of manners and was picked up. Lester and Lester's Storm Chaser paired up with Dr. Fred Corder and Game Heir for the second hour. Storm Chaser had a find, a back, and two UPs. Game Heir had two finds, two backs, and finished the hour. Kory Rinehart guided C.S. Code Blue to two finds and Weldon Bennett with Coldwater Spectre suffered an UP as temperatures approached the mid-70s during the third hour.
After a delicious lasagna lunch topped off with the best apple cake, prepared and served by Joy Lester, all were at the line for the 4th brace. Short-sleeves and water bottles were popular items for the 75+ degree afternoon. Lester finished Lester's Bossman with two finds and Corder with Game Warden scored two early finds but seemed to have been left behind as Corder collected this tracking unit with 36 minutes left in the brace. Bonner's Hot Rize scored a find, but Lester asked for the tracker when Hot Rize decided to go his own way. Burke Hendrix's dog, Hendrix's Touch Up, was picked up after a breach of conduct. The final hour of the day turned out to be the most exciting pairing of the trail. Reigning National Champion Lester's Shockwave and Nosam's Sweet Water, handled by Larry Huffman, put on a show for all. Both dogs moved through the large grounds rimming the edges with ease and took direction from both handlers with minimal effort. True all-age out-front races at Hell Creek are sure fun to watch. Shockwave finished with three finds and Sweet Water with two as thankfully the late afternoon heat started to subside.
This judge started the day in short-sleeves and another hot day it was. Lester was up again in brace seven with Lester's Storm Surge and veteran handler Billy Blackwell with Como Rain. Storm Surge blew out the front with a huge ground race and finished with one find and two backs. Rain had a good find, an UP, but didn't mind his manners on the Storm Surge find and was picked up. The final pairing of the All-Age was Knight's Little John, Lester, and Coldwater Odyssey, Bennett. Both handlers seemed to know they were not getting the job done and both picked up just before the 30-minute mark. The first brace of the Derby was dropped down next and will be detailed below.
The All-Age winners were announced after another wonderful lunch from Mrs. Joy. Barbeque sandwiches, Kentucky burgoo and peach cobbler with ice cream were enjoyed by all. Third place went to Lester's Storm Surge owned by Tommy and Bonnie Hamilton. Second place Nosam's Sweetwater owned by Jeff Busby and winner of the Kentucky Lake Open All-Age was Lester's Shockwave also owned by the Hamilton's.
The Ricky Chism Memorial Derby started off with two nice edge-hugging, big-running pointer males. Weldon Bennett guided Coldwater War Cry and Ike Todd directed Haney's Hurricane Seeker to an exciting race. Neither dog scored on birds this day but keep an eye on this pair. The first brace after lunch featured male versus female. Todd's pointer female Game Cake made the judges take notice with a big out-front race and three stylish finds. Bracemate Miller's King Post had a find and a back. Knight's Hill Bill and Todd had the course to themselves in brace #3 as their bracemate scratched. Bill had a find and an UP and finished the hour. Todd with Haney's All In and Lester with Mayfield Storm Charger were loose for the last hour of Friday. All In scored twice and Charger three times and backed All In once.
The short sleeves of Thursday and Friday were covered with many layers Saturday morning as temperatures plummeted to the mid-thirties, cloudy with a biting North wind. Scott Beeler and Beeler's White Knight were ready and waiting as was Todd and Southern Shadow Bob for the 07:30 "turn em loose". White Knight pleased the judges with a big race. He two finds (the second found on point way out front at time on a wild covey), had one unproductive, and turned on each of his handler's commands to stay in front. Bob backed Knight twice and went birdless. Ike Todd ran solo in the final three hours as his opponent for braces six and seven scratched due to handler illness and he was a bye dog in the final. Touch's Edge Patch scored twice on birds in the piney woods behind the clubhouse but wasn't quite getting it done out on the edges and was picked up. Game Surge got too anxious on a find and was up early. Haney's Silver Wings wasn't pleasing his handler and threw in the towel before time.
Derby announcements were made as follows: Third place - Mayfield Storm Charger for owners Scott Mason and Jake Davis. Second place - Game Cake for owner Dr. Fred Corder and winner of the Ricky Chism Memorial Derby - Beeler's White Knight for owner/handler Scott Beeler.
If you like good food and fellowship, huge grounds and top quality dogs make plans to attend the 2023 running of the Kentucky Lake Open All-Age and The Ricky Chism Memorial Derby.
Blue Mountain, Miss., November 10
Judges: Jeff Blackwell and Sean Hauser
OPEN ALL-AGE [One-Hour Heats] - 16 Pointers
1st-LESTER'S SHOCKWAVE, 1681623, male, by Ransom-Beane's Line Dancer. Tommy & Bonnie Hamilton, owners; Gary Lester, handler.
2d-NOSAM'S SWEET WATER, 1682042, male, by Whipporwill Mayhem-House'sHouse Fly. Jeff Busby, owner; Larry Huffman, handler.
3d-LESTER'S STORM SURGE, 1681624, male, by Ransom-Beane's Line Dancer. Tommy & Bonnie Hamilton, owners; Gary Lester, handler.
RICKY CHISM MEMORIAL DERBY [One-Hour Heats] - 15 Pointers
1st-BEELER'S WHITE KNIGHT, 1700938, male, by Touch's Smooth Rider-Touch's Wildwood Flower. Scott & Charles Beeler, owners; Scott Beeler, handler.
2d-GAME CAKE, 1700579, female, by Touch's Grey Street-Game Belle. Dr. Fred Corder, owner and handler.
3d-MAYFIELD STORM CHARGER, 1701588, male, by Lester's Storm Surge-R W Suzie Q. Scott Mason & Jake Davis, owners; Gary Lester, handler.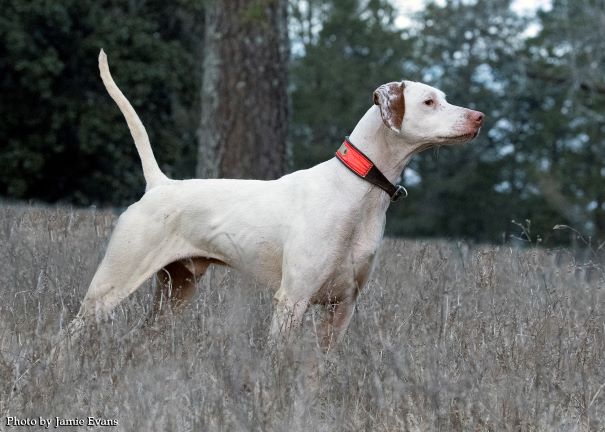 Lester's Shockwave First in the Open All-Age Stake