Result: Garden State Open Shooting Dog Championship
Location: Lacey Township, New Jersey
Post Date: Jan 23, 2023
Submitted By: Lloyd Miller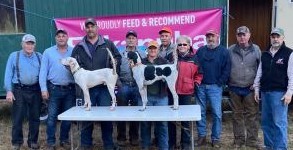 Garden State Open Shooting Dog Championship Winners (from left): George Tracy, Mike Tracy, Marcus Ramseur with Miller's High Heat Index, Judge Jim Thomas, Jeanette Tracy with R Q's Saddle, Bill and Muriel Primm, Bob Verderosa, Judge John Malone, and Joe Cincotta.
The English Setter Club of America Garden State Shooting Dog Championship program started October 24. The weather was great throughout.
The club would like to thank SBHA this year for their support of this event. Our judges this year were Jim Thomas of Barneveld, N. Y., and John Malone of Bolton, Conn. We thank them for their time in the saddle and attentiveness throughout. Their decisions were well received. The club also thanks Joe Lordi (chairman) and Joe Cincotta (co-chairman) for the work they did in putting this trial together. It was a monumental effort on part of them to pull off the running of this event which was part of a four one-hour stakes program accomplished over two weeks. All run continuous in a row. These were the Middle Atlantic Open Shooting Dog Championship, The National Amateur Pheasant Shooting Dog Championship, the Garden State Open Shooting Dog Championship, and the Middle Atlantic Amateur Shooting Dog Classic. We thank them very very much. We also would like to thank all the English Setter Club members who pitched in to do the logistics in getting things done to put on a great two-week event, plus the judges and pros who made these events possible. We would also like to thank especially, Bob Brooks for doing the dog truck throughout, plus our bird planters, and not least, Mark Janiec who helped with providing water for our horses and dogs.
The Garden State Open Shooting Championship had great entry of 43 top shooting dogs. Taking the Championship this year was Miller's High Heat Index, white and orange pointer female, owned by Stanton Harrell and Casey Hollander of Blakely, Ga., and handled by Mike Tracy of Glenville, Pa. Index scored with eight stylish finds. Index's winning performance came from the 19th brace overall which ran at 9:07, second brace on Thursday morning. His race was strong to the front throughout the hour. A very good effort to gain the judges nod this day.
Taking the runner-up honors was R Q's Saddle, white and black pointer male, owned by Ted Foust of Harrisburg, Pa., and Muriel and Bill Primm of Cream Ridge, N. J., and ably handled by Jeanette Tracy of Glenville, Pa. He also ran Thursday but in the fourth brace in morning (21st brace overall) carding six nice finds with a strong consistent forward race.
There were eleven other dogs that ran clean and completed their hour heats or almost got it done with some good efforts. As you can read below, we had a lot of worthy performances, it was a real good competitive championship. Listed in order of running they are the following dogs.
Starting things off at 9:28(2nd brace overall Monday morning), The Secret, pointer female with Jeanette Tracy, scored nicely with good race and five finds (one was a pheasant) Next, off at 10:52 (3rd brace Monday morning) with a good performance was Bully Rock, pointer male, handled nicely by Mike Tracy with an eight find effort (five of which were pheasant) and a strong performance on the ground. Erin's Big Casino, setter male, had a nice effort in last brace Monday afternoon with a good six find performance of his own. He was also handled by Mike Tracy.
Tuesday morning, we had Faithful in second brace with Mike at the helm scoring a nice quail stand at brushing clump at right off cable road and again in Rocky's field at left turn toward outer south loop. She finished the hour with a nice six find good hunting effort. Pine Straw Sweet Tea, setter female with Jeanette Tracy, running in the last brace before lunch scored with six good finds. One Day La Bandita, pointer female with Lane Hodges, had it going with an eight find effort in first brace after lunch off at 1:30. In the last brace Tuesday, off at 3:20, we a great duel between father and daughter with Miller's Heat Seeker (George Tracy) and Steel City Raven (Jeanette Tracy). It was hard fought back and forth battle. Seeker had six finds, two backs and one unproductive, Raven I believe had seven finds (three on pheasant). They had a few divided stands during the run. They both finished racing to front being found on independent quail finds near horseshoe mound, west of the normal breakaway, at pickup time. From the road galley, I thought this was a pretty good brace.
Wednesday morning, after a long fog delay, we got things going at 10:48. In the second brace (14th overall) off at 11:40, Ravenwood Throwing Smoke, pointer male with Matt Basilone handling, put down a good forward running effort with four stylish stands and one UP. Waybetter Rocky, pointer male, with Mike Tracy, ran in the last brace Wednesday (17th overall). His was very close to the winners with a seven find strong ground race performance.
Thursday morning, we were off at 8:06. Limbsmoke Urban Lullaby, white and orange pointer female, with Matt Basilone, had it really going clicking off six to seven stylish stands in rapid order coupled with a strong forward race through first 50 minutes. At northeast corner turn she missed the turn smoothly and got off to the north side of road and had to be gathered up to end her bid.
Lacey Twp, N. J., October 24 - One Course
Judges: John Malone and Jim Thomas
GARDEN STATE OPEN SHOOTING DOG [One-Hour Heats] - 38 Pointers and 5 Setters
Winner-MILLER'S HIGH HEAT INDEX, 1685674, pointer male, by Just Irresistible-Miller's Bring The Heat. Casey Hollander & Stanton Harrell, owners; Mike Tracy, handler.
Runner-Up-R Q'S SADDLE , 1680847, pointer by Waybetter Rocky-Ladywood's Keepsake. Ted Foust & Muriel Primm, owners; Jeanette Tracy, handler.
GARDEN STATE OPEN DERBY CLASSIC
The Derby Classic ran Thursday afternoon. Taking the blue ribbon was Miller's Upgraded Design, pointer male owned by Allen Linder of Livingston, Tenn. He scored on two classy quail finds and one UP coupled with a nice forward searching race, Second went to Suemac's Wicked Sister, pointer female, owned by Roger McPherson of Chesterfield, S. C. She also had some nice bird work and a good effort on the ground. Both dogs were ably handled by George Tracy of Glenville, Pa. There was no third place awarded.
OPEN DERBY CLASSIC - 6 Pointers
1st-MILLER'S UPGRADED DESIGN, 1700308, male, by Miller's Upgraded Version-Walden's Ice Breaker. Allen Linder, owner; George Tracy, handler.
2d-SUEMAC'S WICKED SISTER, 1699012, female, by Miller's Heat Seeker-Dominator's Heir Kate. Roger McPherson, owner; George Tracy, handler.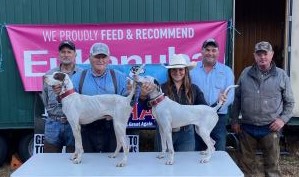 Garden State Open Derby Classic Winners (from left): Judge Jim Thomas, George Tracy
with Miller's Upgraded Version, Janet Hinkle with Suemac's Wicked Sister,
Mike Tracy, and Judge John Malone.