Event: Blast Off is Champion, Suemac's Sashay Runner-Up of the
Result: Pennsylvania Grouse Championship
Location: Marienville, Pennsylvania
Post Date: Jan 18, 2023
Submitted By: Mike Husenits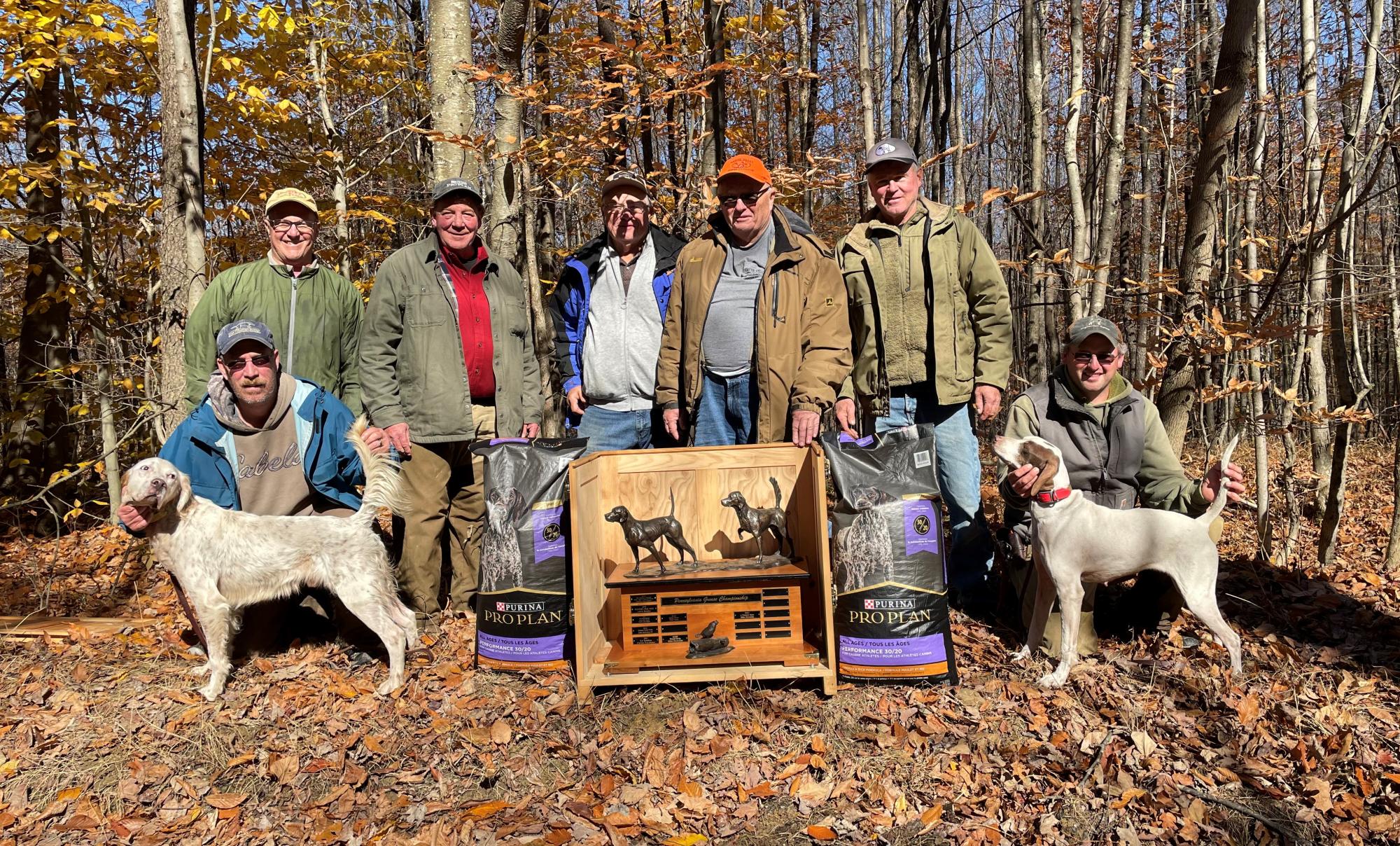 Pennsylvania Grouse Championship Winners (from left): Marc Forman with Blast Off and Mark Hughes with Suemac's Sashay. (Back, from left): Joe Cammisa, Judge Dr. Tim Perschke, Reporter Mike Husenits, Norm Meeder, and Judge Jim Winnen.
The 2022 Pennsylvania Grouse Championship went into the record books after three days of running over the vast expanses of the Allegheny National Forrest near Marienville, Pa. The Ruffed Grouse is Pennsylvania's state bird that has seen population decline drastically the past 15 - 20 years with the southern two-thirds of the state nearly extinct of grouse, the upper tier north of Interstate 80 not quite as barren but still a challenge to find many. In the two and half days of running at this championship the bird count numbered 12 with only 2 on a very warm and dry first day, 10 on the second day and none the final half day on Thursday.
The Pennsylvania club is ultra rich in history, organized in 1912 and first conducting quail trials then shifting to grouse in 1913, later sanctioning the National Grouse Championship, held until the formation of the Grand National Grouse Championship organized in 1943, then reverting to the Pennsylvania Grouse Championship starting in 1947and held annually since then.
Interestingly, a story of early grouse trials written by the late H. H. Cahoon around about 1943 indicated that grouse dogs wearing bells were not in vogue with several handlers competing in that era, the claim being that bells scared the birds to flight before the dogs got near enough to point them. Over time that theory became a myth and as such it is now a rarity to see a dog competing in grouse trials that is not wearing a bell.
Appreciation is extended to Greg Blair and Purina for their ongoing support. The Pro Plan product distributed to the winners and participants is second to none in the industry. Thank You Purina!
The planning and implementation of an event of this caliber requires dedication and teamwork of many. Dave Duell served as secretary and handled the pre-trial arrangements, took entries, held the drawing, picked up and delivered lunches and helped move vehicles from one course to another. Joe Cammisa served as trial chairman and opened up his nearby camp cabin where several spent the nights, Joe prepared breakfast and served an array of home made cookies and sweets at the daily coffee breaks. Susie Cammisa and Helen Brenneman donated the homemade goodies. Thank you Helen and Susie.
Dick Brenneman took on the role of stake manager and marshaled many braces on foot. Tom Mains helped with marshaling duties on Wednesday and Norm Meeder assisted with road guarding and vehicle moving the entire trial.
The club hosted a dinner on Tuesday evening at Bettina's Italian Restaurant in Marienville, an establishment that welcomes field trial folks with open arms and prepares Italian food second to none. Other nights several rendezvoused at the Kelly Hotel for food and refreshments.
The club was fortunate to recruit the services of knowledgeable judges for the Championship and the companion open derby stake. Dr. Tim Perschke of Butler, Pa and Jim Winnen of Wattsburg, Pa., judged the championship and rendered a decision that left no reason for questioning. They rode in style on Jim Winnen's woods wise trail horses. The open derby judges were Jerry Mercatoris of Brookville, Pa., and Russ Richardson of Guys Mills, Pa. They hoofed it for the one course stake with a call back on liberated birds, their decision well received.
THE CHAMPION AND RUNNER-UP
Blast Off, orange marked 8-year-old setter male owned by Justin Evans and handled by Marc Forman was declared champion on the merits of a most deserving performance. Blast Off, call name Sam, is no stranger to winner's circles as he began his career winning the Grand National Grouse Futurity in 2015, then followed with runner-up titles in the Ontario Grouse Championship and the Michigan Woodcock Championship plus crowned Champion in the Northern Michigan Cover Dog Championship. His sire is Champion Full Blast; dam Moss Meadow Rose, both top and bottom sides trace to five-time cover dog Champion Pennstar. Sam rendered his winning performance here in the seventh brace, which happened to be the first brace on the second day of running. The Loleta 1 course starts in-by the hard road near the clubhouse, first 10 minutes through fields with brushy pine edges before skirting swampy bottoms and more mature timbered forestland. Sam laid down a smartly directed forward effort, mostly within bell range but fading out at times. Nearing a small stand of pines at 25, Sam's bell fell silent and he was found standing stylishly and held his pose tight as a drum as a grouse was put to flight with Sam remaining steadfast and composed for the shot. Sent ahead, Sam continued to reach to the limits for the remainder of the hour and finished going away with strength to spare.
Sumac's Sashay, 8-year-old liver marked pointer female owned by Roger, Susan and Dalton McPherson of Chesterfield, S. C., and handled by Mark Hughes earned the runner-up nod in most deserving fashion. Sass, as called, has been a consistent winner starting with a placement in the National Walking Shooting Dog Futurity in 2016 followed by six runner-up champion placements including this one plus the New York Grouse, Northern New England Woodcock, U. S. Complete Open Invitational, U. S. Complete Great Lakes Regional and AFTCA Region 4 Walking Championships, not to mention numerous other open and amateur shooting dog placements. Her sire is many times champion Chasehill Little Bud, her dam Richfield Stella, her gene pool a mix of top-flight field trial champions in both horseback and cover dog events. Sass ran here in the 8th brace on Loleta course 2 the second day of running right after the champions brace. She ran a classy highly animated ground race that the judges deemed very well handled and medium to wide in overall range. Her bell fell silent at 13 in a bottom gulch near a white spruce tree where Sass had a grouse well located with statuesque style and rock solid intensity demonstrated for the flush and shot. She finished the hour hunting hard and handling out front.
THE RUNNING
Conneaut Creek Scenic River (Dave Hughes) with Runnin On Duncan (Rob Boos). Start made at 8:08 Tuesday morning under dry conditions, plenty of sunshine and the promise of a warm day on the horizon. Less than ideal conditions for a successful grouse hunt appeared in order. We broke away on Loleta 1 in by the hard road near the Thoma Camp. River, a hard hunting red setter tried his best hunting the cover at medium range the whole hour and handling like a glove to no avail in the bird finding department. The same can be said for Duncan with the difference being Duncan's ground race was wider in scope and overall ground coverage.
Thunder Hill's Storm Rider (Dave Hughes) with Grouse Trails Warrior Cat (John McKellop). Away at 9:34 on Loleta 2 which was modified recently to take advantage of the better cover on the M & M course. Phil Tsepelias followed Storm Rider, who laid down a steady forward well-directed race. At the 3-minute mark a grouse exploded near the first hilltop, neither dog involved. Cat laid down an impressive effort showing plenty of speed and classy way of going as she flitted to the likely looking cover but to no avail.
French's Grouse Ringer Woody (Marc Forman) with Miller's Hopped Up Version (Mark Hughes). We moved to Lamonaville Road course 1 some 8 miles distant and released at 10:55 under warming conditions. Woody tried hard, digging into the most ideal looking cover but couldn't connect with game. Version went fast and wide to the front, tracker requested at 35.
Pistol Grip (Mark Hughes) with Lightning Flash Billie Sue (Marc Forman). Conditions were really warm and dry at the 2:10 breakaway on Lamonaville 2. Pistol, a previous winner of this stake tried hard but to no avail. Same could be said for Sue, good race, and no birds.
Pleasant Valley Shiner (Jim Stiteler) with Thunder Hills Back In Black (Mark Hughes). Start at 3:28 on Lamonaville 3 which follows a ridge top first half then turns down hill into a valley and circles back, ending near the next start point. Shiner hunted forward with plenty of eye appeal at medium range, no birds found. Black handled well initially but extended his casts beyond the limits, tracker requested at 25.
Double Deuce Zeke (Mark Hughes) with Full Breeze (Dave Hughes). Start at 4:56 on Lamonaville 4 which winds through a stretch of ideal cover, ending along the main Lamonaville road. Zeke laid down a near perfect hard hunting out front ground effort, the judges commenting his the best so far. Unfortunately, no birds found. Breeze started strong but may have been side tracked on deer, counted out at 35. With darkness setting in, this was the final brace for the day.
Overnight, rain moved in and temperatures fell into the forties. Wednesday morning appeared to have ideal conditions for hunting ruffed grouse.
Blast Off (Marc Forman) with Warrior Zeke (Mark Hughes). Start on Loleta 1 at 8:05, Blast Off's championship effort described above. Zeke started slowly then warmed to the task, finishing well ahead.
Anna Lake Samantha (Dave Hughes) with Suemac's Sashay (Mark Hughes). Start at 9:22 on Loleta 2, Sami stylishly ahead then ranged out of pocket, handler fell behind with Sami rejoining the forward party and up at 35. Sass's runner-up performance described above.
Super Hawk (Rob Boos) with Miller's Special Upgrade (Mark Hughes). Move to Lamonaville 1, start made at 11:26. Hawk laid down an industrious forward ground heat, point called at 29 in the beaver dam bottom, Hawk steady for the shot as a woodcock exited. Hawk also suffered an unproductive near pine thicket at 44, finishing well ahead. Upgrade hunted hard and far forward, out of range at 30 when the tracker was requested.
Lightning Flash Remington (Marc Forman) with Double Deuce Oscar (Mark Hughes). Start made at 1:05 on Lamonaville 2, both tore away fast and furious, neither seen much and both counted out at 21.
Jar's Way Leroy (Mark Hughes) with Deciding Point (Dave Hughes). Off on Lamonaville 3 at 2:02, the steady rain slowed to a drizzle as Leroy hit the front in a torrid pace and lost to judgment at 25. Point laid down a ground race that surpassed all others up to this brace. She was wide, classy, fast and handled like a glove. Had her stylish intense stand at 58 produced a bird, the outcome may have been different.
A Distant Spec (Mark Hughes) with Shady Hills Zeena (Marc Forman). Final brace of the day away on Lamonaville 4 at 3:20. These two champions started in earnest, both well forward with Zeena pointed at 10, no birds produced. At 16 both bells fell silent in heavy laurel thicket with judges and handlers frantically trying to locate. Finally, Zeena discovered on point, Spec also pointing in the area as no less than seven birds exploded all around, some seen running, some airborne. The situation was confusing and became difficult to clearly define. Zeena followed this incident with two barren stands in the vicinity while Spec hunted far forward with exuberance but became intractable at 50 and counted out bringing an action packed brace and day of running to a conclusion.
Conneaut Creek Lake Erie Storm (Mark Hughes) with Timber Doodle Farms Sal (Marc Forman). Start made at 8:17 on Loleta 1 with clearing sky and cool temperatures. Both Storm and Sal hunted their hearts out at moderate range but birds were not to be found.
Wayward Flying Tomato (Mark Hughes) with Mountain Top Run (Marc Forman). Off at 9:39 on Loleta 2, Tomato, or Cooper, was high wide and handsome but couldn't come up with a bird. Run hunted hard and to the fore, pointed stylishly at 28 with only a deer seen exiting the area.
Braggabull (Dave Hughes) with I'll Be Back (Mark Hughes). The final brace away at 11:38 on Lamonaville 1, Braggabull a classy forward hard hunting moderate range birdless effort. Back, a hard hunting well directed race with an unproductive at 25, plus a strong finish.
Marienville, Pa., October 25
Judges: Tim Perschke and Jim Winnen
PENNSYLVANIA GROUSE CHAMPIONSHIP [One-Hour Heats] - 16 Pointers, 12 Setters and 2 Irish Setters
Winner-BLAST OFF, 1657342, setter male, by Full Blast-Moss Meadow Rose. Justin Evans, owner; Marc Foreman, handler.
Runner-Up-SUEMAC'S SASHAY, 1658242, pointer female, by Chasehill Little Bud-Richfield Stella. Roger, Susie & Daulton McPherson, owners; Mark Hughes, handler.
OPEN DERBY
The 12 dog-open derby stake was held on a single course off Lamonaville road on Tuesday. One grouse was moved during the running with no involvement by the dogs. The judges ranked what they considered to be the top five dogs that demonstrated the most potential for future grouse field trials and called for a second series with chukar liberated to test pointing ability, style and deportment.
The top three dogs on ground effort were Leslie's Elli Mae, owned and handled by Les Bressler, Rock Solid Ronnie, handled by Marc Forman and Pretty Boy Leo, handled by Mark Hughes. Held in reserve was two Marc Forman handled pointers named Bella and Sky. First placed Elli Mae, after an outstanding race was clearly the best on groundwork plus a very attractive way of going. Elli quickly located a released bird, somewhat unsure and flagging at first, then tightening nicely and holding her ground as the bird was put to flight and shot fired. Second placed Rock Solid Ronnie ran a classy well-directed race in her first appearance. In the call back she failed to point the first bird she contacted but did briefly point her second contact, giving way to merry chase as the bird flew away. Pretty Boy Leo finished third following a forward well directed race initially and when called back to point a bird Leo showed how it should be done by pinning a chukar with high style and rock solid intensity, showing perfect steadiness for flush and shot.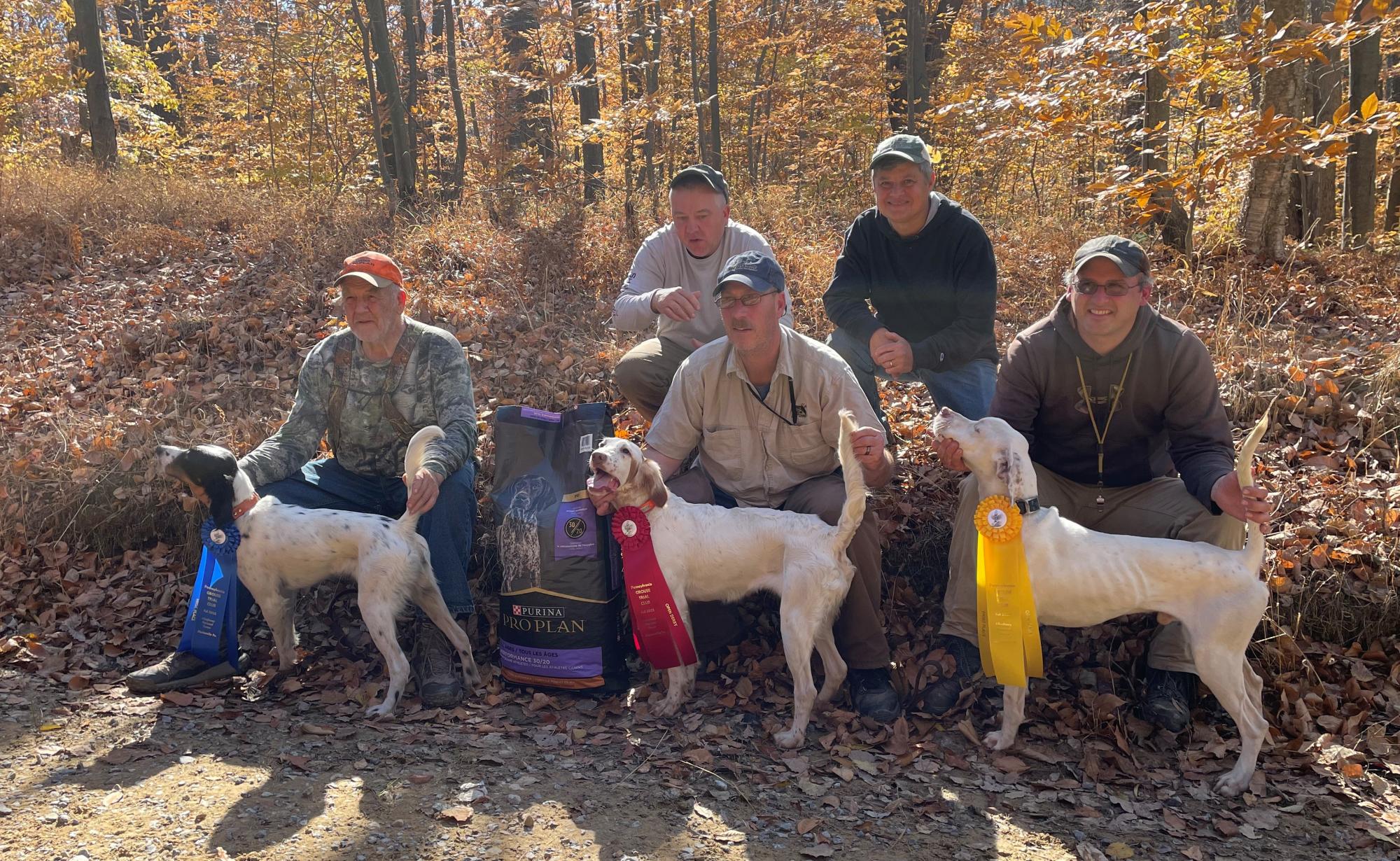 Open Derby Winners (front, from left): Leslie's Elli Mae with Les Bressler, Rock Solid Ronnie with Marc Forman, and Pretty Boy Leo with Mark Hughes. (Back, from left): Judges Russ Richardson and Jerry Mercatoris.
Judges: Gerry Mercatoris and Russ Richardson
DAVID BLAKLEY MEMORIAL DERBY CLASSIC - 7 Pointers and 5 Setters
1st-LESLIE'S ELLI MAE, 1697969, setter female, by Grouse River Rocken Roll-Grouse River Patti Cakes. Les Bressler, owner and handler.
2d-ROCK SOLID RONNIE, 1700176, setter female, by Lightning Flash Remington-Grouse Ridge Lazer. Douglas Dix, owner; Marc Forman, handler.
3d-PRETTY BOY LEO, 1699782, pointer male, by Grouse Hill Smokey-High Desert Storm. Theodore Mappas, owner; Mark Hughes, handler.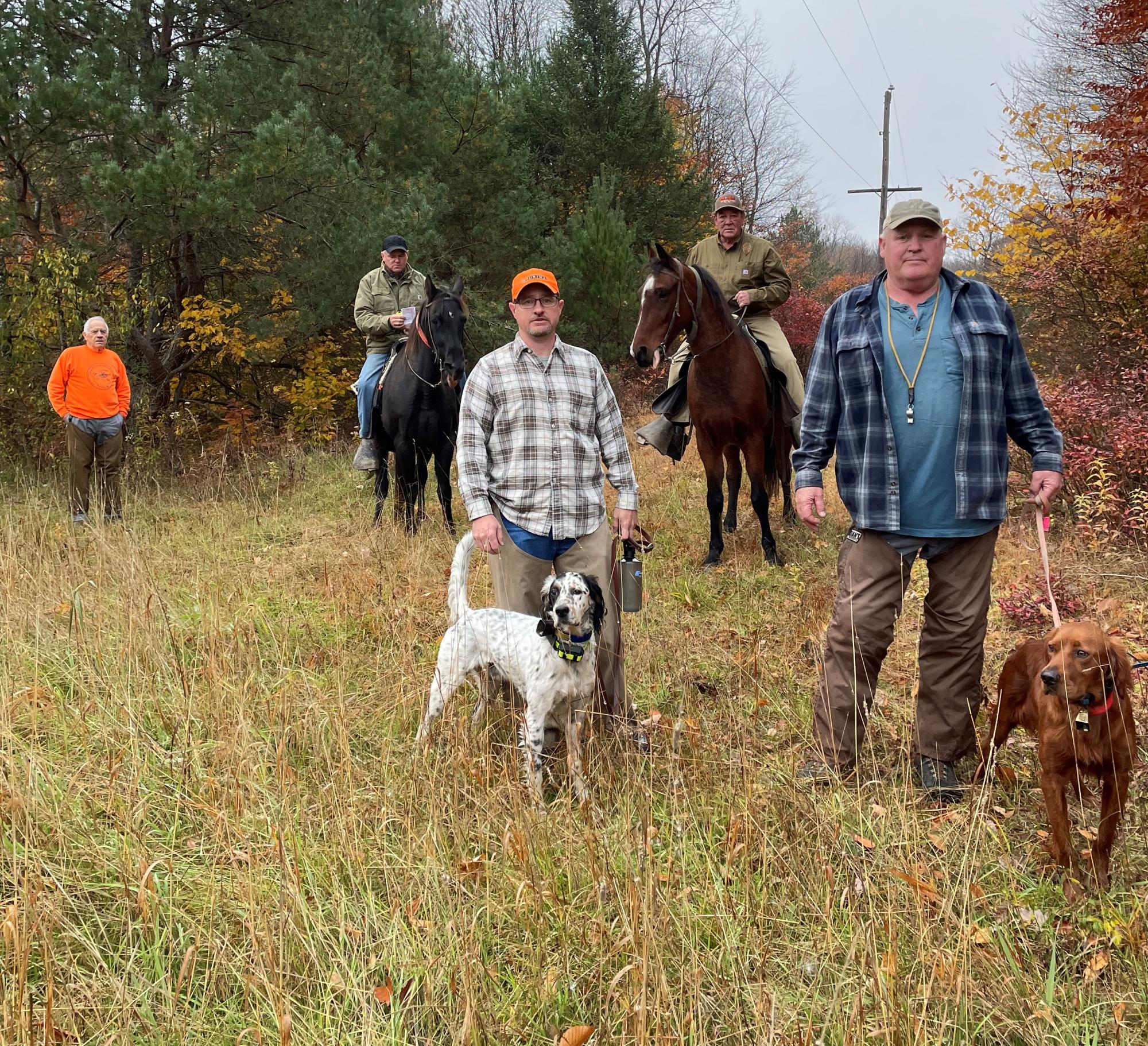 Breakaway at the first brace of the Championship (front, from left):
Rob Boos with Runnin On Duncan and Dave Hughes with Conneaut Creek Scenic River.
(Back, from left): Stake Manager Dick Brenneman and Judges Jim Winnen and Dr. Tim Perschke.