Result: Michigan Woodcock Championship
Location: Gladwin, Michigan
Post Date: Jan 17, 2023
Submitted By: Craig Merlington and Bill Nelson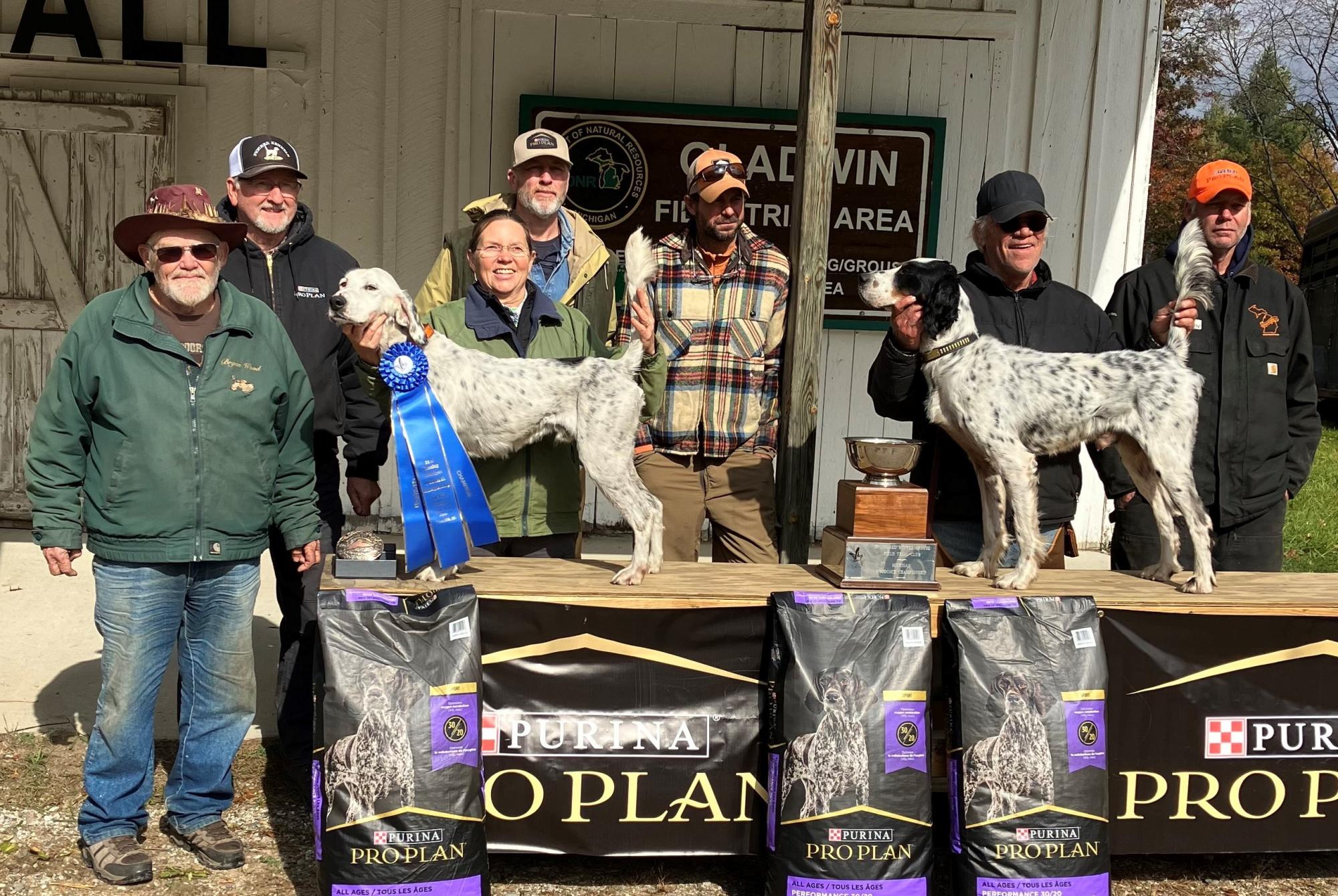 Michigan Woodcock Championship Winners (from left): Field Trial Chairman Bryan Wood, Scott Chaffee, Tammy Chaffee with Snyder's Fireside Ed, Judges Bill Nelson and Justin McGrail, Bob Leet with Thornapple Cody, and Bruce Minard.
Snyder's Fireside Ed wins the thirty-third annual running, Thornapple Cody is Runner-up.
The 2022 annual running of the Michigan Woodcock Championship, hosted by the Ruffed Grouse Field Trial Club and held at the legendary wild bird venue, Gladwin Field Trial grounds in Northern Michigan, celebrated its nearly 107th year as a place where true wild bird dogs come to compete.
The Ruffed Grouse Club has a rich history of great dog men and contributors to this very club and to coverdog trials as a whole. The three original founders, then acting President John R. (Jack) Stuart, Vice-President Dale Hernden and John A. (Jack) Nicholson as Secretary-Treasurer, formed the RGFTC in 1975 because they felt a fourth club would round out the spring and fall trials in the Michigan coverdog circuit. Dale Hernden had applied to the AFTCA and was awarded the National Amateur Grouse Championship and they felt this Championship would be effective and popular among amateurs in the Midwest and Northeast, hence requiring a club to host the event.
After hosting two amateur 1-hour classics in 1976 and 1977, the AFTCA granted the championship which would become known as the "National Amateur Grouse Championship" in the fall of 1978 and would be run at the Gladwin Field Trial Grounds and hosted by the Ruffed Grouse Field Trial club in its 1st inaugural running. So as we reflect on great patrons of our sport, let's not forget we've lost more dedicated club members in recent times. Such as our great secretary/treasurer Theda Langstaff, who organized meetings, got permits and took account of every penny and helped build the club's financial foundation for over 30 years. Dick Wyatt, Russ Gingras, Scott Kinne, Bill Wendt and founding father, Dale Hernden. All these folks were dedicated club members who volunteered many hours either organizing or helping run trials over several decades. Their faces will be forever remembered as patrons who helped shape the clubs into what they are today and for that we look forward to, perhaps renaming a few open stakes to celebrate their lives as great supporters of our sport.
The Ruffed Grouse Field Trial Club would like to thank everyone who helped make this 2022 championship a great success. Once again a huge thank you to Purina for supporting the Michigan Woodcock Championship. Purina continues to be the backbone sponsor that helps makes this championship so attractive. Our Purina Representative Greg Blair works very hard to accommodate all the cover dogs clubs' needs throughout the year and their help is always appreciated.
This year's championship drew 60 dogs from all across the Midwest and Northeast regions. The weather was typical mid-October Michigan weather as we had moderate cool mornings in the 40-50-degree range and afternoons climbing into the 50-60's rounded out with a few days of on and off light rain. Our companion stakes drew an additional 40 dogs rounding our club's entry to 100 dogs over a 6-day event.
The RGFTC would like to thank our championship judges Justin McGrail and Bill Nelson for their judicial eyes over the 5-day championship. An additional thank you to derby judges Mike Brown and Brandon Short and puppy judges Lonnie Rademacher and Rob Ellis. Let's not forget our club members for all the behind the scene duties that make this trial a huge success such as our financial secretary Tammy Chaffee who works tirelessly making sure our finances and paperwork is on-time and accurate, our stake manager Bryan Wood for getting judges and gallery to their proper courses and getting dogs to the line each brace in a timely matter and to president Craig Merlington and Vise President Bill Nelson for facilitating all the little things that make a trial run smoothly without incidents or time delays. Let us not forget our wranglers Rich and Jenny Hollister for having sure footed safe horses each morning saddled and ready on time every day. The Club thanks everyone who helped move vehicles, marshalled braces and all the little things that make this trial a great success.
The Winning Runs
The new champion, Snyder's Fireside Ed, is owned by Steve Snyder of Ellendale, MN and handled by Michigan pro trainer Tammy Chaffee. His run to the win began on day 4 of the championship, course 13-14, the final brace of the day under partly cloudy skies and favorable temperatures. The hour-long course has a multitude of covers, beginning with scrubby oaks scattered with poplars, followed by more mature cover. Throughout the course are patches of dense blackberry briars, perfect for protecting wild birds from their natural predators. Ed is a pleasure to watch, as he is quick and light-footed, dancing through the open cover and busting into the thickets in search of ever elusive wild upland birds. Ed's brace mate was Rumble, handled by Michigan pro Rich Hollister. From the first whistle, the pair hit the cover with determination and forward casts. After the road crossing on course 13, Rumble pointed to the right of the course and was subsequently leashed as he moved with a woodcock, leaving the remaining hour to Ed. As Ed continued his torrid pace, he suffered an unproductive at 30, followed by his first woodcock find at 32 with head and tail high and tight, about 30 yards from the course. His second woodcock find at 38 was a dug up one, perhaps 150 yards forward on the right side of the trail, buried in one of the aforementioned briar thickets. It took handler and judges several minutes to locate him and they found him staunch and certain, with Tammy putting a tight sitting woodcock to flight with Ed standing through the shot. After making the turn onto 14, his race showed his maturity as he cruised through the open cover, seeking the more likely thickets that would hold grouse and woodcock. Ed hit the pond on the final turn for a drink before cruising into the home stretch. He began a cast to the right of course and could be seen swapping ends and lifting his nose in the air to the scent of a pair of grouse at 57. As handler and judges witnessed Ed's stand, the grouse lifted and Ed remained staunch through flight, shot and release to finish his hour, moving with swift strides to the front.
Runner-up Thornapple Cody is owned by longtime patron of the sport Robert Leet of Kalamazoo, Mich., and was handled by Michigan pro trainer Bruce Minard. Cody made his bid on the second day on course 5-6 under cloudy skies and 50-degree weather. Off the break away, Cody was forward, making long casts while returning close enough for the gallery to only catch a quick glimpse. Cody was very consistent throughout the first half. As we neared the half, Cody was hunting the left side of the course when his bell abruptly stopped. With Bruce having a good line on his location, he found Cody in short order. Cody looked good and confident on point. As Bruce began to flush for Cody, his bracemate came in and backed. The cover was a mixture of pine and smaller oaks with not much ground cover. After a lengthy flushing attempt, Bruce returned towards Cody and put a grouse thundering to flight off the bare ground between the two dogs! As we worked onto course 6 up the hill into the younger aspen cut, Cody was deep left and Bruce took a moment to round him up and returned to course, continuing forward. At 57 just before the road crossing, Cody stopped again. This area is a high density aspen stand and Cody was about 60 yards in on the left. A shot was quickly fired with a woodcock flying back over the gallery. Cody finished as he started, making for a strong bid early in the championship.
The Backstory
Ed's journey to the champion's podium was a culmination of a winning partnership with Ed's owner, and Pioneer Kennel's pro trainers Scott and Tammy Chaffee. Steve has been developing what could arguably be the finest line of English Setters for upland bird hunters and cover dog field trailers alike. Steve's journey began as an 8-year-old hunting with his father and their Irish Setters, which led to his first English setter in 1970. He was introduced to cover dog trials with Jerry Kolter and his first field trial prospects, Rocky Balboa and Snyder's Liz. As Jerry drifted away from field trialing, Steve contacted Pioneer Kennels and Scott and Tammy to continue his quest for winning competitors. His current winning streak and the bedrock of his current setter line began in 2015, when he purchased 2X Champion Jetwood, from Michael Cooper. Jetwood has proven to be a strong producer of winning setters, including Ponderosa Mac. Steve then made what is inarguably the purchase of a lifetime, when he bought then runner-up champion Ponderosa Mac from Bruce Cartwright in 2016. Ponderosa Mac amassed a record breaking 8 championship and 3 runner-up championship wins, including 3 national championship wins and 2 runner-up national championship wins. In addition to Jetwood and Ponderosa Mac, Steve purchased Snyder's Full Rage, who garnered 5 runner-up championships. Since acquiring Jetwood, Steve has to date accumulated 12 championship wins and 10 runner-up placements with his line-up of English setters. A truly remarkable feat in the highly competitive cover dog field trial circuit.
In addition to his win record, Ponderosa Mac has proven to be a prolific producer of winning trial dogs in many different circuits, along with producing excellent hunting dogs. Among these, are CH Snyder's Pioneer Scout and the current winner of this championship, Snyder's Fireside Ed. Both of these dogs are from the very first breedings of Ponderosa Mac and the only ones of their litters to be campaigned in cover dog field trials. Ed was bred and raised by Dale Ash and he was subsequently purchased as a derby dog by veteran field trial enthusiast and English setter breeder Dr. Mary-Beth Esser. Steve purchased Ed from Mary-Beth in October of 2021 after a visit to Scott and Tammy's winter training grounds in southern Alabama. After Steve observed Ed in a workout, he contacted Mary-Beth about purchasing Ed. Ed has been in Tammy's string of competitors since his derby age and has been knocking on the door of championship placements for the last several years.
This win for Steve was very special, as a life-changing turn of events occurred during the Wisconsin Cover Dog Championship this past fall. Steve was driven to a local emergency center by his loving wife Wendy, complaining of chest pains. While there, he suffered a critical heart attack that resulted in the stoppage of his heart. He was revived and air-lifted to Mayo Clinic, where he underwent emergency heart surgery, followed two days later by a second surgery. To say that he was very lucky to survive would be an understatement. When Tammy and Scott contacted him about Ed's win, it was the uplifting news that continues to help him face what will undoubtedly be some months of recovery. Steve is a very upbeat person and is working hard towards spending next fall gunning in his favorite hunting spots once again. We believe that we speak for the entire field trial community in wishing him the best of luck in his journey to full recovery and many more bountiful bird hunting excursions with his winning lineup of English setters.
Bob Leet's journey into bird field trials began in 1964, when he purchased his first English setter and entered it in a hunting stake at Fort Custer and won. He was hooked! Bob bought his first horse the following month and spent many years with his dogs in the horseback circuit. In 1989, he purchased a pup from Jim Weirman, who was a cover dog competitor. Bob entered this dog in the grouse futurity held in
Pennsylvania that year and placed second. Thus began his love for wild bird competitions. His first cover dog champion was Thornapple Keeper, in 1991. Since then, Bob has amassed a total of 22 championship placements, including horseback and walking stakes. At 81 years young, Bob intends to continue to pursue additional wins in future cover dog stakes.
Nine year old Thornapple Cody is a product of the championship bloodlines of Ridge Creek Cody and Fireside Drama Queen. Bob purchased him through Bruce Minard's kennel, Hifive. Bob had seen Cody in workouts with Bruce and expressed his desire to purchase him if the owner ever decided to sell. When the opportunity arose, Bob bought him when he was a year and a half old. In 2018, Cody was named runner-up in the North Country Sharptail Championship, held in the Namekagon Barrens in Wisconsin. He has proven to be a great companion to Bob and has sired some winning dogs to continue his legacy in future field trials.
Gladwin, Mich., October 11
Judges: Justin McGrail and William Nelson
MICHIGAN WOODCOCK CHAMPIONSHIP [One-Hour Heats] - 24 Pointers and 36 Setters
Winner-SNYDER'S FIRESIDE ED, 1672601, setter male, by Ponderosa Mac-Rouge River Bogsucker. Steven Snyder, owner; Tammy Chaffee, handler.
Runner-Up-THORNAPPLE CODY, 1656279, setter male, by Ridge Creek Cody-Fireside Drama Queen. Bob Leet, owner; Bruce Minard, handler.
RUFFED GROUSE FIELD TRIAL CLUB
Judges: Mike Brown and Brandon Short
BILL WENDT MEMORIAL OPEN DERBY - 15 Pointers and 12 Setters
1st-HIGHBANKS FINAL JUSTICE, 1699690, pointer male, by Faith's Maximum Justice-Chasehill Mighty May. Bill Nelson, owner and handler.
2d-COUNTY LINE SKY, 1694900, pointer female, by Lester's Shockwave-Lester's Speed Lady. Anthony Napolitano, owner; Marc Forman, handler.
3d-COUNTRY ROADS ACER, 1696811, setter female, by R C Spring Collins-Ruffed Country Belle. Chris Wasserman, owner and handler.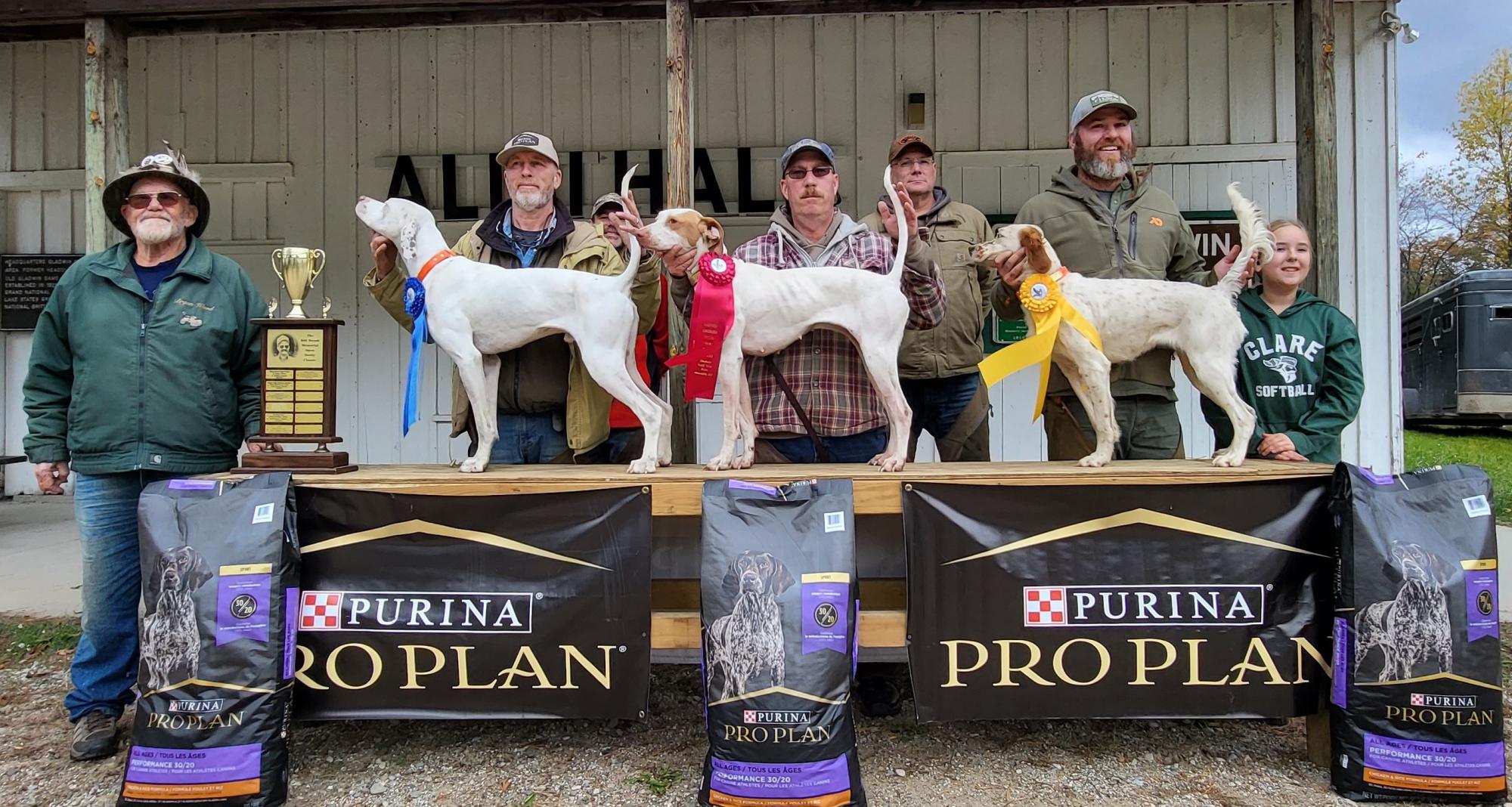 Bill Wendt Memorial Open Derby Winners (from left): Field Trial Chairman Bryan Wood, Bill
Nelson with Highbanks Final Justice, Judge Brandon Short, Marc Forman with County Line Sky,
Judge Mike Brown, Chris Wasserman with Country Roads Acer, and Josie Wasserman.
Judges: Rob Ellis and Lonnie Rademacher
KIM KINNE MEMORIAL OPEN PUPPY - 12 Entries
1st-BAXTER'S DOC HOLIDAY, 1701013, setter male, by Thornapple Casey-Baxter' sMary Katherine. Brent & Denise Peters, owners; Brent Peters, handler.
2d-SCOTTLAND COUNTRY BOY TOO, 1699777, setter male, by Long Hair Country Boy-Scottland Winnie Too. Scott Johnston, owner; Scott Forman, handler.
3d-GROUSE HILL MAC, 1702136, setter male, by Grouse Hill Bullet Proof-Spata Setters Sally. Giovanni Capocci, owner; Christy Helmes, handler.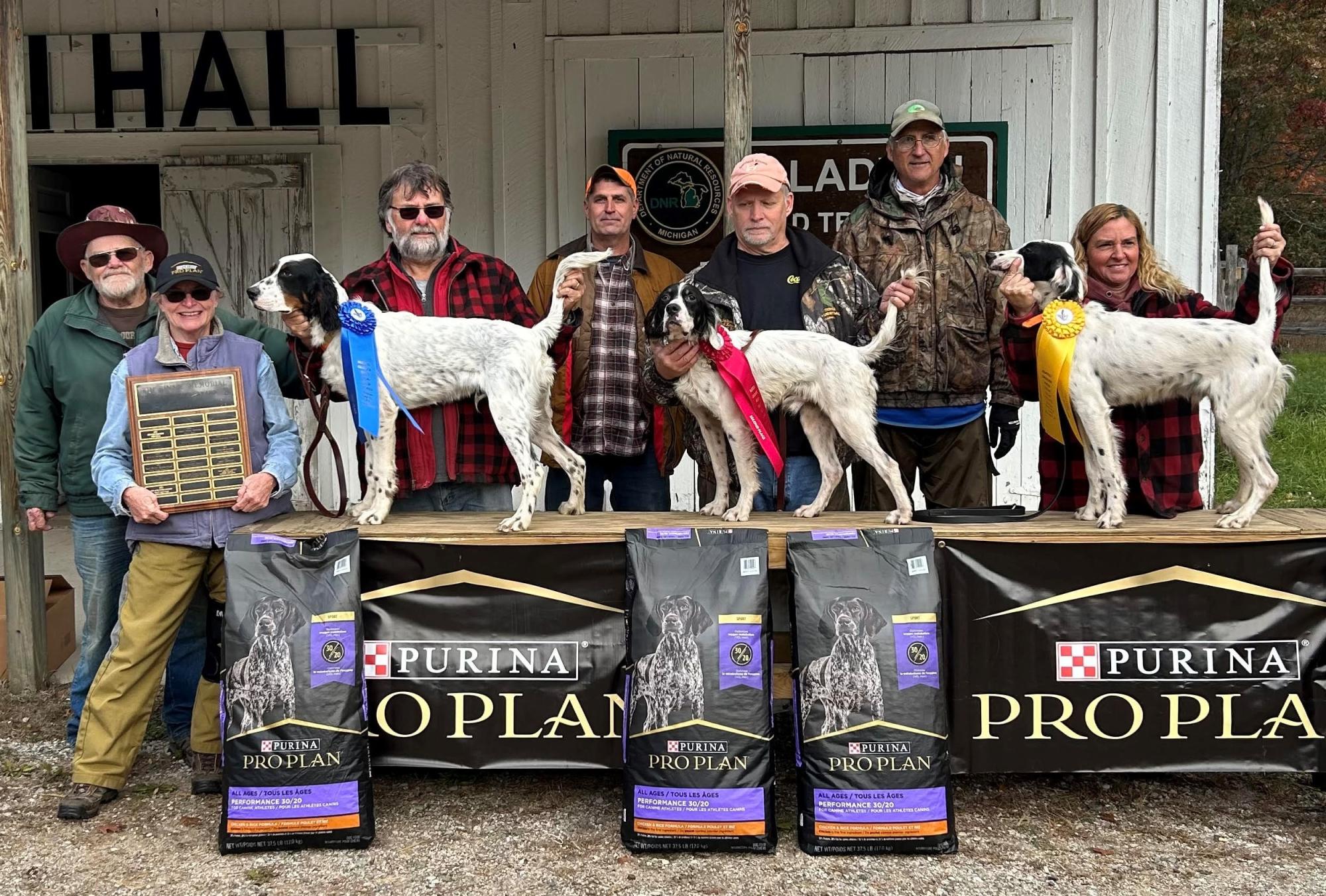 Kim Kinne Memorial Open Puppy Winners (from left): Field Trial Chairman Bryan Wood, Denise Peters, Brent Peters with Baxter's Doc Holiday, Judge Rob Ellis, Scott Johnston with Scottland Country Boy Too, Judge Lonnie Rademacher, and Christy Helmes with Grouse Hill Mac.