Result: Oklahoma Open Championship
Location: Inola, Oklahoma
Post Date: Jan 16, 2023
Submitted By: Mike Griffin
When we got started after two-day delay of Inola Open. We had clear sky nice temperatures. We drew 28 dogs. All very competitive. We had great handlers.
We knew going in bird finding was going to be tough but we did find some birds. It was a good trial and all placements were on birds, plus some extra.
We wish to thank Purina for their continuous support for which trials like these wouldn't survive.
Greg Blair does a great job with them and is a good asset. I also wish to thank two people who helped in this trial, Bob Barker, Barry Moore, John Humphries it really turned out good.
Congratulations to the winners.
Champion Lowrider Frank (Vincent) has won on these grounds before, he also placed in Inola Open All-Age. He put on a great performance in all-age style. Running to the front handling very good while collecting 4 well-spaced finds all handled with style and great manners. This is what earned him the Championship.
Runner-up Bonner's Bullet Proof (Anderson) run early with a good All-Age race in tough country did very good going with handler while searching for birds. He was rewarded with two good finds handled them with style and grace. It was good performance.
Inola, Okla., October 22
Judges: Mike Griffin and Eddie Smith
OKLAHOMA OPEN CHAMPIONSHIP [One-Hour Heats] - 26 Pointers and 2 Setters
Winner- LOWRIDER FRANK, 1650933, pointer male, by Miller's Happy Jack-Fairchase Jiggs. Dr. Jim Mills & Steve Lightle, owners; Allen Vincent, handler.
Runner-Up-BONNER'S BULLETPROOF, 1683585, pointer male, by Miller's Speed Dial-Miller's Martha White. Chris Corman, owner; Randy Anderson, handler.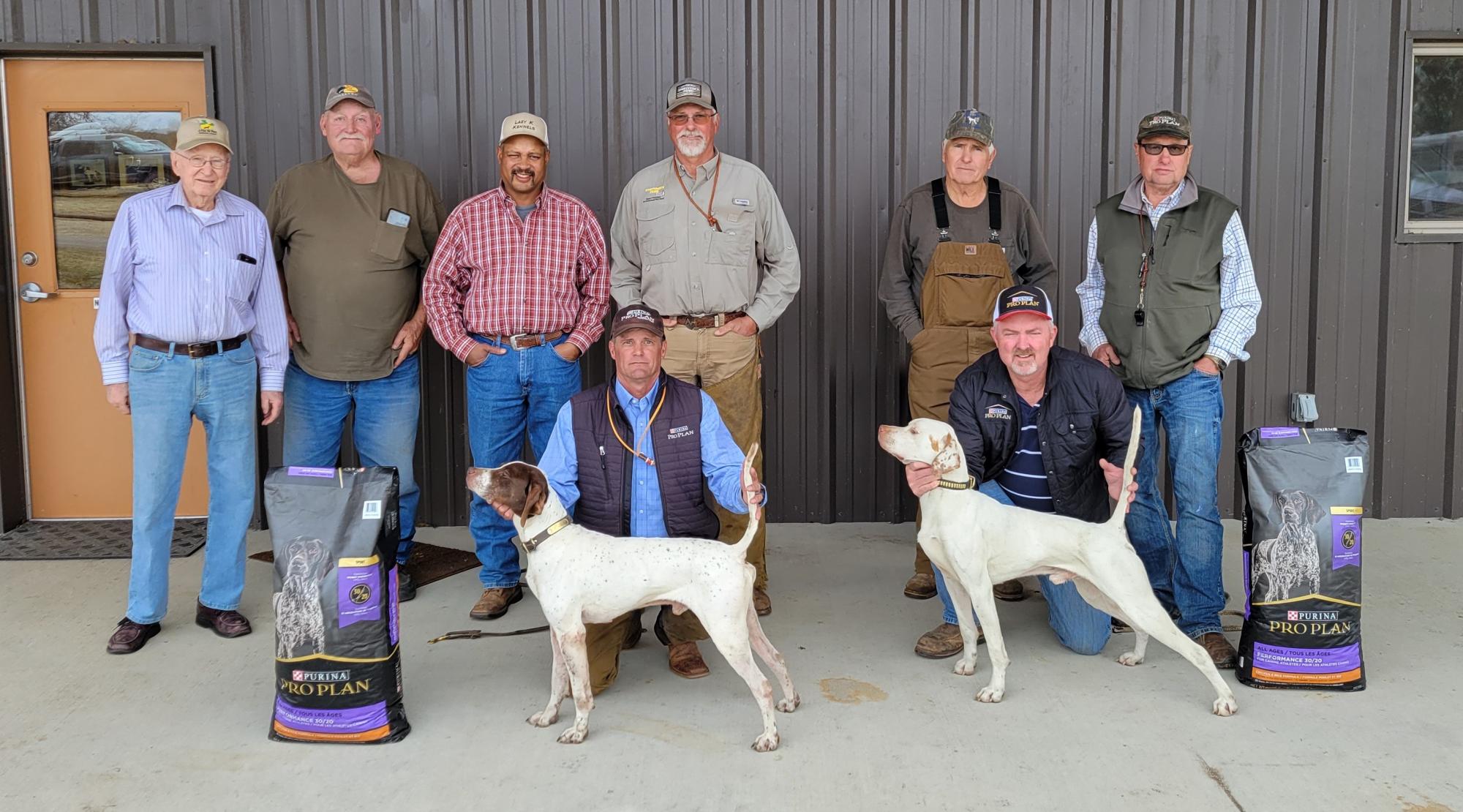 Oklahoma Open Championship Winners (from left): A curious spectator joins Judge Mike Griffin, Kevin Guess, Allen Vincent, Judge Eddy Smith, Randy Anderson, Matt Cochran with Lowrider Frank, and Jon Humphrey with Bonner's Bullet Proof.