Result: National Brittany Open Grouse Championship Association
Location: Meredith, Michigan
Post Date: Sep 6, 2022
Submitted By: Kenny DeLong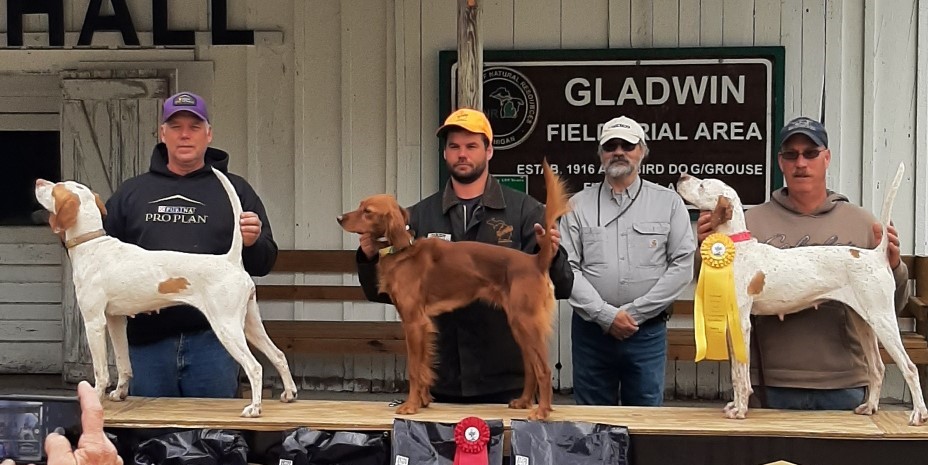 Open Shooting Dog: Bruce Minard with Hifive's Top Shelf, Neil Minard with Kalamity Cinder, and Marc Forman with Shady Hills Zeena. Judge Tom Winter in back row.
Our Spring trial was one of the last of the season at the well know and historic Gladwin Game Refuge. We were blessed with great weather, plenty of grouse and woodcock, the generous support of Greg Blair and the folks at Purina, our friendly wranglers the Hollister family, and the contributions of countless volunteers--all of which help make for a successful field trial. Participants enjoyed tailgate coffee and donut breaks and cold lunches both days thanks to Chuck and Theda Langstaff and Tammi Savage.
Judges Bruce Barlow and Tom Winters scrutinized a large field of 41 shooting dogs Saturday and Sunday, observing many fine races and good bird work--leaving them lots to discuss before reaching their decision. Bruce Minard's pointer female "Scotch" was awarded top honors with a stellar forward race that hit all the objectives and really covered the ground. Judges commented that she really looked good moving and was staunch and statuesque pointing woodcock. The red ribbon also landed in Bruce's lap thanks to a fine performance from the red setter female "Cinder"--fancy, light on her feet, and handling smoothly throughout, pinning a grouse at the 14 minute mark. Placing third was the well-known pointer female "Zeena", handled by Marc Forman, who ran strong and locked up head n' tail high and tight on a grouse twenty minutes in.
Plenty of bird work gave the Jack Plyler Derby Classic judges a lot to talk about as well. Neil Minard and Reggie Durant watched 22 young charges compete on Sunday. All setters and all females in this one, folks! Mike Singleton's "Kati" took the blue with a forward charging race and a woodcock find. Rob Ellis guided "Penny" to second place on the strength of a strong race and a vey nice find on grouse. High School Linebacker and accomplished young handler Ricky Hollister showed off Briar on both grouse and woodcock---handling well throughout.
Open Puppy ran Saturday morning under the judgement of Marc Dozeman and Mike Brown. They liked Kenny DeLong's pointer male "Freedom" for first place. Both judges commented on the high, crackin' tail, strong powerful race to the limits of bell range while handling well and showing just frequently enough to demonstrate that all important bond between dog and handler. Steve McKalko's speedy Brittany female "Luna" covered the limits of the course and then some to challenge the winner. The yellow ribbon went to Bruce Minard's pointer female "Kaia" with a strong race and great style moving.
Placements were well received at Alibi Hall at the end of the running on Saturday and Sunday. Great fellowship and reflection on performances inevitably followed. We are grateful for the opportunity to run our bird dogs on such hallowed ground and thank the Lord above for the countless blessings that make pursuing our passion possible.
Meredith, Mich., April 30
Judges: Bruce Barlow and Tom Winters
OPEN SHOOTING DOG - 8 Pointers, 32 Setters and 1 Irish Setter
1st--HIFIVE'S TOP SHELF, 1686517, pointer female, by Hifive's Unlisted-Hifive's Bett's Placed. Ben Batey, owner; Bruce Minard, handler.
2d-KALAMITY CINDER, 1678532, Irish setter female, by Come Back Cutter-Come Back Bonita. Deb Sloan, owner; Bruce Minard, handler.
3d-SHADY HILLS ZEENA, 1667955, pointer female, by Erin's War Creek-Brave Heart Cassie. Debra Nihart, owner; Mark Forman, handler.
Judges: Marc Bozeman and Mike Brown
OPEN PUPPY - 9 Pointers, 6 Setters and 1 Brittany
1st--MAY'S LEGACY OF JUSTICE, 1695469, pointer male, by Faith's Maximum Justice-Chasehill Mighty May. Ken DeLong, owner and handler.
2d-HAYWOOD LEO MCKALKO, 1697402, Brittany male, by Dogwood's Speeding Comet-Majestic Scout Boersen. Stephen McKalko, owner and handler.
3d-SPEED DIALING KAIA, 1696295, pointer female, by Miller's Speed Dial-Phantom's Santo Sun. John Paul Jones, owner; Bruce Minard, handler.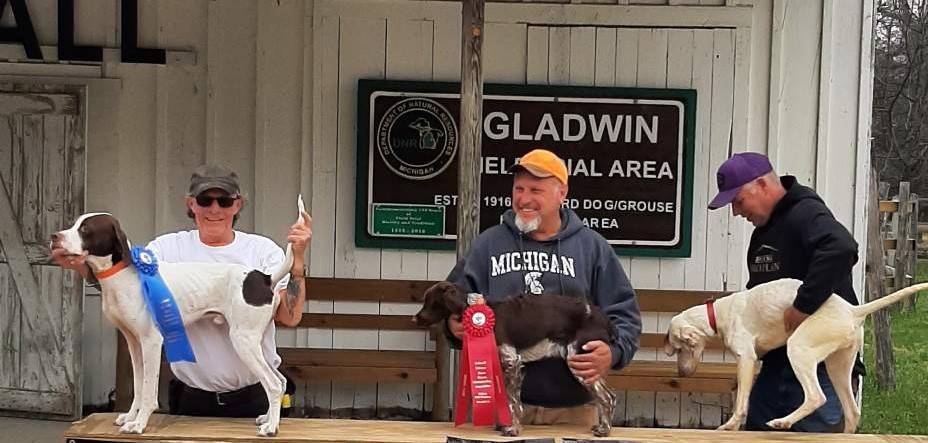 Open Puppy: Ken DeLong with May's Legacy of Justice, Steve McKalko with Haywood Leo McKalko, and Bruce Minard with Speed Dialing Kaia.
Judges: Reggie Durant and Neal Minard
JACK PLYLER OPEN DERBY CLASSIC - 7 Pointers, 14 Setters and 1 Brittany
1st--MEREDITH GRADE KATI, 1692672, setter female, by Jetwood-I'm Blue Who. Mike Singleton, owner and handler.
2d-PONDEROSA'S COPPER PENNY, 1690593, setter female, by Ponderosa Mac-Eldridge's Beauty and Beast. Robert Ellis, owner and handler.
3d-DUN ROVEN BRIAR, 1692202, setter female, by Dun Rovens Drifter-Waymaker Terrific Daisy. Richard Hollister, owner and handler.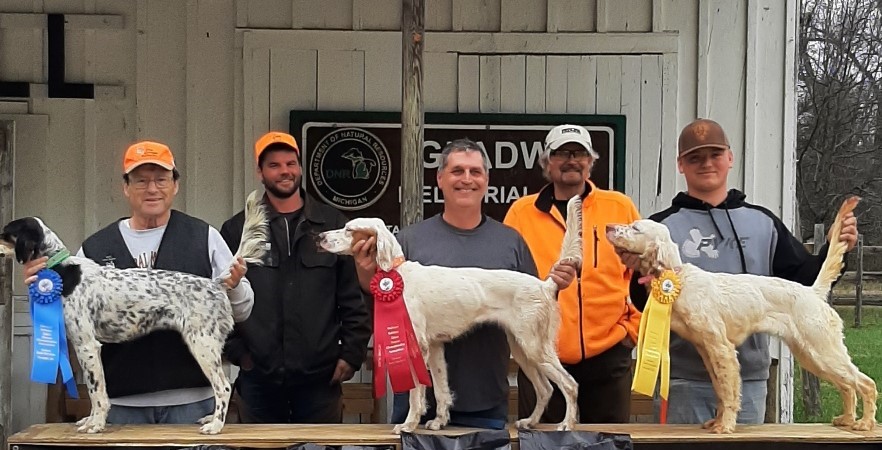 Jack Plyler Open Derby Classic: Mike Singleton with Meredith Grade Kati, Rob Ellis with Ponderosa's Copper Penny, and Ricky Hollister with Dun Roven Briar. Judges Neil Minard and Reggie Durant in back row.