Result: U. S. Complete Great Lakes Regional Open Walking Shooting Dog Championship
Location: Milford, Michigan
Post Date: Aug 23, 2022
Submitted By: David A. Fletcher
The Grand Valley Bird Dog Club hosted the U. S. Complete Great Lakes Regional Walking Shooting Dog Championship May 30, April 1, weekend over fine grounds at the Highland Recreation Area near Milford, Mich. The Silo course was again used providing a plethora of Quail this time, likely because the scenting was excellent, the cover reasonably low and the abundant rains of April had left the ground very moist and Quail scent seemed to be enhanced by all the dampness. This was the ninth time the Grand Valley Club has hosted this popular Championship. The weather and temperatures both days was coolish, no rain of any consequence, simply very reasonable conditions for dogs to hunt hard and show their capabilities and smell birds. Many handler reported that almost every brace the dogs were finding at least five or more birds. In addition to the many birds found and pointed during the running, Woodcock banders Leanne Parnell and Mike Brown put bands on some Woodcock chicks on the grounds prior to the weekend trial.
Support for this Championship came from handlers Robert Ecker and Dave and Mark Hughes with their strings, and in addition amateurs Bob Wheelock, Doug McMillen, Eric Munden and Sarah Gomes. There were 29 starters. A huge load of duties fell on Club President Jim Cipponeri, beginning with the drawing where wife Connie in her finest, very legible printing made the running order sheets. Jim also had the job of marshalling the course and Quail liberation, two very busy days. Help came from Dave Fletcher, writing the judges books and bringing the rosettes, and serving as trial reporter. Brian Wood faithfully announced the braces at the starting line. As always the club would like to express appreciation for the support of Purina.
Judging was the team of Bill Branham and Kelsey Hajek. Both were very attentive to the performances and made their decisions regarding the winning performances in great fashion.
Both are experienced in Pointing Dog circles.
The Winners and Others that Challenged
The Championship winner was Bo of Piney Woods, seven year old pointer male, owned by Richard Warters of Barkhamstead, Conn., handled by Robert Ecker. Bo is a consistent winner at field trials. His performance here was outstanding, with four great finds and a hunting effort that would be hard to top in any stake. His stance on point was lofty, rigidly sure at flush and he scorched the course each time sent on from a find. He had a hard driving finish, always reaching forward and turning his casts to the front of course. His record shows several Championship and runner-up placements, the most impressive being a win of the U. S. Complete National Championship. Runner-Up was Double Deuce Zeke, six-year-old pointer male owned by Doug McMillen of DuBois, Pa., handled by Mark Hughes. Zeke had a very fine hour of hunting, scoring five finds. All were a display of pointing style, manners around birds, location of the quarry and steadiness to wing and shot. This dog does it all. His hunting effort was wide, his swings forward, and he handles well. Zeke had a good finish and his gait and running style are excellent. This is Zeke's first runner-up title. He has won five Championships in total including the 2020 Grand National Grouse Championship. He has in excess of 20 overall field trial placements including Puppy and Derby wins.
There were several dogs that made challenges for the placements of Champion and runner-up Champion. An early performance that drew praise and a challenge for a placement came from Bob Wheelock's Tupelo Honey in the second brace....multiple finds and a hard hunting forward effort. Runner-up Double Deuce Zeke, came along in the third brace.
In the sixth brace Sterlingworth Jack logged four excellent finds and great hunting to toss a challenge. Bo Of Piney Woods appeared in the ninth brace, and claimed the Championship. One of the most interesting braces of the stake was the 12th during Sunday's running. Bracemates Warrior Zeke handled by Mark Hughes and Glassilawn War Paint, handled by Bobby Ecker, alternated points and backs on abundant birds on their course and made their presence known.
Other starters include Ramapo Mt. Doc, Doodle Ridge Elroy, Backwoods Wildfire, Grouse Hill Bulletproof, Suemac's Sashay, Attitude's True Grit, Double Deuce Sage, Miller's Hopped Up Version, A Distant Spec, Jars Way Leroy, Angel's Envy, Island Fantasy, I'll Be Back, Braggabull, Wayward Flyin Tomato, Wildland Warrior, Cal Peak Hundredth Meridian, Dun Rovens Midnite Ike, Teen Spirit, Miss Penn Star, Double Deuce Oscar, and Miller's Special Upgrade.
Milford, Mich., April 30
Judges: Bill Branham and Kelsey Hajek
U. S. COMPLETE GREAT LAKES REGIONAL OPEN WALKING SHOOTING DOG CHAMPIONSHIP [One-Hour Heats] - 16 Pointers and 13 Setters
Winner-BO OF PINEY WOODS, 1661644, pointer male by Bud of Piney Woods-Medlin's Dancin Abagail. Richard Warters, owner, Robert Ecker, handler.
Runner-Up-DOUBLE DEUCE ZEKE, 1673940, pointer male by Double Deuce Peter-Funseeker's Holiday. Doug McMillen, owner, Mark Hughes, handler.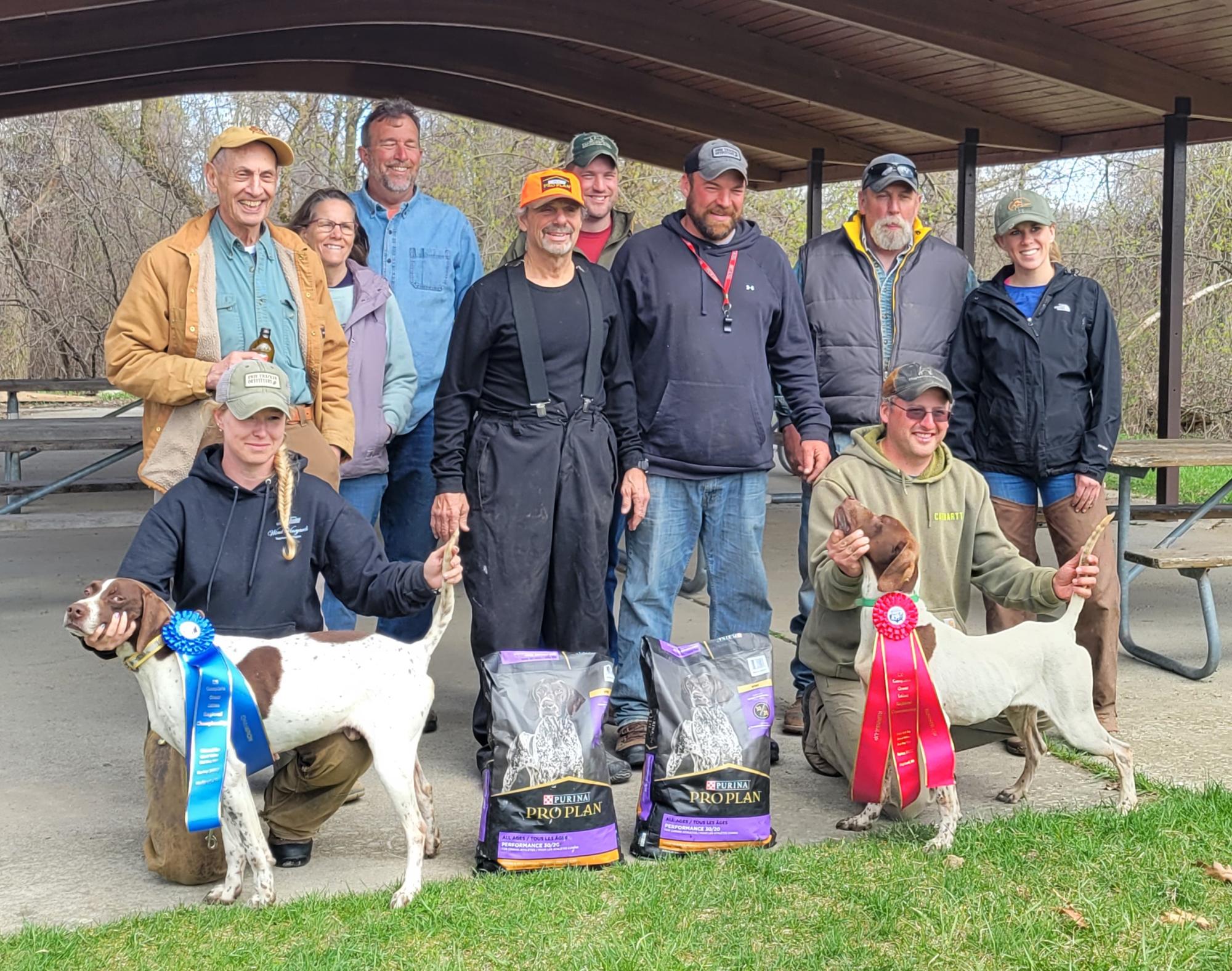 U. S. Complete Great Lakes Regional Championship. Kneeling, from left: Sarah Gomes with Bo of Piney Woods, and Mark Hughes shows Runner-Up Champion Double Deuce Zeke. Back row, from left: Dr. George Najor, Diane and Bob Wheelock, Jim Cipponeri, Eric Munden, Doug McMillen, and the judges Bill Branham and Kelsey Hajek.