Result: Region 1 Amateur All-Age Championship
Location: East Windsor, Connecticut
Post Date: Aug 22, 2022
Submitted By: John Olfson
The Region 1 Amateur All-Age Championship commenced Saturday April 30th in East Windsor, Conn., at the Dr. John E. Flaherty Field Trial Area with Judges Doug Ray and John Stolgitis mounted and ready for action. Doug and John are Professional pointing dog handlers and trainers, both with many championships under their belt. We are most appreciative they accepted the assignment.
Under the joint effort of the Dr. John E. Flaherty Field Trial Clubs Association, and it's devoted President Dick Frawley, as well as the State of Connecticut Department of Energy & Environmental Protection, Eastern District Wildlife Biologist Ann Kilpatrick, the grounds were in as good of condition as could be expected. We are thankful and appreciate this continued joint effort.
Pointer male, Thomas Adirondack Turbo, was named Champion. Turbo running in the 1st brace set the tone early. He ran a hard charging forward race with 6 perfect finds. He always turned up in the right place for his handler and owner Jim Thomas. Turbo is a multiple champion, having won the 2020 Amateur Pheasant Championship with Jim as well as the 2021 Region 1 Horseback Shooting Dog Championship. He's an Open Champion as well from when he was campaigned with Mike Tracy. Happened to be present when breeder Rich Giuliano delivered Turbo as a young pup. The breeding has proven to be very successful, his litter mate brother Pure Confidence is a multiple champion and reining NBHA Dog of The Year.
Pointer male, Miller's Unbridled Forever was named runner-up. He ran a strong race, taking edges, always hunting, gorgeous on point. Veteran handler Brian Sanchez got him around with 6 finds and a back.
Many thanks to Greg Blair and Purina for their continued support. We are proud to award PRO PLAN Sport to the winners. We all appreciate Purina's effort and support of all sporting breeds, they are far and away second to none! In fact I know of no one in our New England group of field trailers who does not feed PRO PLAN.
East Windsor, Conn., April 30 - One Course
Judges: Doug Ray and John Stolgitis
REGION 1 AMATEUR ALL-AGE CHAMPIONSHIP [One-Hour Heats] - 24 Pointers
Winner-THOMAS ADIRONDACK TURBO, 1656122, male, by True Confidence-Richfield Rose. James Thomas, owner and handler.
Runner-Up-MILER'S UNBRIDLED FOREVER, 1661404, male, by Just Irresistible-Miller's Bring The Heat. Great River Kennel & Neil Walker, owners; Brian Sanchez, handler.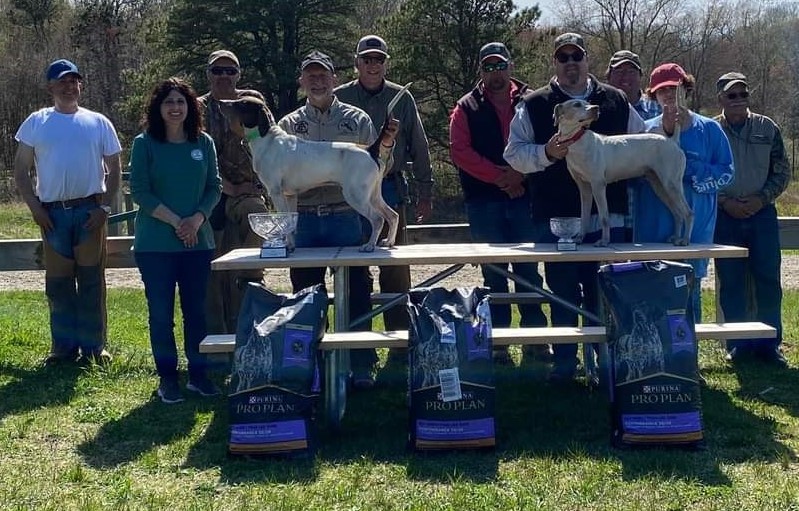 From left: Milkar Ferrara, Nadine Thomas, John Stolgitis, Jim Thomas with Thomas Adirondack Turbo, John Olfson, Brian Sanchez, Craig Santos with Miller's Unbridled Forever, Doug Ray, Taylor Santos, Gene Casale.