Result: Northwest Field Association
Location: Hankinson, North Dakota
Post Date: Aug 2, 2022
Submitted By: Lorrie Bohl-Beaulieu
The Northwest Field Association held its annual spring field trial at the Sheyenne National Grasslands: Hankinson Hills Unit, in southeastern North Dakota on April 22 and 23. The rolling hills, blanketed in native prairie grass and dotted with groves of bur oak, present a challenging test for dogs, handlers, and scouts as they navigate this unique terrain.
The two-day event kicked off on April 22, Earth Day, and fittingly, participants had a chance to experience the range and power of North Dakota weather as the region awakens from its brumal sleep. Sun, rain, cold, high winds, heat, hail, and sleet took turns challenging the handlers and dogs, and one brace was interrupted as the group sought cover when the clouds erupted with thunder, hail and strong winds. Despite complications with weather, the competitors' spirits held high and bobwhite quail were found by the dogs that probed into the edge covers where the birds sought shelter.
No field trial can run without the help of many hands. The ever-dependable Don Dack oversaw the dog wagon, ensuring dogs were consistently ready to go at the breakaway and that the humans were fully fueled with coffee and melt-in-your-mouth cinnamon rolls from the Hot Cakes Caf in Hankinson. The contributions of club members in varying capacities is always essential and was surely appreciated. And local bird dog enthusiast and friend of the club, Mark Pfeifer, ensured there was an ample supply of fresh water at the camp for horses and dogs. We are fortunate to have your help.
A sincere thank you to Greg Blair and Purina for your sponsorship and loyal support for our Northwest Field Association club's field trials. And finally, a hearty thank you to our judges, A. J. Kalupa, Bob Saari, Scott Jordan, L. J. Lundstrom, Dave Moore, and Don Dack, for their time and attention in the saddle judging the competitors.
Congratulations to the winners, and thank you to all the participants and volunteers for making it a successful trial.
THE RUNNING
Nine to Five Nation owned by David Moore and handled by Scott Jordan emerged as the winner of the Open All-Age. "Dolly" ran a true all-age race at extreme speed, always showing to the front. She was found standing at 22 with lofty style, when handler noticed her bracemate was also standing below the hill he elected to take a back. In the final minutes Dolly was seen way to the front still in search of game.
Pearl Jam Nation owned and handled by Scott Jordan was the top dog in Friday's Open Derby stake. Pearl ran a fast, forward race with an easy-pleasing gait. She was found standing three times with extreme style. Pearl is a young daughter of 4x champion Confident Nation and will be looking forward to a successful derby season this year.
Cold Creek Hank, a nicely gaited setter male owned and handled by Ian MacTavish took top honors in the Open Shooting Dog. Hank displayed excellent ground speed and range, well outpacing his bracemate who picked up mid brace due to heat fatigue. Hank stretched well forward and probed into the edges and thickets where quail were seeking shelter from the wind, and he was rewarded with three well-spaced finds. He demonstrated excellent style and intensity on point, and his manners were all in order.
Rae, a stylish, strong running pointer female owned and handled by Jim Tande was the top derby. Rae was exceptionally strong on the ground and did not have any lulls in her speed and focus even though the full sun showed its effect on the other dogs' performances. When Rae showed, it was almost always way out front as a flash of white pressing forward to the next objective.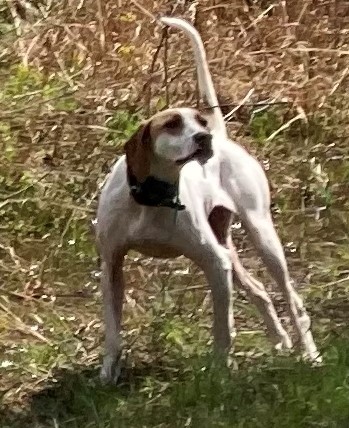 Nine To Five Nation First in the Open All-Age Stake
Hankinson, N. D., April 22 - One Course
Judges: A. J. Kalupa and Robert Saari
OPEN ALL-AGE - 8 Pointers and 2 Setters
1st -NINE TO FIVE NATION, 1693962, pointer female, by Strut Nation-Frontline Dita. David Moore, owner; Scott Jordan, handler.
2d-NORTHERN CONFIDENCE, 1689632, pointer male, by True Confidence-Southern Songbird. Frank LaNasa, owner and handler.
3d-CHEYENNE NATION, 1681417, pointer female, by Strut Nation-Erin's Amazing Grace. Scott Jordan, owner and handler.
OPEN DERBY - 7 Pointers and 1 Setter
1st -PEARL JAM NATION, unreg., pointer female, breeding not given. Scott Jordan, owner and handler.
2d-GAME SURGEON,1695096, pointer male, by Caladen's Tennessee Red-Caladen's Strutting Dixie. Ian MacTavish, owner and handler.
3d-ELLIE PROUD TO SERVE, 1690798, pointer female, by Cold Creek Kevinator-Berg Brothers Faithful. Tim McElroy, owner; Ian MacTavish, handler.
Judges: Scott Jordan and L. J. Lundstrom
OPEN SHOOTING DOG - 5 Pointers and 6 Setters
1st -COLD CREEK HANK, 1678604, setter male, by Cold Creek Kevinator-Cold Creek Black Magic. Ian MacTavish, owner and handler.
2d-UPFRONT'S PIPER, 1690450, pointer female, by Chelsea's Thunder Bolt-Upfront's Southern Star. Todd Manns, owner and handler.
3d-PRAIRIEWOOD'S DAKOTA, 1694445, pointer male, by Boumeester's Duramax-Oday Nation. Todd Manns, owner and handler.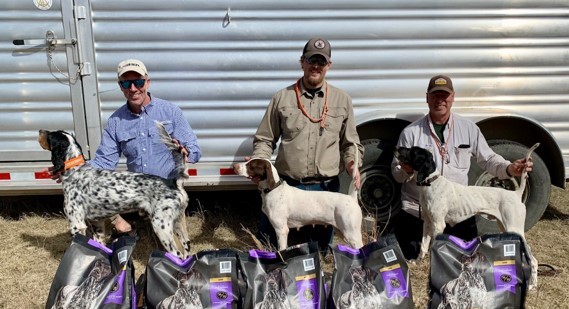 Open Shooting Dog. From left: Cold Creek Hank with Ian MacTavish, Upfront's Piper with scout A. J. Kalupa, Prairiewood's Dakota with Todd Manns.
Judges: Don Dack and David Moore
OPEN DERBY - 7 Pointers and 3 Setters
1st -RAE, unreg., pointer female, breeding not given. Jim Tande, owner and handler.
2d-COLD CREEK SINGLE MALT, 1697085, pointer male, by Dominator's Bull Market Bud-Erin's Lullaby. Ian MacTavish, owner and handler.
3d-DUE NORTH LOOP, 1691967, setter male, by Erin's Hidden
Shamrock-Stumbo's Abbey. Dean Renneke, owner; Jim Tande, handler.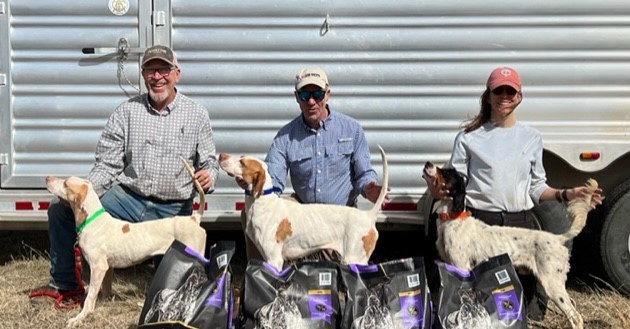 Open Derby. From left: Rae with Jim Tande, Cold Creek Single Malt with Ian MacTavish, Due North Loop with scout Lorrie Bohl-Beaulieu.