Result: Kentucky Open Shooting Dog Championship
Location: Berea, Kentucky
Post Date: Jul 1, 2022
Submitted By: Pam Tucker
The 42nd running of the Kentucky Open Shooting Dog Championship had been rescheduled from November, 2021 until March 8, in an effort to draw three pro handlers necessary to qualify for Purina Pts dog of the year. Our efforts were not successful two pro handlers entered our rescheduled postponed championship, Doug Ray, Waynesboro, Ga., and Matt Basilone, Pittsgrove, N. J.
Twenty-one dogs were entered in the Open Shooting Dog Championship stake. First place winner Casey Creek Crystal Ice female pointer owned by Buster and Pam Tucker, handled by Buster. Crystal ran the 6th brace 3rd course braced with Ravenwood Charlie handled by Matt Basilone. After take off upon entering into the Old House Bottoms Crystal was seen crossing the tree row to the front and wasn't seen again until scout Tim Hammons found her on point in the cemetery field. Crystal was high on both ends and mannerly on her birds. She heeled to the front and was released just prior to the cedar row behind the Agee House. Thanks to Matt Basilone who was at the cedar line routed her toward handler Tucker. Crystal crossed the tree line and was found pointed on the other side of the cedar line. She was high on both ends and mannerly on her birds. Crystal was heeled to the gravel road where she caught up with the judge and other handler. She was released down into the Agee thicket bottom where scout Tim Hammons' keen eyes saw her approximately 200 yards standing on her third find along the edge of the thicket. Crystal's point was high on both ends and mannerly on her birds. Crystal was heeled back on course at this time bracemate was picked up. Crystal was released and was seen making a huge cast to the right corner of the field prior to entering Drive In Theatre Field. She continued down the tree row across the front and was found approximately 100 yards down the fence row for her 4th find. She was high on both ends and mannerly on her birds. She cast to the front and was seen going out of the Drive-In Theatre field. Prior to crossing the road scout Tim Hammons found her on point in a food plot just south of the clubhouse woods. Crystal was high on both ends and mannerly on her birds. She was heeled across the blacktop road and released down the ditchline where she made a swing to the front and cast again into the Round Woods field. She was found on point along the Round Woods line again nailing her 6th find high on both ends and mannerly on her birds. Crystal was not seen again until she showed front at the Old Burnt barn. She then made a huge cast around the perimeter of the property line. Crystal continued front into the 20th Century Pass field crossing the front. She then rimmed the creekline of the Powerline field. As the judges entered the concrete bridge field they called pickup. Crystal was seen going across the hill at the front of the field.
Runner-up Little More Shine, female Irish setter, owned by Tim and Kristine Hammons handled by Tim Hammons, was released from the clubhouse in the last brace of the trial. Shine was found on point by scout Kris Hammons on the left side of the Dewey Bottoms, woodcock was right in front of her. Catching the front both dogs were found in tree line before he Burnt Barn nothing found initially bird was seen eventually on relocation. Both dogs making large swings in field behind Gravel Hill. Little More Shine takes the right edge and is found pointing into a thicket. Another woodcock is produced. Only seen once on the back side of the No. 1 course and was missing then found pointing by scout in clump of bushes near the course path where a woodcock was produced. On past the sow pond Little More Shine was missing again a search by scout and handler found her pointing on the all age side of the course in a grove of saplings another woodcock was flushed by handler. On to the front Little More Shine was found pointing just before time at the Round Woods. A nice covey of quail flushing ended her strong forward hour.
Gratitude to the two judges Scott Kermicle, Dawson Springs, Ky. and Arnold Hall, Morristown, Tennessee. Their diligent observation and rainy days in the saddle were exemplary and appreciated.
Our sponsor Purina make the standards held possible with their donation of Purina Pro Sport dog food to the winners, jackets and hats to be embroidered for the Championship. Thank you Greg Blair for always coming through and continuing to help us.
Charlie Turner dove our dog wagon, complimentary meals were provided in the clubhouse and breakfast items/refreshments were available for all participants provided by the Kentucky Field Trial Association.
Engraved award trays were given winner and runner-up purchased from local Hoppers Jewelry, Richmond, Ky.
Field Trial Chairman, Matt Pendergest, oversees the mechanics of the championship. Acquiring judges, holding the drawing, composing the ad, marshalling the braces, and insuring details are attended to are a few of the many responsibilities behind the scenes. Officers of the Association expend hours of time necessary to hold a good field trial. It's a thankless work taken for granted that a trial magically happens.
Thirteen dogs were entered in the Derby.
All winning placements of the Open Derby were judged on ground work. Walden's Ridge Slap Shot, pointer female owned by David Steele, handled by professional Doug Ray placed first. I'm Spartacus, male pointer owned by Harold Ray and Jeff Ferebee, handled by Doug Ray placed second. Third place went to Hot Rod Ricky Joe, male Irish Setter, owned and handled by Tim Hammons.
Thank you to all participants hopefully we provided a good experience to all. KFTA and its member clubs continue to enjoy the efforts of the past, Miller Welch WMA's 1,800 acres of wildlife management area with three one hour continuous courses. KFTA is a non profit organization who fund raise to pay for ground improvements and maintenance of our facilities. This previous year KFTA paid for electrical wiring of the barn needed to continue safe use. Installed a concrete barrier muck station, bought fertilizer for food plots, and paid for liability insurance for field trailers. In 2020-21 KFTA composed a Covid plan required by the Madison County Health Department for field trials to be held at MWWMA. Supplies masks, disinfectant, gloves, and posted guidelines were provide by the KFTA.
Berea, Ky., March 8
Judges: Arnold Hall and Scott Kermicle
KENTUCKY OPEN SHOOTING DOG CHAMPIONSHIP [One-Hour Heats] - 13 Pointers, 7 Setters and 1 Irish Setter
Winner-CASEY CREEK CRYSTAL ICE, 1676903, pointer female, by Casey Creek Icy Hot-Charlie's Dream Girl. Buster & Pam Tucker, owners; Buster Tucker, handler.
Runner-Up-LITTLE MORE SHINE, 1671392, Irish setter female, by Red Rock-Covered In Red. Kristine Hammons, owner; Tim Hammons, handler.
OPEN DERBY - 11 Pointers and 2 Setters
1st--WALDEN'S RIDGE SLAP SHOT, 1692371, pointer female, by High Drive Rocky-Walden's Ridge Chatter Box. David Steele, owner; Doug Ray, handler.
2d-I'M SPARTACUS, 1695668, pointer male, by Miller's Upgraded Version-Miller's Special Edition. Harold Ray & Jeff Ferebee, owners; Doug Ray, handler.
3d-HOT ROD RICKY JOE, 1692220, Irish setter male, by Zansett Ricky O'Ryan-S C Miss Behaving. Tim Hammons, owner and handler.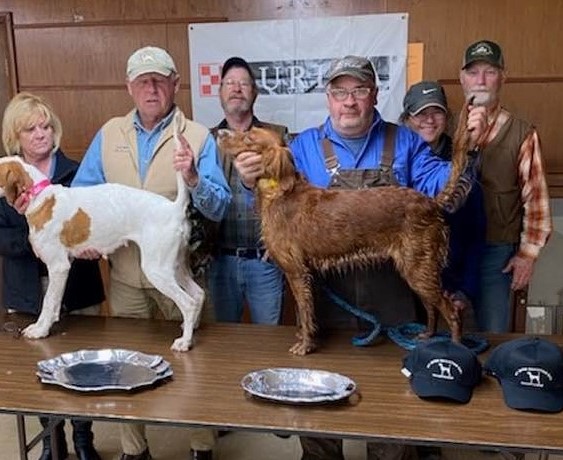 Pam Tucker, Buster Tucker posing Casey Creek Crystal Ice (winner) behind Arnold Hall, judge, Tim Hammons posing Little More Shine (Runner-up) Kristine Hammons behind judge Scott Kermicle.