Result: Region 8 Amateur All-Age Championship
Location: Inola, Oklahoma
Post Date: Jul 1, 2022
Submitted By: Brandon Johnson
The Region 8 Amateur All-Age was held March 4-7 at the historic McFarlin-Ingersoll Ranch. This Ranch has hosted countless field trials over the years and we were very grateful to again hold this trial on these tremendous grounds. Judges for this year's running were Kevin Guest of Prague, Okla., and Matt Cochran of Reydon, Okla. These judges did an outstanding job and the announcements were well received. Twenty-two dogs were drawn, the field was comprised of 20 of the best pointers and setters in the country. Entrants hailed form as far as Mississippi, and Tennesee, as well as, Kansas, Nebraska, Missouri, Texas and Oklahoma. The weather was everything you would expect in springtime Oklahoma, everything from warm and windy to cold and wet!
Our champion and runner-up shared the 9th brace! Game Heir, owned and handled by Dr Fred Corder, was declared the champion. He bested the field with a two find performance and a very strong race into gale force winds. He showed grit and determination worthy of a champion in very tough conditions. Our runner-up Champion was Bromance. He was handled by Jon Humphrey. Bromance also had a very strong race into strong winds to go along with two nice finds and a back. Jon and Bromance have been a force to be reckoned with on the circuit over the past several seasons.
THE RUNNING
Greypointe Luminoso (Meyer) and Ready's first Pitch (White) were loosed in the first brace. Luminoso had two finds at 9 and 39 and finished the hour. First Pitch was picked up.
Rebelator Sam (Oxendine) and Carpenter's Star Chaser (Barker) were the second brace of dogs to run. Barker picked Star Chaser up and Oxendine picked Sam up after one find.
The third brace consisted of Westfall's Tulsa Time (Humphrey) and Bull (Curtsinger). Bull was a littler short of race but finished the hour with a divided find. Tulsa Time had a find at 15, shared a find at 22 and finished the hour.
Griff's Big Ransom (Griffin) and Small's White Charger both had good races and strong finishes in the 4th brace.
Game Rebel (Corder) and Catcus Jet Jr (Parnell) were drawn in the 5th brace. Parnell was forced to scratch after falling under the weather. Rebel finished the hour but was short birds and race.
Cocklebur King Tut (Spencer) and Smalls White Striker (Small) were turned loose in the 6th brace. King Tut was picked up early. White Striker had one find and finished the hour.
In the seventh brace Reed's Touch of Class (Reed) and Game Warden (Corder) were ready for their chance. Unfortunately Touch of Class was picked up after a bird infraction and Game Warden was picked up after scoring a find.
Barker's Open Range Terminator and Oxendine's Double Rebel Cowboy were turned loose in the eight brace. Adeline finished the hour with a nice race and one find. Double Rebel Cowboy was unable to produce game and picked up.
The ninth brace produced the CH and RUCH and was previously described.
The tenth brace consisted of HP Cottonmouth (Shoemaker) and Worsham's Super Sport (Worsham). Cottonmouth was picked up early. Super Sport finished the hour but was unable to locate any birds.
In the eleventh brace, both Working Class (Auxier) and Iron and Wine (Humphrey) were picked up early.
In the twelfth brace Intensive Chainbreaker (Auxier) was picked up early.
Inola, Okla., March 7
Judges: Matt Cochran and Kevin Guess
REGION 8 AMATEUR ALL-AGE CHAMPIONSHIP [One-Hour Heats] - 20 Pointers and 2 Setters
Winner-GAME REBEL, 1691409, pointer male, by Dominator's Rebel Heir-Game Snow. Dr. Fred Corder, owner and handler.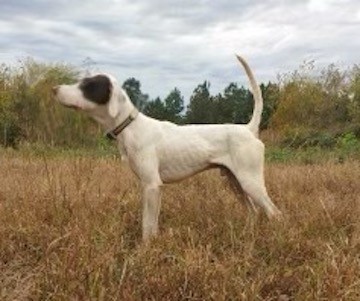 Game Rebel Winner of the Region 8 Amateur All-Age Championship
Runner-Up-BROMANCE, 1668193, pointer female, by Tallokas Lane Change-Osceola Patty Cake. Jon Humphrey, owner and handler.
Judges: April Coffin and Bob Gum
AMATEUR DERBY - 13 Pointers
1st--H P SHOTS FIRED, 1692506, pointer male, by 1692506, pointer male, by Wiggins Mister Ronnie-Wiggins Miss Swami. Rodney Shoemaker, owner and handler.
2d-HAUSER'S ROLLING THUNDER, 1690773, pointer male, by Rocky Ridge's White Smoke-Gambler's All In. Sean Hauser, owner; Will Dunn, handler.
3d-REED'S SUPER SPIRIT, 1691963, pointer female, by Valiant-Reed's Winter Spirit. Jason Super, owner and handler.