Result: Cumberland Field Trial Club
Location: Lavergne, Tennessee
Post Date: Jul 1, 2022
Submitted By: Ross Leonard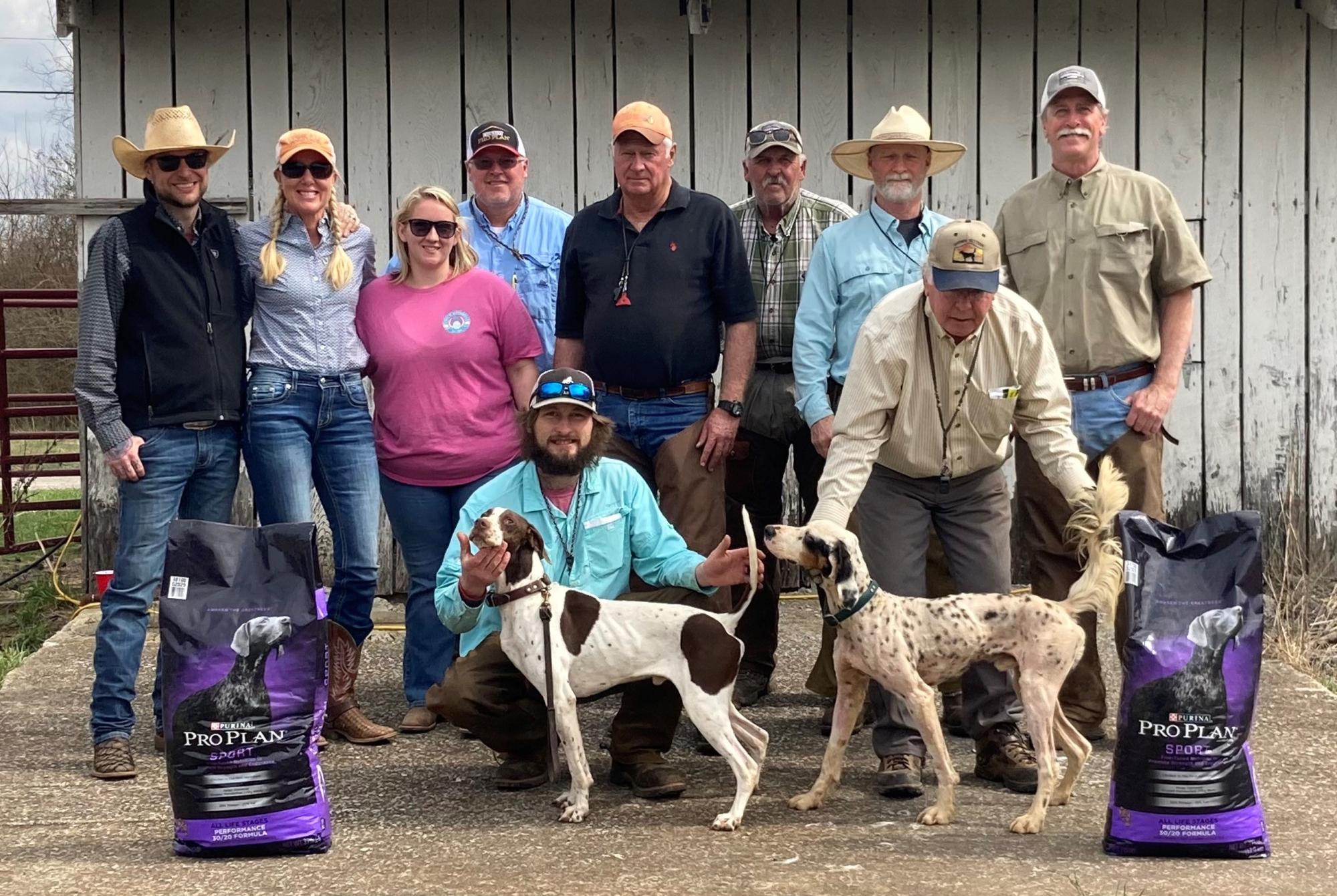 Am. Derby. Front row, left to right: Taylor Henley with High Drive Heat, Marion Brown with Cochise B. Back row: Lane Hodges, Darcy Hodges, Courtney Henley, Ross Leonard, Buddy Morrison, Jimmy Gentry, Judge Scott Kermicle, Judge Kent Walker.
The Cumberland Field Trial Club enjoyed another successful rendition of its annual amateur derby and amateur shooting dog stakes at the Percy Priest WMA Field Trial Grounds. After years of neglect, work is underway burning and thinning overgrown cover and the grounds are looking better thanks to Mark Vance, Tennessee Wildlife Resources Agency (TWRA) conservation officer who was recently appointed to oversee Percy Priest.
The Percy Priest Field Trial Grounds has outstanding facilities with three barns comprising 40 horse stalls, a clubhouse with a kitchen and bathrooms, ample parking, power and water for trailer hookups. With a renewed commitment by the TWRA to improving and maintaining the field trial courses, the clubs that make up the Southern Circuit Field Trial Association are encouraged about the future of field trials at Percy Priest.
We were very fortunate to have two experienced and respected judges. Scott Kermicle is a longtime breeder, bird dog and horse trainer who has judged dozens amateur and open field trials from Canada to Alabama. Scott managed a private hunting club for several years and now is enjoying his retirement in Western Kentucky. Scott is also the breeder and co-owner of Stardust Chaz, a big-runningnglish setter that enjoyed a very successful career on the open all-age circuit.
Kent Walker, in addition to being a successful amateur competitor in West Tennessee and North Mississippi for many years with several different dogs, heads up the Mid South Field Trial Association and Cedar Hill and Memphis Amateur Field Trial Clubs. Kent also adeptly chairs the historic Ames Amateur field trial - one of the most prestigious amateur all-age trials in the country.
Both Scott and Kent are highly sought-after judges and we are very grateful for their time and expertise.
Many thanks to Southern Circuit members Jimmy Gentry, Arnold Hall, Taylor Henley, Ronnie Rogers and Caroline Leonard who all pitched in with securing quail, marshalling, scouting, driving the dog wagon, and preparing lunch. We would not have been able to conduct the trial without their help.
Finally, we are immensely grateful to Greg Blair and Purina for sponsoring our trial and generously providing several bags of Purina Pro Plan for the winners.
This year's trial was marked by unseasonably warm weather and strong winds from the south. Thankfully, there were extended periods of cloud cover and a lot of water on the course from recent rains to make the conditions tolerable.
Before the announcement of the amateur shooting dog placements, the judges announced an interesting observation. There were a total of 55 pieces of bird work during the 10-brace shooting dog stake - all with no errors. Several finds included tricky situations with running birds that required potentially difficult relocations. No one could recall a trial with such similar results. Perhaps it was the result of experienced dogs after a full season of trials? No doubt the handlers had their dogs prepared and the judges commented there were a few other performances worthy of placements.
Earning first place was Seekin A Thrill for handler Ross Leonard and scout Caroline Leonard. "Domino" tallied seven finds and a back coupled with a big race with the last find coming after he disappeared to the front right before pick-up.
Backcountry Bruiser, owned and handled by Chris Cantanzarite, finished second last year in this trial and repeated his success this year. Bruiser put down a strong forward race with five finds. Chris has a nice string of dogs and we were glad he was able to join us again as he worked his way north to Pennsylvania and home.
Gentry's Little Jane earned third for handler Taylor Henley and scouted by Jimmy Gentry. Jane ran in the last brace of the trial with a great handle and superb manners on her six finds. Jane garnered a first place finish on these same grounds earlier in the season.
Derby entries were light this year with only six dogs. Taking first was High Drive Heat, handled by Buddy Morrison. Cochise B earned second for Marion Brown. Robert Two Shoes placed third for Arnold Hall.
LaVergne, Tenn., March 4
Judges: Scott Kermicle and Kent Walker
AMATEUR DERBY - 4 Pointers and 2 Setters
1st--HIGH DRIVE HEAT, 1693929, pointer male, by Miller's Heat Seeker-Dominator's Heir Kate. Allen Linder, owner; Buddy Morrison, handler.
2d-COCHISE B, 1695918, setter male, by Shagtime Max-Shagtime Hope. Marion Brown, owner and handler.
3d-ROBERT TWO SHOES, 1693058, pointer male, by Miller's Direct Line-Cedar Rock Charlotte. Arnold Hall, owner and handler.
AMATEUR SHOOTING DOG [One-Hour Heats] - 15 Pointers and 5 Setters
1st--SEEKIN A THRILL, 1661543, pointer male, by Just Irresistible-Snow Thrill. Ross Leonard, owner and handler.
2d-BACKCOUNTRY BRUISER, 1672645, pointer male, by Erin's War Creek-Backcountry Tornado. Chris Catanzarite, owner and handler.
3d-GENTRY'S LITTLE JANE, 1678592, pointer female, by Gentry's Sam-Walden's Susie Q. Jimmy Gentry, owner; Taylor Henley, handler.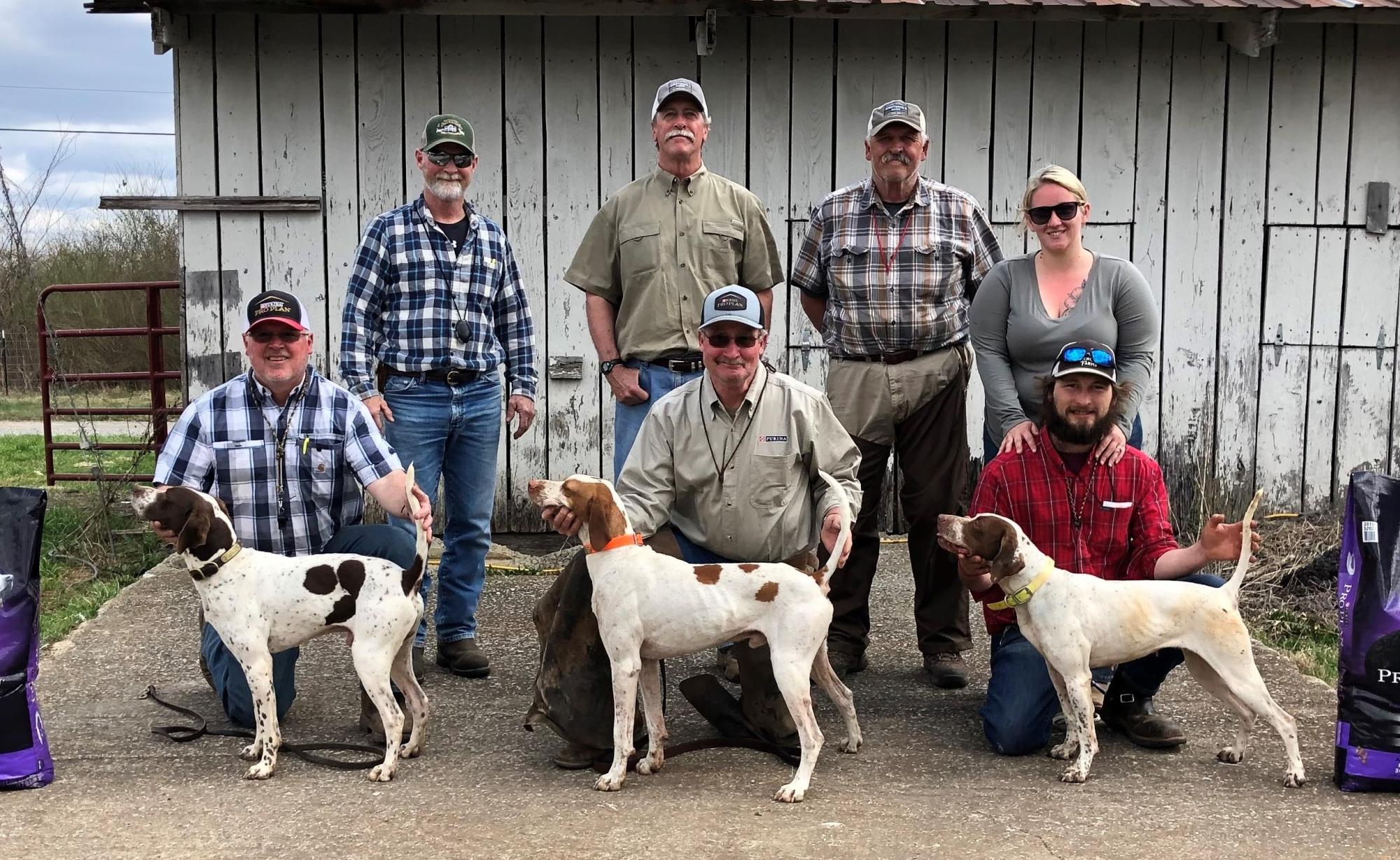 Amateur Shooting Dog. Front row, from left: Ross Leonard with Seekin A Thrill, Chris Cantanzarite with Backcountry Bruiser, Taylor Henley with Gentry's Little Jane. Back row: Judge Scott Kermicle, Judge Kent Walker, Jimmy Gentry, Courtney Henley.