Result: Shenandoah Youth Trial
Location: Union Springs, Alabama
Post Date: Jun 30, 2022
Submitted By: Alli Blanton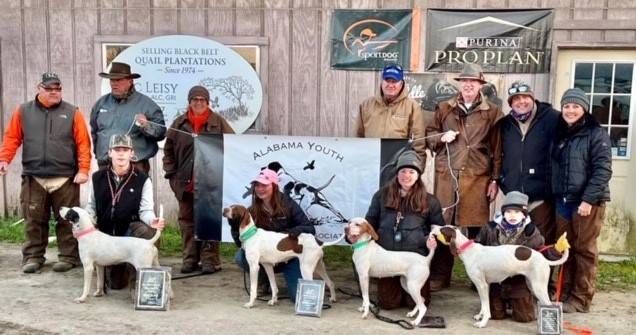 Front Row L-R Brayden Renfroe with Rook, Katie Bell Varner with Sassy, Addison McDuffie Lou, with Sterling Woodruff with Mae. Back row, from left: Robert Moorer, Royce Lowery (judge), Teresa Justice (judge), Hunter McDuffie, Darron Hendley, Woody Woodruff, Mindy McDuffie.
The 2022 Shenandoah Youth Trial took place on Saturday, March 12 to celebrate it's 10th return at Shenandoah Plantation. This trial began 30+ years ago by the hands of Darron Hendley, our Points Secretary, along with Al Barnett, John Barnett, and Bill Goolsby. It is truly a remarkable honor that what began with these gentlemen's love for the sport and need to pass it on to their children is now the longest running youth trial in America. Of the 35 years since it began, the trial has been hosted in Bullock County, Alabama for 23. It began in Fitzpatrick on Barnett land and was hosted their for 13 years and now we honor the 10th consecutive year at Shenandoah Plantation. The other 12 years was just over the Macon County border at Cross Keys Plantation.
Thank you to Dr. John Reardon, owner of Shenandoah Plantation for not only continuing the tradition of this, the oldest Youth Trial in America, but for jumping in head first along with your family to this sport that we adore. Thank you for embracing all the participants and becoming a friend to all who take part in this exciting pastime.
We are most certainly thankful for the hard work and dedication of Robert Moorer, manager of Shenandoah Plantation. Without Robert's kind heart and devotion to Bullock County field trials, we would certainly find ourselves scrambling together to do jobs that he makes seem effortless. His excitement is genuine and his giving spirit is endless. If you are a friend, you are blessed. If you have not yet had the pleasure of meeting him, find yourself at Shenandoah next year and enjoy a day with our youth and all the fun that comes with it.
Thank you to Chris Sellers for his outstanding support of our youth. Chris paid for each participant's entry and it was Robert Moorer and Chris that spearheaded trip to Ames in 2019 for the youth.
The Shenandoah Youth Trial is put together by a village of dedicated field trial lovers and devoted friends. Thank you to the Alabama Field Trial Club for providing supper Friday night.
Thank you to Eric Leisy of Great Southern Land for donating lunch on Saturday. Thank you Mindy McDuffie, Martha Neely, and Renee Peek, who all hosted supper Saturday evening. Afterwards, Woodie Woodruff gave his talents and graciously hosted the auction Saturday night raising $1100 for The Youth Trial. Not only was The Saddle Guy on-site with beautiful merchandise but also donated prizes and usable items for the auction.
Thank you to Gregg Blair with Purina for the donation of dog food as well as Jim Moorehouse with Sportdog for the outstanding collars. Thank you Craig Phillips, owner of Phillips Feed & Seed for his donations to the auction and constant support. Thank you to Farmer's Feed & Seed.
Thank you to our judges, Royce Lowry of Georgianna, Alabama and Teresa Justice of Sardis, Alabama who gave watchful eyes and encouraging words to all our participants.
The friendship and encouragement these young handlers show one another could teach us all a lesson in sportsmanship for this sport we all love. Inclement weather will reveal character and not once did this scribe hear one complaint from any of our participants on such a frigid and windy day. Only wishes of good luck and words of encouragement were heard not from one or two but each and every competitor, consistently cheered on the others. However cold the temps were and how the wind whipped, you could not help but smile and enjoy these bonds they share.
THE WINNERS
The first place winner of the 2022 Shenandoah Youth Trial was awarded to Rook, a black and white pointer female, handled by Brayden Renfroe. Rook got down to business immediately carding her first stylish find at 1 East of Lake. Rook stopped firm at Electric Gate at 3. Trusting his instincts, her handler relocated the confident young lady. Birds took flight while Rook posed like a statue, her nose to the blue sky. The pointer female marked birds again within a few short minutes carding her 3rd find. Dashing towards Crazy Man Ridge, Rook made an abrupt stop signifying the the bobwhite scent in the air. Her handler dismounted and revealed a successful covey rise. Rook completed her time with zeal showing in front as time was called. Though he is eligible for another year as a youth handler, Brayden has decided that he will enter the amateur stakes next season. Brayden's sportsmanship, handling skills, and manners of a true southern gentleman will be welcomed as he takes his talents to the next level.
2nd pacement was awarded to Sassy, a liver and white pointer female, handled by Katie Bell Varner and scouted by Addison McDuffie. These young ladies also did an outstanding job at together at The 2022 Free for All at Sedgefields Plantation. Sassy and her bracemate broke away at The Boat Ramp across the pond. Sassy made valiant strides throughout the course hunting the edges and listening attentively to her handler. She carded a beautiful find at 15 with all well through flush and shot. Though this was only Katie Bell's 4th season as a field trial handler, her love, devotion, and gentle but firm hand seemingly were bestowed on her at birth. Her style and grace as well as her gentle understanding of animals is an absolute pleasure to behold.
3rd placement was awarded to Lou, an orange and white pointer female handled by Addison McDuffie. This has been Addison's 8th year as a handler. Lou was braced with her sister, Bell, who was handled by Claire Street. Lou, a stylish young lady like her handler, maintained an exemplary forward raced. She carded her first find at the 10 minute mark behind pond at Million Dollar Shot with all in order. She made dashing moves in the Pheasant Field and pointed again at 16 with success. Lou listened to her handler well and showed gentle manners throughout her time. She carded her final find at Hog Trap Ridge with birds lifting at time.
Mae, a liver and white pointer female, handled by Sterling Woodruff earned the honor of Top Dog, Junior Division. May displayed speed and style during her exhilarating brace. She carded her first find at 2 and her handler made a rapid dismount to successfully flush the covey. Mae took off like a bolt of lightning with her handler in hot pursuit and carded another find 5. She shared a divided find with her bracemate at 10 and showed fine manners. Her excitement for the hunt continued throughout her time and her handler's passion for the sport was equally enjoyed.
THE RUNNING
1 Rebel, pointer male, handled by Luke Reardon and Jill, setter female, handled by Sterling Woodruff kicked off the morning with a divided find at 6 at Electric Gate with all in order. Jill had a productive find at 10. Rebel carded his second find at the top of Crazy Man Ridge at 8 with a single bird. He lifted a lofty covey at 12 in Short Orchard.
2 Bell, pointer female, was handled by Claire Street and braced with her aforementioned sister, Lou. Claire and Bell had a pleasing race and the young handler sang beautifully to Bell keeping her well in front and carding a find as they climbed the hill just before Dam.
3 Reese Green and Jack, pointer male, along with Katherine Reardon and Shrimptales, pointer male, began the 3rd brace on Hog Trap Ridge. Shrimptales carded his first find at 4 behind barn with bird up as the pointer maintained a firm stance. Shrimptales pointed again at 6 with a nice bevy of quail taking flight.
Reese called point at 10 with all in order behind pond. As we topped the hill behind Main House, Jack and Shrimptales were pointed together. Though both competitors gave valiant efforts, the birds simply would not fly. The pointers stopped again in separate spots below the dam. Unfortunately, swirling winds made it most difficult for Jack to produce birds and Reese smartly elected to take him on. Katherine completed her time with a productive find for Shrimptale.
4 Purge, pointer male, handled by Ella Grace Montgomery, broke away at The Boat Ramp across the pond. Purge showed grace and patience with a firm point at 15. Purge was braced with the 2nd placement, Sassy.
5 Bud, pointer male, handled by Brayden Renfroe carded a find just over Dam with a noticeably handsome stance. Cat, pointer female, handled by Addison McDuffie had a find at 14 with Bud backing.
6 Sam, GSPM, handled by Hays Green marked a find at 10. Hays did a outstanding job flushing the birds. Sam made nice swings through Short Orchard and into Rifle Range and had a beautiful forward race from beginning to end. Jenny, pointer female, handled by Shelby Street, dashed through the countryside hunting with zeal.
7 Bo, GSPM, handled by Reese Green marked a lovely find at Pheasant Tower at the 10 minute mark. Lucky, pointer female, handled by Claire Street hunted well and forward. Both young ladies called point at 18 in Little Dove Field with a beautiful rise of quail and a pheasant in the air at time.
8 May, pointer female, handled by Brayden Renfroe carded a nice find at 6 by Boat Ramp. May pointed again at 12 with her bracemate, Bell, pointer female, handled by Ella Grace Montgomery, backing. She carded 2 additional finds at 16 on Ridge and again at 19. Bell finished her time with a successful ind at 19
9 Lil Ann, pointer female, handled by Hayes Green, carded a notably lovely find at 5 with all fine and well through flush and shot. Her handler held her attention through the course with his enthusiastic calls and encouragement. Lil Ann shared a divided find with her aforementioned bracemate at 10 with success. Though she pointed again at 19, conditions were simply too wet and unfavorable for her handler to flush birds. The pair did a wonderful job through their time.
10 Dot, pointer female, handled by Addison McDuffie, hunted the edges and maintained a forward race.
Josie, GSPF, handled by Reese Green made notable casts throughout the course.
11 Sam, pointer male, handled by Katie Bell Varner, stopped at 10 but handler chose to move on. Sam pointed at 15 and a smart relocation produced birds. As we came down Short Orchard and turned into Rifle Range, scout was heard calling point for Sam on top of hill above Rifle Range. Unfortunately no birds produced.
12 Ed, pointer male, handled by Ella Grace Montgomery made handsome casts down through Long Orchard and Pete's Hill. Clay, pointer male, handled by Katie Bell Varner, pointed at 9 Million Dollar Shot just before Dam with a lofty rise. Clay had another successful find at 17 in Peasant Field and was making forward strides at time.
13 B, pointer female, handled by Katherine Reardon, pointed at 4 but birds would not reveal themselves. B made mighty swings hunting the course and carded a successful find at 16. Sammy, pointer female, handled by Sterling Woodruff carded a find at 7 just past barn. She suffered an unproductive behind pond but ended time and the trial with a successful find and a bang!
It is with delight that we watch the children grow into young adults with such passion for the sport of field trials. All placements in the 2022 Shenandoah Youth Trial also participated in the 2022 Free-for-All as handlers. Anna Grace Tompkins, reporter for the 2022 Shenandoah Puppy Trial, scouted in the qualifying round as well as the callbacks in 2022 Free-for-All.

Front row, from left: Katie Reardon, Luke Reardon, Shelby Street, Clair Street, Brayden Renfroe, Katie Bell Varner, Addison McDuffie, Sterling Woodruff, Ella Grace Montgomery, Reese Green, Hays Green. Back row, from left: Allison Stewart (reporter), Robert Moorer, John Reardon, Steve Hutto, Teresa Justice, Mindy McDuffie, Hunter McDuffie, Darron Hendley, Woody Woodruff, Todd Montgomery, Justin Green.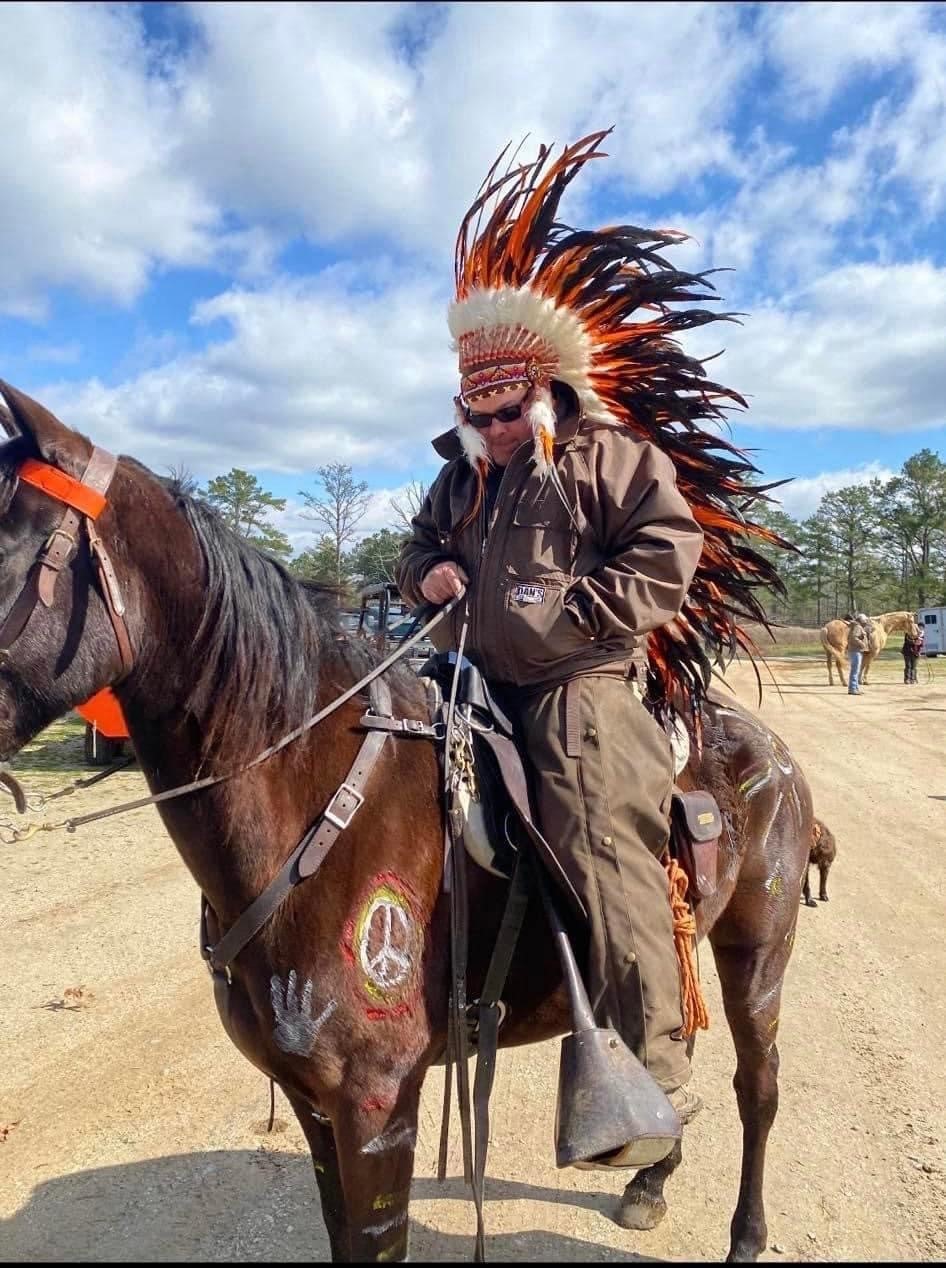 Youth Marshall Robert Moorer