Result: Pennsylvania Grouse Trial Club
Location: Marienville, Pennsylvania
Post Date: Jun 29, 2022
Submitted By: Reporter Joe Cammisa
The Allegheny Mountains in West Central Pennsylvania were the backdrop for the Pa Grouse Trial Club's 2022 renewal. More specifically the grouse trial was held in Marienville, Pa., on the Lolita and Lamontville courses of The Allegheny National Forest.
The National Derby Classic was the highlighted stake, and the standard bar is set high. Many of the previous winners have in the past showed that they were not only worthy of the title but went on to win championships to further their careers.
Pennsylvania has an exceptionally long and steeped tradition for high standards and grouse trialing. From a postscript on a trial entry application, "At the 1919 annual meeting during the running of the grouse trial in Kane Pa, the members decided that the club should prepare and publish a standard descriptive of what their opinion constituted the ideal grouse dog. The current president Jared M. B. Reis and Herbert H Cahoon were appointed by the committee.
In preparing this standard we have endeavored to describe the ideal grouse dog in as concise a manner as possible. "We have refrained from attempting to picture a "Ghost Dog" or an ideal impossible of attainment. We have been careful to avoid any "scale of points" system and thus have left intact the individuality of the judges.""
From their prepared standard and the years that followed is:
"The Ideal Grouse Dog"
"The Pennsylvania Field Trial Club in its endeavors to develop the ideal grouse dog, has always had in view a dog that would fulfill all the requirements of a high standard, and the schedule below is suggested as covering such requirements, and it is put forward by the club as "a mark to shoot at "in preparing a dog, either for the pleasure of shooting over or for competition.
In Determining "class" in a bird dog it must be acknowledged that in their work there is something apparent to the eye that is not subject to definition. A great deal of the "class" in a dog is inherent in and peculiar to the individual, and no amount of work in training will produce it if it is not already there.
A high-class grouse dog is one whose every action, denotes great intent in his work, which is full of animation and which at all times is searching for birds. in an independent and intelligent manner. He should be under such control that he will do his work with the minimum amount of handling, by either the voice or the whistle. He should keep to the course and hunt to the gun, and withing reasonable distance, in a fast snappy manner, work out all the likely cover in front of his handler. He should not cut back, but should consume his speed by working out his ground on each side of the course taken by his handler. When the cover is heavy and the course full of briars he should not hunt the "easy footing" pass up the likely cover. He must pay little attention to the scent of fur; occasionally pointing a rabbit could be overlooked, but under no condition should he chase one. He should accurately locate and point until the birds are flushed, when he must be steady to wing and shot. He must back at sight of a pointing dog and not approach close enough to interfere with the dog or to disturb the bird. After the bird has been killed over a point, and the dog has been steady to shot, he shall, on being released, go for and retrieve the bird in a prompt manner and without dropping it, deliver it to the handler in an unruffled and undamaged condition. A dog is classable according to the manner in which he performs the above requirements.
J.M.B. Reis
H. H. Cahoon
Sitting in the judicial saddle for The National Derby Classic this year were Dick Brenneman, famed Pennsylvania outdoorsman for Port Matilda Pa and Nick Blakeley of Dubois, Pa., who has a long family tradition of field trial birddogs.
Chasehill Hidden Jewel was this year's winner and is the product of Ashaway, Rhode Island trainer John Stolgitis' outstanding breeding program. Her sire is Ch./ 2-time RU Ch. Panola Bacon and the dam is multiple champion Chasehill Little Lizzy (who is a Pennsylvania Grouse Championship winner). Both parents are no strangers to the winner's circle and easily meet the above standards written by Reis and Cahoon. Jewel is owned by Tadaki Terada and was handled by John Stolgitis.
Jewel ran big and in the 10-2 pocket for the hour, covering everything the course offered. Her style was impeccable, and her ground application was ideal. She was a couple notches above all the others Pa Grouse Trial annals.
Second Place went to Caliber Peak Hundred Proof, owned, and handled by Sarah Gomes of Welandport, Ontario Canada and was bred by Doug McMillen. Her sire is Ch. Caliber Peak Hundredth Meridian, and her dam is multiple champion Double Duece Molly. Proof ran a well applied race, forward always, working diligently and efficiently to have one broke woodcock find and one spring derby find.
Third place and the yellow ribbon went to Millers Hopped Up Version, owned by Carlos Escalante and handled by Mark Hughes of Grampion, Pa. Cricket carried herself well throughout the hour, hitting all the likely places. She was forward and fancy while catching the judges' eye. Cricket was rewarded with a well-handled woodcock finds and all was in order at the shot.
The Pennsylvania Puppy stake was won by Grouse Hill Boss, owned by John Capocci and handled by Marc Forman. Boss showed all the skills needed to garner the blue ribbon. Second place is Les Bressler's new phenom, Ellie May a setter female that has all the tools necessary to go on and show well at the next level. She is owned and handled by Les. Rounding out the placements and taking third was Chasehills Wango Tango, the fancy Pointer male owned by Allen Raiano and handled by John Stolgitis. Wango Tango scrambled around the course staying to the front and applying himself well. Judges Doug McMillen of Dubois and Sarah Gomes spoke very highly of this years' crop of juveniles.
The All-Age Stake (Ideal Grouse Dog) completed the weekend agenda when judges Eric Munden of Phillipsburg, Pa., and Jon Ferdinand of Hazelton, Pa., named Full Breeze the winner. Full Breeze, a setter female, is owned by Dick Brenneman and was handled by Dave Hughes. Bree was forward and ran to the limits. She was braced with the second-place dog, A Distant Spec, Pointer female owned by Mike Husenits and handled by Hughesview teammate Mark Hughes. Only a hair divided the two with Bree covering the most distant ground. Spec was not short by any means and the brace was something of a spectacle watch.
Third place was Caliber Peak Hundredth Meridian, pointer male owned and handled by Sarah Gomes of Wellandport, Ontario Canada. Rye a fast and fancy pointer was forward, classy, and applied to the cover well.
The Pennsylvania Club would like to thank all who shared in the work moving cars, specifically, Dave Duell, Norm Meeder, Dick Brenneman, and others. Special thanks to Helen Brenneman and Suzie Cammisa for all the home baked pastries, Giancarlo of Bettina's Restaurant for their cooperation working on lunches and to R. B. Powell and David Powell from Nittany Valley Trail Rides for horse rental.
Our deepest gratitude goes out to Greg Blair and Purina for their long-time commitment as a sponsor of this game we all love.
Marienville, Pa., April 2
Judges: Nick Blakley and Dick Brenneman
NATIONAL GROUSE DERBY CLASSIC [One-Hour Heats] - 27 Pointers
1st-CHASEHILL HIDDEN JEWEL, 1692727, female, by Panola Bacon-Chasehill Little Izzy. Tadaaki Terada, owner; John Stolgitis, handler.
2d-CALIBER PEAK HUNDRED PROOF, 1696649, male, by Cal Peak Hundredth Meridian-Double Deuce Molly. Sarah Gomes, owner and handler.
3d-MILLER'S HOPPED UP VERSION, 1695106, female, by Miller's Upgraded Version-Miller's Special Edition. Carlos Escalante, owner; Mark Hughes, handler.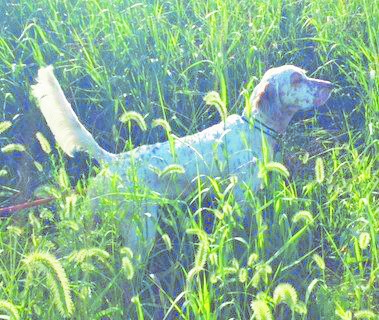 Full Breeze First in the Open All-Age Stake
Judges: Jon Ferdinand and Eric Munden
OPEN ALL-AGE [One-Hour Heats] - 5 Pointers and 4 Setters
1st-FULL BREEZE, 1667989, setter female, by Full Blast-Straight Forward. Richard Brenneman, owner; Dave Hughes, handler.
2d-A DISTANT SPEC, 1668665, pointer female, by Erin's War Creek-Brave Heart Cassie. Mike Husenits, owner; Mark Hughes, handler.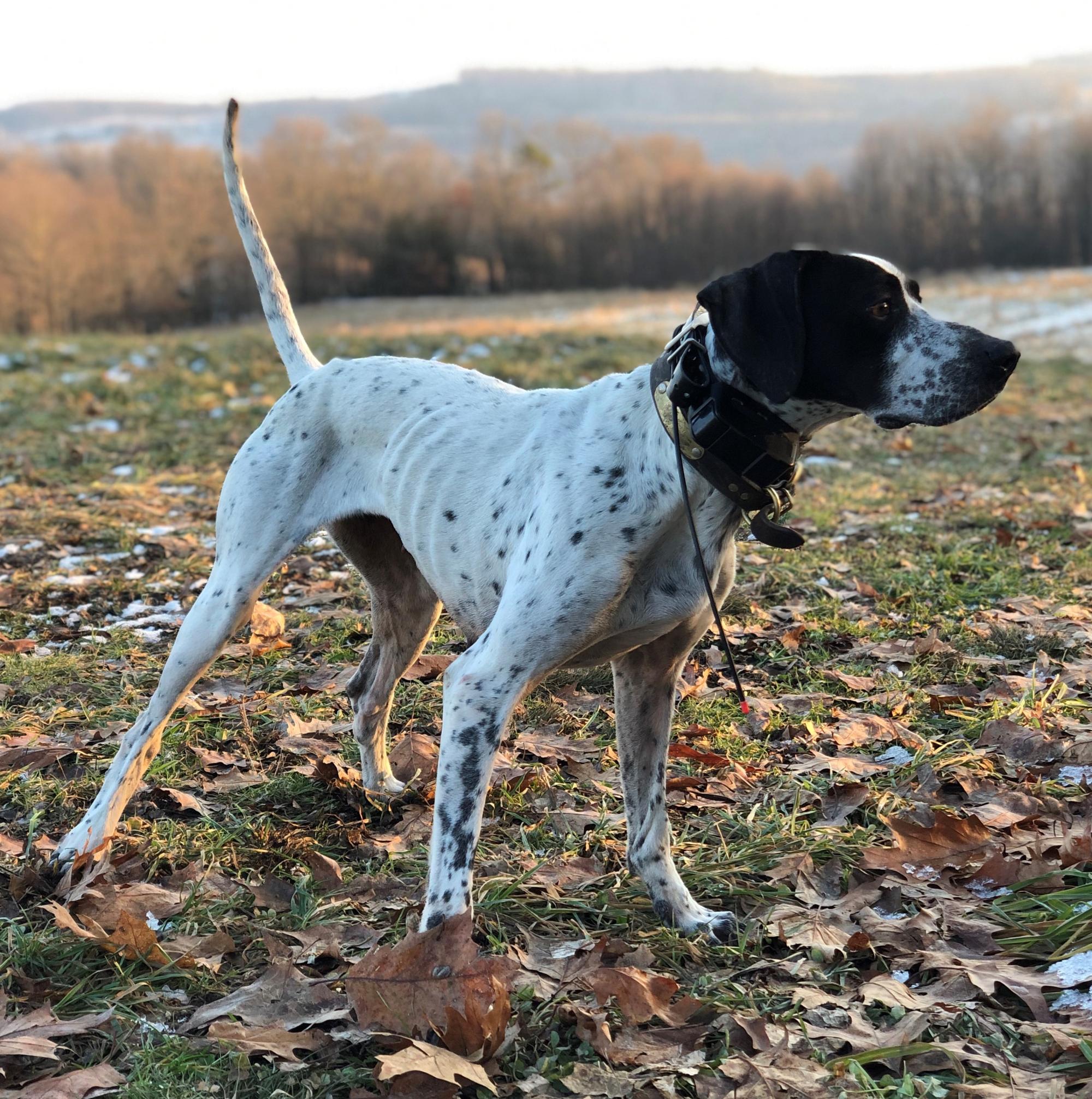 A Distant Spec Second in the Open All-Age Stake
3d-CAL PEAK HUNDREDTH MERIDIAN, 1671286, pointer male, by Cover Charge Search Engine-Sandland Dolly P. Sarah Gomes, owner and handler.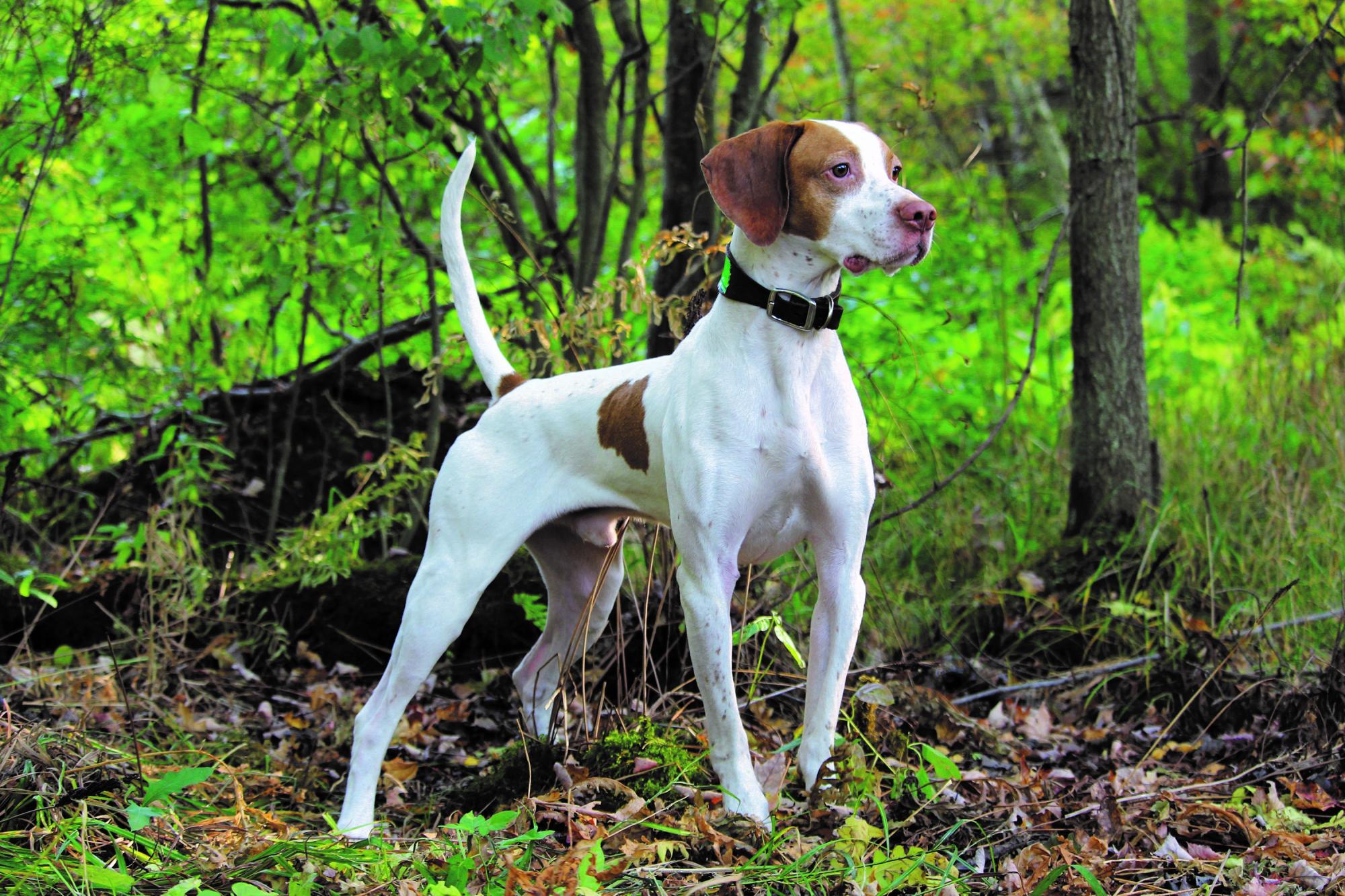 Cal Peak Hundredth Meridian Third in the Open All-Age Stake
Judges: Sarah Gomes and Doug McMillen
OPEN PUPPY - 8 Pointers, 4 Setters and 2 Irish Setters
1st-GROUSE HILL BOSS, 1696374, pointer male, by Grouse Hill Smokey-High Desert Storm. John Capocci, owner; Marc Forman, handler.
2d-LESLIE'S ELLI MAE, 1697969, setter female, by Grouse River Rocken Roll-Grouse River Patti Cakes. Les Brssler, owner and handler.
3d-CHASEHILL'S WANGO TANGO, 1697813, pointer male, by Panola Bacon-Chasehill Little Izzy. Allen Raiano, owner; John Stolgitis, handler.