Result: Northeast Kansas Field Trial Club
Location: Onaga, Kansas
Post Date: Jun 29, 2022
Submitted By: Joe Worsham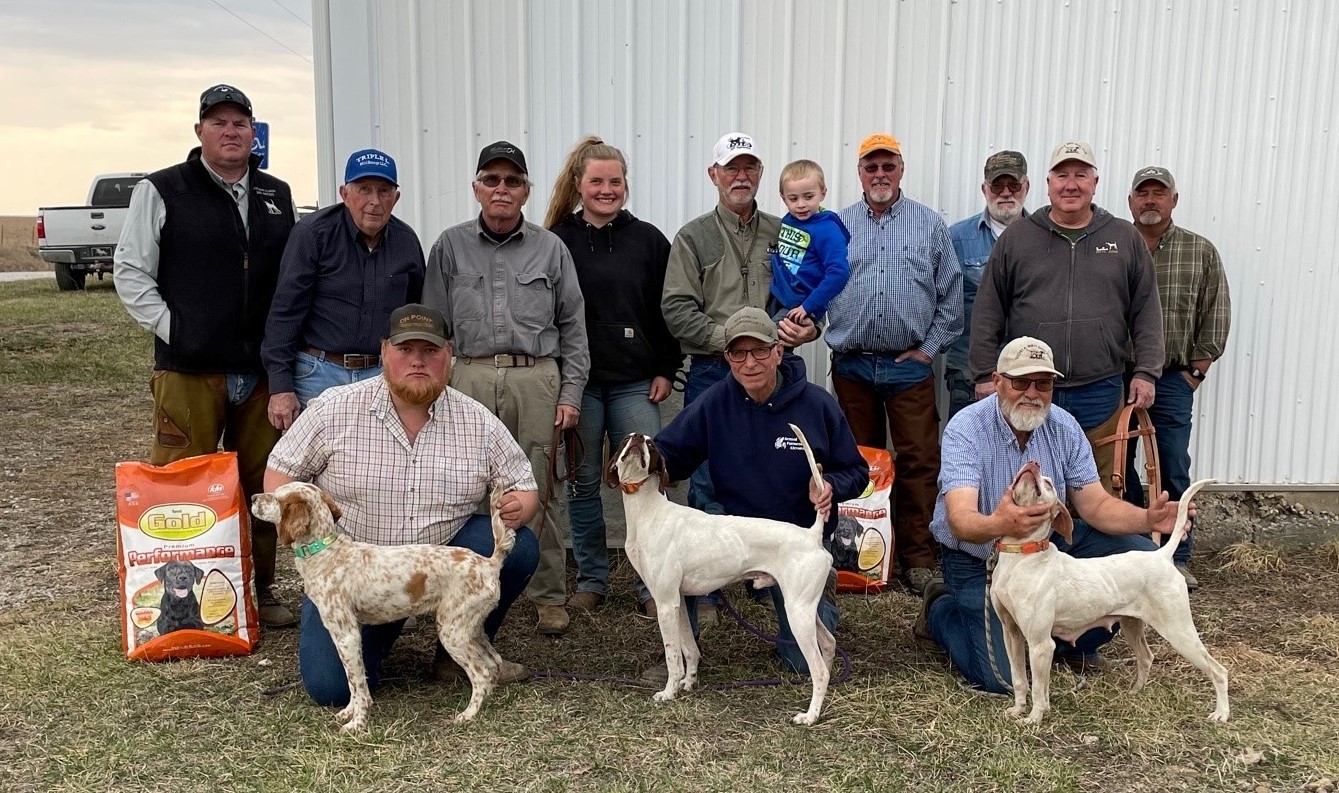 Open Shooting Dog. Front row: Nathan Berendzen Traveler's High Point, Dr Pat McInteer with Nemaha Magic Marker, Paul Ott with Nemaha Nell. Back Row: Jay Lewis, Richard Lewis, Greg Sand, Ellie Berendzen, Joe Worsham with Jase Lewis, Jim Corpening, Jim Otwell, Barry Ward, Eddie Berendzen.
The Northeast Kansas Field Trial Club held our spring field trial on April 1st and 2nd at our home grounds near Onaga, Kan. The weather was very cooperative for this time of year - - cool and a little windy.
The first of April is the traditional pasture burning time - - several landowners delayed their efforts in order for the field trial to run as normal. We had a number of landowners advise that they were seeing more native quail this year. Prairie Chicken sightings were fewer than normal.
The Covid virus made for lots of changes - - most notably was the absence of the Fairview Schoolhouse Association members. We had total access to the facility but the cooks avoided the event. We all really missed the home cooking and especially the pies!! We are blessed with a comfortable, renovated, and well maintained "One Room Schoolhouse" that serves the area well. Funds collected from the field trial meals as well as assorted gatherings throughout the year in addition to the semi-annual Biscuits and Gravy breakfasts, defray the ongoing costs of the schoolhouse. The walls are adorned with 4-H and field trial memorabilia of bygone days as well as retired "Kansas Field Trial Assn Dog of The Year" retired plaques. Longtime Stalwart, Martha May, had passed away earlier this spring and we really missed her smiling face and wonderful conversations.
The traditional Friday night Landowner's Banquet was held on Friday night. Well attended by local ranchers and spouses. We served BBQ chicken and fish fillets - - great to see everyone again as we had not all been together for a couple of years due to Covid virus.
Special thanks to our judges all first- rate field trailers - - their opinions were well received.
The Mid West Field Trial Assn Amateur All Age Classic was cancelled due to lack of entries. The Dr. Boucher Amateur All Age Derby Classic was presided over by Eddie Berendzen of Higbee, MO and Joe Worsham of Easton, Mo. Greg Sand joined Jim Corpening in watching the NE Kansas Amateur All-Age Classic. Jay Lewis and Jim Corpening judged the Shooting Dogs. All were very attentive to their duties and little escaped their view. We appreciate the fine job they did and appreciate their dedication to the sport.
Richard Lewis was on hand as the Chief Dog Wagonmaster, always in the right place and ever helpful to all of the details of managing a field trial. Richard is one of the "Good O'le Boys" that you can really count on. The club is really enjoying the use of the dog trailer on loan from the Whetstone Field Trial Club via Jay Lewis.
Special thanks go to Nutri Source for the generous donation of dog feed for the winners of each stake - - we appreciate Dave Merritt's assistance in organizing this effort.
The Dr. Boucher Amateur Derby Classic - - a sponsored event of the Midwest Field Trial Association.. The Classic was won by Jim Corpening's pointer male - Warjam's Big Mac Daddy - - who continued his winning ways. Jam ran a nice wide race and finished the stake impressively to the far front. Second was Loomis Little Ann - pointer female owned and handled by Rick Loomis of Bolcow, Mo. Ann ran in the first brace and gave a good account of her abilities. The stake is a sponsored stake by the Midwest Field Trial Association in the memory of the affable Dr Boucher a longtime supporter of Midwest Field Trial Association events.
NE Kansas Amateur All-Age Classic was won by Jay Lewis' pointer female - - Bocomo Cherry. Her time on the ground reflected a good prairie race which was well applied and pleasing. Second was secured by Nemaha Tap Water with a solid prairie race. Tap ran a nice handling prairie race and continued to show to the far front. Rodney Shoemaker's HP Shockwave showed well on these Kansas prairies. His was a well applied ground race. Birds were at a premium and hard to get pointed.
The Open Shooting Dog stake featured some good performances with solid races. Ten dogs toed the starting line for this stake. Jim Corpening and Jay Lewis were in the judicial saddles for this stake. Greg Sand showed the smooth hunting efforts of English Setter female, Traveler's High Point. Her effort was very smooth and was punctuated with two really nice finds on liberated quail. Dr Pat McInteer's Nemaha Magic marker had a very good performance with a stylish find on quail - - his was a very good applied effort on the ground. Barry Ward handled his pointer female - - Nemaha Nell to a well deserved third place based on her outstanding hunting effort.
The NE Kansas Club appreciates the entry from those attending and especially the judges who were very attentive in their official roles. Advertised judges were unable to fulfill their duties due to family activity conflict and truck breakdowns.
Onaga, Kan., April 1
Judges: Jim Corpening and Greg Sand
AMATEUR ALL-AGE CLASSIC [One-Hour Heats] - 8 Pointers, 1 Setter and 1 Vizsla
1st-BOCOMO CHERRY, 1677071, pointer female, by Westfall's Black Cloud-Bocomo Hot Dotty. Jay Lewis, owner and handler.
2d-NEMAHA TAP WATER, 1696256, pointer male, by Coldwater Spectre-Coldwater June. Dr. Pat McInteer, owner and handler.
3d-H P SHOCKWAVE, 1692505, pointer male, by Wiggins Mister Ronnie-Wiggins Miss Swami. Rodney Shoemaker, owner and handler.
Judges: Eddie Berendzen and Joe Worsham
DR. BOUCHER AMATEUR DERBY CLASSIC - 4 Pointers and 1 Vizsla
1st-WARJAM'S BIG MAC DADDY, 1692715, pointer male, by Boumeester's Duramax-Oday Nation. Jim Corpening, owner and handler.
2d-LOOMI'S LITTLE ANN, unreg., pointer female, by Touch's Grey Street-Coldwater Cowgirl. Rick Loomis, owner and handler.
Judges: Jim Corpening and Jay Lewis
OPEN SHOOTING DOG [One-Hour Heats] - 5 Pointers, 4 Setters and 1 Vizsla
1st-TRAVELER'S HIGH POINT, 1658349, setter female, by Hytest Talquin-Traveler's Prairie Souix. Greg Sand, owner and handler.
2d-NEMAHA MAGIC MARKER, 1687208, pointer male, by Nemaha Night Hawk-C E K's Meaculpa. Dr. Pat McInteer, owner and handler.
3d-NEMAHA NELL, 1658918, pointer female, by Nemaha City Slicker-Nemaha Tinker Bell. Barry Ward, owner and handler.