Event: Don Didcoct Memorial Amateur Shooting Dog Classic
Result: Chippewa Valley Grouse Dog Association
Location: Augusta, Wisconsin
Post Date: Jun 28, 2022
Submitted By: Roger King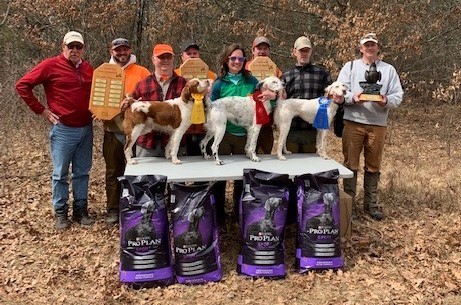 Don Didcoct Memorial Amateur Shooting Dog Classic. Front row: Roger King - Rib River Tough Enough II, Lindsey Saetre - Northwood Cedar, Ed Graddy - North Slopes Allie. Back row: Bert Benshoof (Judge), Kyle Pederson, Joe Landowski, Chris Bye (Judge), Brent Sittlow - Holding Trophy.
The thirtieth annual Don Didcoct Memorial trials is in the books. Being around field trials for a long time you soon learn nothing surprises you. This year going through six judges that agreed to judge the Didcoct and for good reason had to respectfully decline was a new one to me. Needless to say, there were many phone conversations, stressful moments, high hopes and even thoughts we may have to cancel the trial. After all avenues were explored at the eleventh-hour Bert Benshoof agreed to scratch his entry and judge the Didcoct with Chris Bye. Thank you, Bert!!
The good news is that entries were at an all-time high 10 one-hour braces of Open Shooting Dog and 10 one-hour braces of Didcoct Classic. The really good news is that we had 26 Derby's which is by far the most in my memory. Of course, this is a great sign for the future hopefully these young dogs will develop into all-age dogs and compete in upcoming events. In addition, with the Derby entries comes many new young faces - that is exciting to see and gives us all positive thoughts for our future at CVGDA.
We would like to thank Purina for their unending support. They are very instrumental in hosting a quality field trial. They monetarily support our ads in the field and provide us with an abundance of their fine products for the winners. All participants recognize and appreciate their support.
Every field trial has a myriad of helpers contributing to the success. The Didcoct is no different. Denny Baumann, Tim Callahan, Rod Lein, Larry Davidson, Mike Lubke, Roger King, Bert Benshoof, Randy Bruder, Brent Sittlow, Tom Goltz and I'm sure others cut trails. Four excellent chefs provided handlers dinner Saturday evening, Dennis Baumann, Tom Goltz, Scott King and Kathy King. We are fortunate to have many dedicated members at CVGDA and count our blessings to be able to share this great event.
Eau Claire County manages several hundred thousand acres of mostly forested woodland. Their management philosophy includes providing multipurpose recreational opportunities with a long-term sustainable plan. The Chippewa Valley Grouse Dog Association has held grouse and woodcock trials at this same area since 1968. For some 50 years we have benefited from this great partnership with Eau Claire County. Josh Pederson, Parks and Forest Director - Eau Claire County does an excellent job of managing this property for all those looking to experience mother nature at her best. We will always be eternally grateful for the opportunity to spend time in this very special place.
The open shooting dog judges commented that this was a very high-quality stake with numerous birds in virtually all the braces. It took multiple find performances that any judge, in any cover dog championship would be satisfied with. First place went to Ghost Ryder (SM) handled by Jordan Pharris. He rattled off 3 confident grouse finds and 3 woodcock finds on the Wilson Park Course number one. He had a very satisfying race that always put him where the birds were.
Second Place was Northern Slopes Star (SF) handled by Ed Graddy. She tallied a woodcock early in the hour and a very pretty grouse find near the end of the brace. She went on to punctuate the performance with an extremely smooth finish on the snow covered Gasline Course.
Third Place went to Over The Hill Merry (PF) handled by Rod Lein. Many had four evenly spaced finds (3 woodcock and 1 grouse) on the Horse Creek Course in an action-packed hour.
We were especially appreciative to our two judges Brent Sittlow and Joe Landowski a very complimentary blend of the old and the new. Brent is a highly sought-after judge in the Midwest and Joe has paid his dues spending huge amounts of time in the woods and will be adjudicating trials for many years. Thanks so much for a job well done!
Don Didcoct Memorial Classic
You always appreciate your judges as they have put in many hours on the ground to look at all the dogs. As was aforementioned this was especially true for the Didcoct. Bert stepping up at the last possible moment was awesome. To get a judge of his caliber in this circumstance was outstanding. In addition, Chris Bye always gave full attention to the dogs on the ground and we really appreciate his expertise. The decisions were well received.
First place went to North Slopes Allie with Ed Graddy. Ed and his dogs are no stranger to the winner's circle as he also won the Didcoct last year. Allie ran on the "H" Course along the Eau Claire River in the seventh brace Saturday. She started off with a woodcock find at seven just past a small river switchback in a dogwood clump. She looked great! At 30 she had a nonproductive. At 36 she had an excellent find on a grouse that the judges suspected was on a drumming log earlier. Grouse are hard to get pinned down when they are drumming. The judges commented that both dog and handler exhibited a good amount of experience throughout the brace. Allie finished well to the front in an open area of hundred-year-old white pine.
Second place went to a first timer Lindsey Saetre and her dog Cedar. They also ran on the "H" Course which was a coincidence as all courses had numerous birds and almost all dogs had opportunities. At 8 Cedar established point and after an extended flushing attempt the handler flushed the bird 3 feet from Cedar in a dogwood clump. Cedar had a nonproductive at 18. At 37 she had a grouse find on a bird that exploded out of the cover. Near the end at 50 Cedar pointed a woodcock to wrap up an exceptional brace and win for Lindsey.
Third place was awarded to Rib River Tough Enough II run by Roger King on the gas line course the last brace of the stake. Tuffy, one of the two Brittany's run, established point at 2 minutes along the Hamilton Falls Firelane. He pointed into a small puddle with the woodcock at the edge. As the handler approached the woodcock flew only 10 feet (probably a tired migrating bird). In addition, a second bird walked off in front of the dog - very tempting! Tuffy had a nonproductive at 48 across the firelane and finished well to the front.
Open Derby
As mentioned earlier it was a monumental derby stake. We were fortunate to have two seasoned judges. Tim Callahan a CVGDA member, long time supporter and often winner judicated the young dogs. Greg Johnson a recent successful participant from our neighboring Moose River Grouse Dog Club. Both judges were very attentive and gave each entry their absolute focus.
First place went to Morgan run by Rod Lein. Morgan ran in the last brace on Horse Creek Course. She immediately worked her way to the front and established her awareness on birds early with a mannerly stop to flush on a grouse. At 25 she had an attractive find on a woodcock. Judges noted Morgan ran very well and there was a great bond between her and Rod requiring very little direction from the handler. At 38 Morgan had an outstanding woodcock find requiring a relocation after extensive flushing - the judges called this a great piece of bird work.
Second place went to Kyle Peterson with Easy Money. They ran Saturday afternoon on Diablo Jake Course. The judges admired the large forward casts and classy stylish fluid run. They agreed this was the best ground application of the stake.
Third place was won by Hackberry Amos Moses owned by Ben Brettingen. They teamed up on the "H" course first brace on Sunday. Moses had a statuesque find at 8 on the right side of the course in a dogwood thicket. The judges admired his wonderful style and also his fluid momentum going through the woods. In addition, the judges admired Bill Frahm's female pointer Evey and James Kleve's setter Ricky as two dogs that were knocking at the door.
At the end of the weekend, everyone exhausted, but also refreshed, having been part of a busy but very successful weekend. It's always fun to be part of a trial where everyone has a smile on their face.
See you this fall!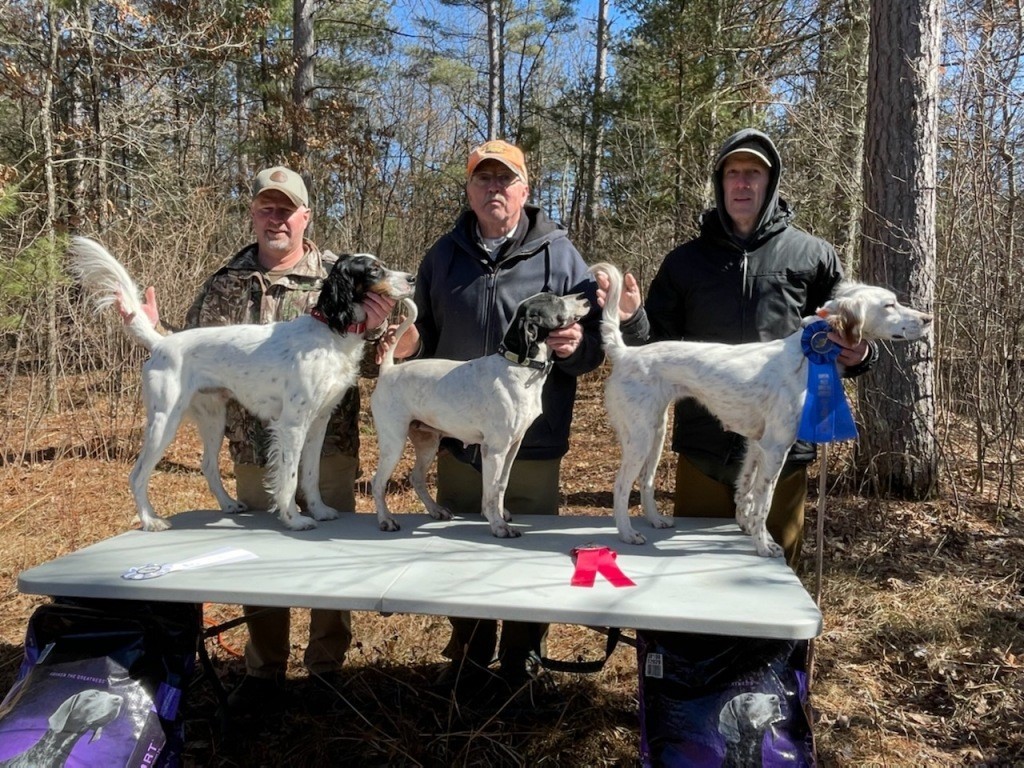 Open Shooting Dog. Front row: Jordan Pharris - Midnight Ghost Ryder, Ed Graddy - Northern Slopes Star, Rod Lein - Over the Hill Merry. Back row: Kyle Pederson, Joe Landowski, Keenan Foley, Dave Moore.

Augusta, Wis., April 8
Judges: Joe Landowski and Brent Sittlow
OPEN SHOOTINJG DOG [One-Hour Heats] - 2 Pointers, 16 Setters, 1 Brittany and 1 German Shorthair
1st-MIDNIGHT GHOST RYDER, 1661057, setter male, by Smoking Joe Hunter-Lehman's Rye Bread Isabela. Jordan Pharris, owner and handler.
2d-NORTHERN SLOPES STAR, 1666090, setter female, by Keystone's Red Recession-Abigale. James Graddy, owner and handler.
3d-OVER THE HILL MERRY, 1678045, pointer female, by Grouse Trails Cracker Jack-Diva Dot. Rod Lein, owner and handler.
Judges: Bert Benshoof and Chris Bye
DON DIDCOCT MEMORIAL AMATEUR SHOOTING DOG CLASSIC [One-Hour Heats] - 1 Pointer, 17 Setters and 2 Britanys
1st-NORTH SLOPES ALLIE, 1683547, setter female, by A Keystone Kid-Signature Ridge Cody. James Graddy, owner and handler.
2d-NORTHWOODS CEDAR, 1691883, setter female, by Erin's Prometheus-Northwoods Carly Simon. Eric & Lindsey Saetre, owners.
3d-RIB RIVER TOUGH ENOUGH TOO, 1663404, Brittany male, by Mark of the Hawk-J D's Hawk's Falcon. Roger & Kathy King, owners; Roger King, handler.
Judges: Tim Callahan and Greg Johnson
OPEN DERBY - 14 Pointers, 10 Setters, 1 Brittany and 1 Irish Setter
1st-OVER THE HILL MORGAN, 1699010, pointer female, by J T H Scion-Over the Hill Patty. Rod Lein, owner and handler.
2d-I'M EASY MONEY, 1693862, setter male, by Jetwood-I'm Blue Who. Kyle Peterson, owner and handler.
3d-HACKBERRY'S AMOS MOSES, 1695788, pointer male, by Elhew Sinbad-Numark Surefire Peg. Ben Brettingen, owner and handler.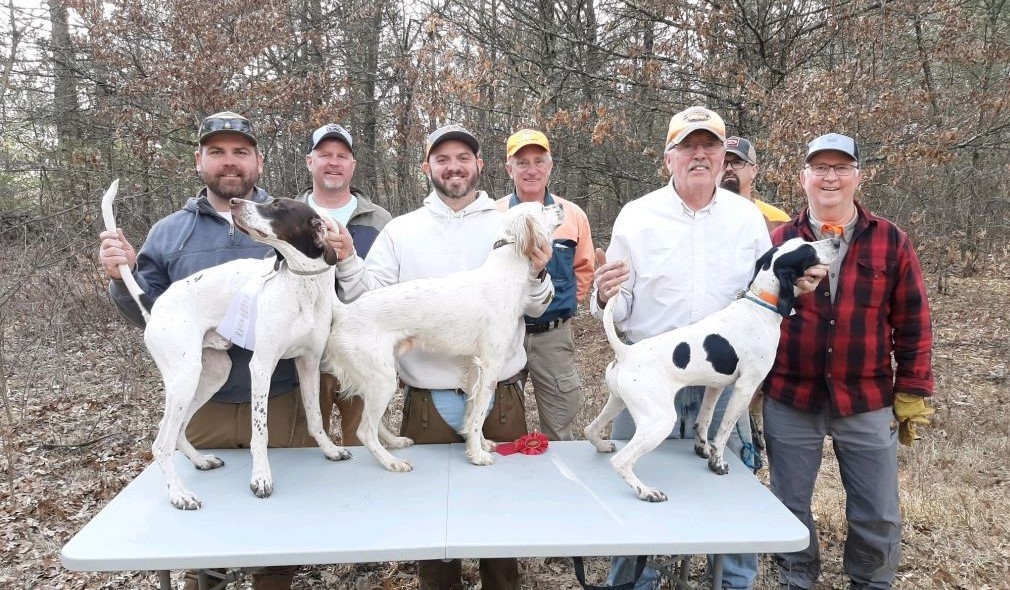 Open Derby. Front row: Ben Brettingen - Hackerry's Amos Moses, Kyle Pederson - I'm Easy Money, Rod Lein - Morgan. Back row: Greg Johnson (Judge), Tim Callahan (Judge), Keenan Foley, Roger King.