Result: All-America Quail And Derby Championships
Location: Cutler, Illinois
Post Date: Jun 30, 2022
Submitted By: Jim Atchison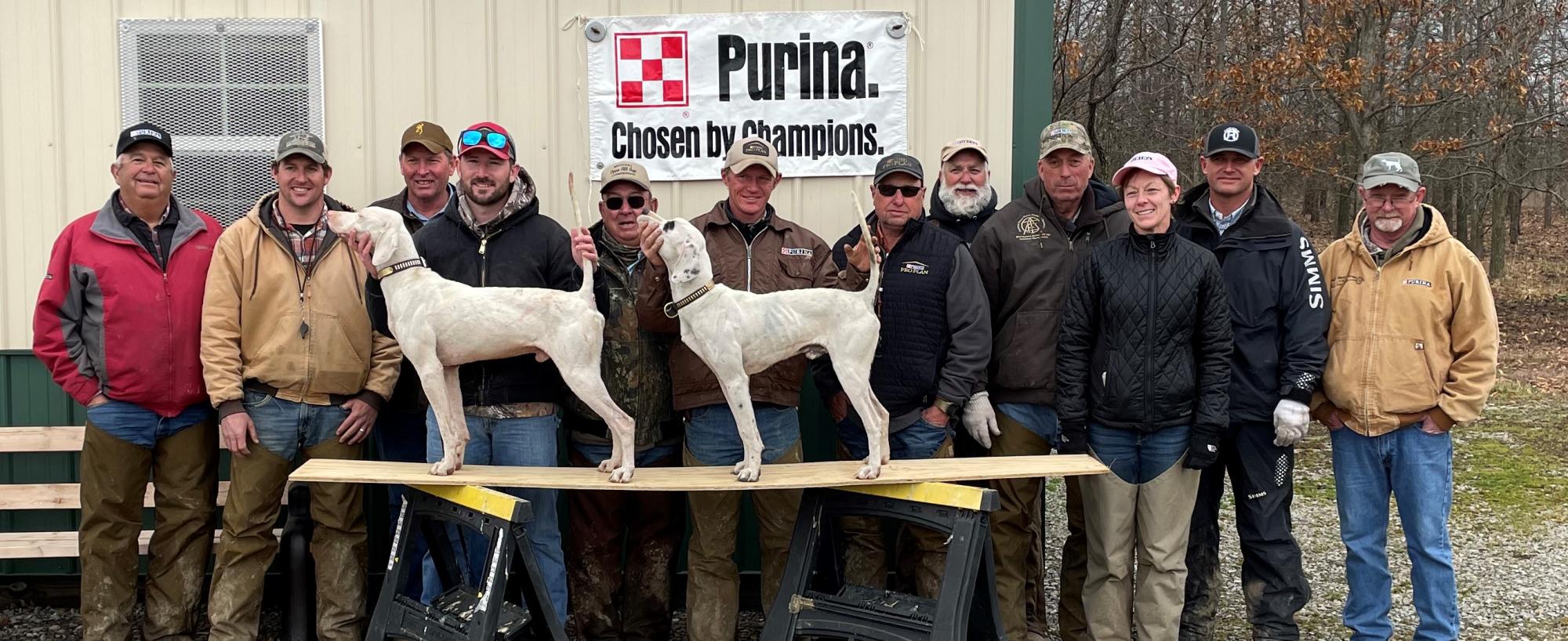 Derby Winners. (Front) Chris Cagle, Jr. with Haney's Storm Warning and Ryan Eichelberger with I'm Gallant. (Back, l to r) Gary Lester, David Russell, Chris Cagle, Judge Bill Mason, Randy Anderson, Judge Gary McKibben, Mike Small, Holly Hatfield, Nathan Phillips, and Rick Stanford.
The Hoosier Field Trial Club hosted their Derby and Quail (All-Age) Championships on the Captain Unit of Pyramid State Park near Cutler, Illinois March 6-8. The Derby Championship, which was run first, drew 15 dogs and the Quail Championship drew 22 entries. Bill Mason from Moundville, Alabama and Gary McKibben from Hernando, Mississippi judged both stakes.
Purina again sponsored the championships. Their financial assistance to the club coupled with bags of dog food awarded to the winning handlers was greatly appreciated. Additionally, the company's contribution of dog food, which was raffled by the club, added significantly to the club's ability to break even financially while hosting the stakes.
Jim Lawless and Kay Morrison worked like Trojans before, during, and after the championships. They were on site from early until late each day and still had all their chores and responsibilities at home to take care of. Jim picked up the birds, put them out daily, marshaled, and constantly helped anyone who needed help during their Illinois sojourn. In additional to being the secretary/treasurer of the Hoosier Club, Kay cooked breakfast in the club house each morning, provided lunches each day, and did much of the work each night during meals sponsored by others. Those meals were provided by Jon Lam on Sunday night and by Gary Lester on Monday night.
The three one-hour courses on Pyramid were in excellent condition, with evidence they would soon be even better, as lots of the invasive autumn olive was being removed. Jim Lawless shared with members of the club that the management of the park was very interested in and receptive to suggestions for making the property better for field trialing. He also projected that an additional loop was being added to the third hour course which would eliminate the frequency of handlers having to carry their dogs onto the beginning of the first hour course in order to finish the time remaining in the third hour.
Another addition to the Captain Unit field trial headquarters area was the presence of additional round pens for horses. Those were donated by individuals and appreciated by the handlers and judges who used them. The probability of piping running water into the club house was also mentioned as being an improvement to be made in the near future.
DERBY CHAMPION AND RUNNER-UP
Haney's Storm Warning won the Derby Championship, handled by Ike Todd for his owner, Chris Cagle from Woodlawn, Tennessee. The owner and his son, Chris Cagle, Jr., rode throughout both Championships. The personable pair was especially pleased that winning the Championship fulfilled Storm Warning's National Championship eligibility. The Champion was the top dog in the fourth brace. He backed his brace mate at 5 and then found birds three times, at 10, 43, and 45. Storm Warning was stylish, both running and on point, his manners were excellent, he was showy on a course that offered him plenty of opportunity to show himself, and completed the hour with a strong finish. Ike Todd handled the dog wonderfully and the pair made earning the title of Champion look easy.
I'm Gallant, owned by Jay McKenzie and handled by Randy Anderson, was Runner-Up. His sire, and also the sire of the Champion, was Valiant. The Runner-Up had an unproductive at 18, followed by two excellent finds which came at 34 and 51. I'm Gallant demonstrated every quality one might expect and hope to see in an extremely promising Derby. He was fast, forward, strong, and stylish; producing a genuinely fine performance enjoyed by those privileged to watch him.
OTHER DERBIES
Excalibur's Ice Blade and Pleasant Run Sally were the first pair of derbies to compete on the misty Sunday morning with the temperature at about 50. Ice Blade, owned by Scott Griffin and handled by Ike Todd, pointed at 5 and Todd flushed a single from under a dense cedar. That bird was flushed multiple times during both championships. He then had an unproductive at 16, achieved a superior find at 36 and shared a divided find with Sally at 45. Pleasant Run Sally was handled by her owner, David Hendricks from Russellville, Kentucky. She backed at 36 and participated perfectly in the divided find at 45, prior to finishing the contest.
World Class Moonshiner, owned by Mick Maretta and handled by Randy Anderson, went next paired with Lam's Prime Choice, owned and handled by Jon Lam. Lam's Prime Choice had a nice find at 5, which Moonshiner backed. Anderson chose to pick Moonshiner up at 37. Prime Choice finished the hour with the one early find.
Knights Little John, owned by Scott Griffin and handled by Ike Todd was braced with the Runner-Up in the second brace. He finished the hour but found no birds.
Skydance Marksman, handled by Anderson for Butch Houston, was braced with the Champion. He found birds at 5 but followed the birds when they flew and was picked up.
Dunn's Ever N" Onward and Shagtime Buck started brace 5. However, both Will Dunn, the owner/handler of Ever N' Onward, and Ike Todd, handling Buck for Chris Cagle, got their trackers early.
Lester's Storm Chaser, owned by Jannie Chapman and handled by Gary Lester, and Dunn's Sneak N' In, owned and handled by Will Dunn, ran next. Sneak N' In pointed at 13, but took off while Dunn was flushing. Storm Chaser pointed at 15, but following multiple unsuccessful relocation efforts, was then picked up by Lester at 20.
The final two braces of derbies were run on Monday morning, a day that proved to be raw, cold, and windy throughout. At 8:00 AM Phillips' Linebacker and Touch's Cocaine Blues were released. Cocaine Blues, owned by Matt Griffith and handled by Randy Anderson found birds at 21, but jumped forward when the birds were flushed and consequently, was picked up. Nathan Phillips, owns Linebacker with Orrin Ingram and was doing the handling. He asked for his tracker at 32.
The last entry was Rentz's Hijacked, owned and handled by Joe Rentz. Rentz chose to pick up Highjacked at 16, thus ending the Derby competition.
Cutler, Ill., March 6
Judges: BllMaxon and Gary McKibben
ALL-AMERICA-DERBY CHAMPIONSHIP [One-Hour Heats] - 13 Pointers and 2 Setters
Winner-HANEY'S STORM WARNING, 1691416, pointer male, by Valiant-Haney's North Star. Chris Cagle, owner; Ike Todd, handler.
Runner-Up-I'M GALLANT, 1696254, pointer male, by Valiant-Double Swami Dexie. Jay McKenzie, owner; Randy Anderson, handler.
ALL-AGE CHAMPION AND RUNNER-UP
Game Rebel, owned and handled by Dr. Fred Corder from Corinth, Mississippi, was Champion of the Quail Championship. The three year old Champion, sired by Dominator's Rebel Heir, stood first at 5, while he and his brace mate were both pointed; about 100 yards separating the two. Dr. Corder flushed and Rebel ran a strong forward race, continuing until 39 when he pointed a nice covey of wild birds. His two clean finds, coupled with his style and the way he handled the first hour course on the last morning of the championships earned him the coveted title of Champion.
Phillips' Linebacker, owned by Orrin Ingram and Nathan Phillips, holds a name that is special to his handler, Nathan Phillips. Nathan related that he was with his father at the time of his death and perhaps no more than one minute prior to his father's death his last words to Nathan were, "You should name a dog Linebacker". Nathan said he held that idea in his mine, hoping to someday have a dog with promise and to use the name. Thus, that's how this Runner-Up Champion got his name. Linebacker had birds once, at 56 in brace 9. He demonstrated excellent manners and ran a forward race, making some big swings as he ran strongly throughout the hour.
OTHER ALL-AGE CONTENDERS

Como Rain, owned by Doug Arthur, Billy Blackwell and David and Rachel Russell, was loosed by Billy Blackwell while Lester's Stemwinder, owned by Dan Hensley and handled by Randy Anderson, were the first to go in the Quail Championship. Blackwell asked for his tracker at 30. Anderson flushed over Stemwinder at 35, but picked him up when he marked flight.
Gary Lester had Lester's Bossman, owned by David Thompson in the second brace. Bossman had birds at 8, 18, 43, and 57, but erred on the contact at 57 and was picked up.
Como Thunder, a littermate to Como Rain and having the same owners, was handled by David Russell in the third brace, paired with Shagtime Max, owned by Chris Cagle and handled by Randy Anderson. Thunder finished the hour, having a UP at 10 and enabling Russell to flush a woodcock at 33. Max was lost and Anderson got his tracker at 22.
Bonner's Hot Rize, owned by Jannie Chapman and handled by Gary Lester, was braced with Miller's Leletto, owned by Karen Concilio and handled by Randy Anderson, in the third brace. The pair first stood in the positions of a divided find that proved unproductive. While both dogs were relocating, Hot Rize pointed and Leletto took a back, while Lester shot. At 24 Hot Rize pointed dangerously close to one of the former strip mines which is now a lake. That stand proved unproductive. Continuing forward, Leletto pointed and Hot Rize backed while Anderson successfully flushed. Both dogs finished the hour, ending the second day or running.
Dakota Nation, owned by Julie and Pat Roach was handled by Korey Rhinehart, while braced with Game Rebel, the Champion. Dakota Nation had unproductives at 5 and again at 22.
Brace six had Bonner's Bullet Proof, owned by Dr. Chris Concilio and handled by Randy Anderson, running with Small's White Charger, owned and handled by Mike Small. White Charger pointed at , but Small had no success while flushing. Then a bird flew after Small had stopped trying to flush. He had another find at 54 which Small easily flushed. Bullet Proof hunted the entire hour but found no birds.
Game Heir, owned and handled by Dr. Corder, and Lester's Storm Surge, handled by Gary Lester for Tommy and Bonnie Hamilton, both stood at 3 with their rear ends near each other, but pointing to different sides of a low to the ground and dense cedar. Both handlers went to opposite sides of the cedar, birds flew from both sides, and both handlers shot. Game Heir pointed again at 20 and 30, but no birds were flushed either time. Storm Surge finished but found no birds other than those found at the beginning of the brace.
Gary Lester had Miller's Speed Dial while Jonathan Burch loosed Burch's Set Em' Up Joe for brace eight. Both dogs were gone and both handlers got their trackers at 25.
Joey McAlexander's Misty Morn Masked Man was braced with the Runner-Up in brace nine. The Masked Man was gone for awhile and come along a side road returning to the front about 30 seconds after McAlexander got his tracker.
Lester's Shock Wave and Touch's Fire Away went next; Shock Wave handled by Gary Lester for Tommy and Bonnie Hamilton and Fire Away handled by Randy Anderson for Dr. Greg and Carmen Adams. Shock Wave had a find a 5, and pointed again at 7, with Fire Away backing. After a couple of relocations birds were flushed and both dogs continued. Both dogs were gone before the half hour and after more than 20 minutes the judges rode up to both handlers and gave them their trackers, thus ending the All-Age competition.
While things have been touch and go for the Hoosier Club and their continuing to host the All-America Championships has been uncertain the last couple of years, the club members were encouraged following this year's renewal. All left with optimistic anticipation of returning again next year and starting the running on March 10, 2023.
ALL-AMERICA QUAIL CHAMPIONSHIP [One-Hour Heats] - 21 Pointers and 1 Setter
Winner-GAME REBEL, 1691929, pointer male, by Dominator's Rebel Heir-Game Creek. Dr. Fred Corder, owner and handler.
Runner-Up-PHILLIPS LINEBACKER, 1695679, pointer male, by Phillips Off Line-Phillips Silver Lady. Orrin Ingram & Nathan Phillips, owners; Nathan Phillips, handler.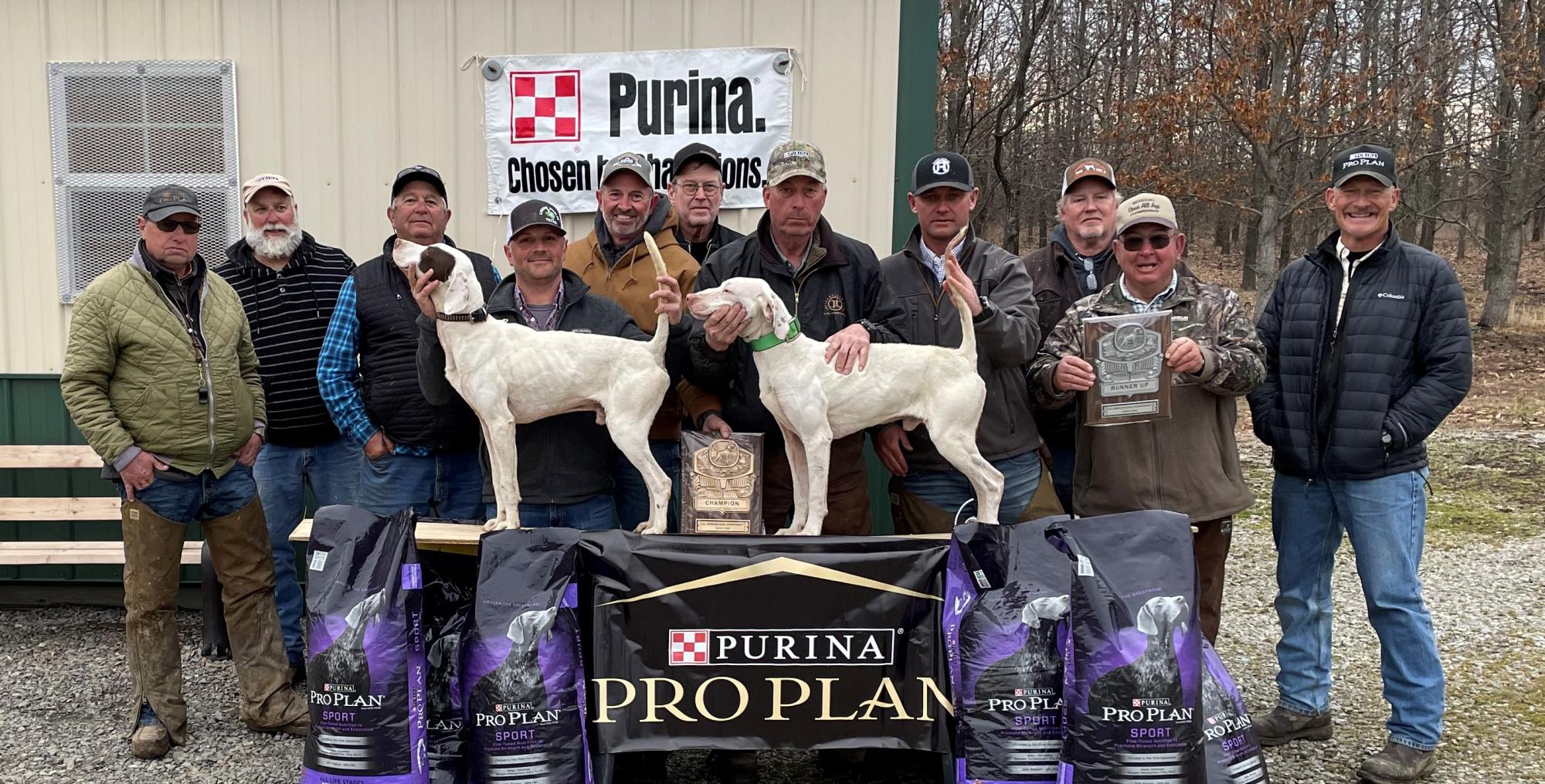 Quail Championship (All-Age) Winners. (Front) Kyle Graves with Game Rebel and Mike Small with Phillips Linebacker. (Rear, l to r) Randy Anderson, Judge Gary McKibben, Gary Lester, Dr. Fred Corder, Max Wimmer, Nathan Phillips, Jim Lawless, Judge Bill Mason, and Jon Lam.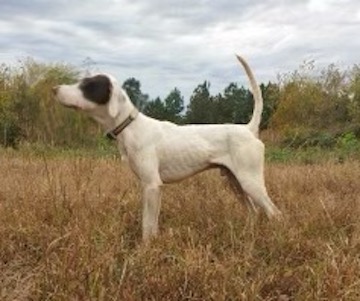 Game Rebel Winner of the All-America Quail Championship