Result: National Amateur Quail and Derby Championships
Location: Greenville, Florida
Post Date: Jun 30, 2022
Submitted By: Maria Bassham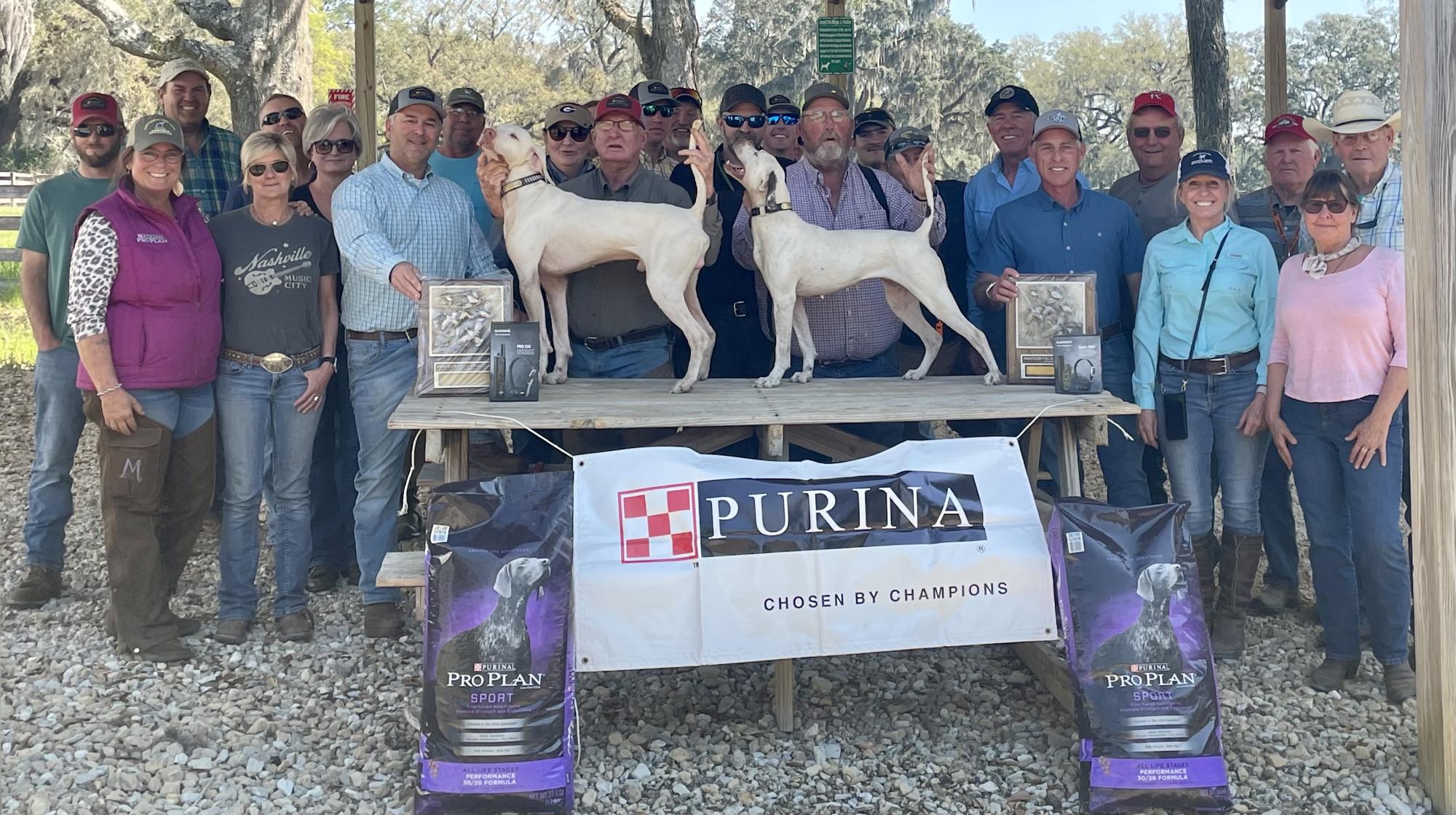 National Amateur Quail Championship Winners. Foreground, from left: Maria Bassham, Piper Huffman, Woody Watson, Cecil Rester with Touch's Blue Knight; Paul Daniel with Touch's Dancing Nancies; Kent Cantrell, Ruthann Epp, and Patty Sanderson. Behind, from left: Matt Pendergest, Lance Servais, Jim Pendergest, Amy Pendergest, Brian Peterson, Holly Rester, Keith Wright, John Hicks, John McCormick, Shannon Braden, Ben, Frank LaNasa, Randy Floyd, John Ivester, and Til Hankley.
The Amateur Field Trial Clubs of America held its 101st running of the National Amateur Quail Championship on the prestigious grounds of Livingston Place (formally named, and still always referred to as, Dixie Plantation) in Greenville, Fla. The 90-minute braces began on Monday morning, February 28, and concluded Friday morning, March 4.
The drawing for the all-age and Derby contenders was held Friday, February 25, and placed 68 dogs in their running order, braced together to run through the beautiful Spanish moss-draped live oaks and soaring pines of Dixie were friends and competitors of this Amateur Championship.
A huge thank you goes out to Greg Blair and Purina, the official sponsor and supporter of this trial. The winners were all presented with bags of Purina dog food as well as Garmin e-collars collars and handsome plaques.
Thank you to Randy Floyd, manager of Livingston Place and Shannon Braden and John McCormick for their continued help on the grounds and for marshalling the event. Gloria Hagen for always being there at lunch and with a smile, hug, and a few good stories of Dixie. We couldn't do It without any one of them.
Thank you to Piper Huffman for her beautiful spirit and being the glue that holds this organization together. Thank you to Til Hankley and Dan McCormick for driving the dog wagon and "biscuit bus" every day. They always had a cooler full of drinks and sweet snacks for all of us at brace change.
A big thank you to Holly and Cecil Rester for the Cajun Boudin appetizer evening and Purina for the big dinner on Thursday and heavy appetizers on Tuesday evening. The evenings spent together with friends and participants, exchanging stories of horses and dogs and birds, were such an enjoyable way of wrapping up each exciting day of competition.
Riding in the judicial saddles for the all-age dogs were AFTCA president Frank LaNasa of Isanti, Minn., and John Hicks of Amelia Island, Fla. For the Derby, we were honored to have the father-son duo of Terry Chastain, Jr. Of Donalsonville, Ga., and Terry Chastain, Sr. of Thomasville, Ga., judging our young dogs. We thank all these gentlemen for their time and expertise in judging these fine, four-legged athletes.
THE WINNERS
Touch's Blue Knight put on a show on the first afternoon for Woody Watson and Cecil Rester. The weather was overcast and temperature held steady at 57 for the duration of this 4th brace of the day.
This handsome all-white pointer male started his race strong and never faltered during his 90 minutes in the spotlight. Knight maintained a consistent speed throughout his entire performance. He had his first find at 30 minutes and pointed with style and confidence. That was soon followed at 40 minutes when point was called and another large covey got up.
He covered the ground quickly, making big aggressive moves, and hunted every step of the way. At 1 hour 11 minutes he had his third find and held his point in a motionless fashion. Not long after, at 1 hour 24 minutes, Knight had his fourth find with more commendable bird work and flawless manners. He ran a big, forward race finishing strong out front.
When time was called, he was still hard at work and would locate one more find. Knight had everyone riding high in their saddles while following along in his championship brace. The bar was set high for fellow competitors after watching such an outstanding performance.
Touch's Dancing Nancies owned and handled by Kent Cantrell was crowned runner-up after another invigorating brace on Tuesday afternoon. This white and liver pointer female had her first find at 21 minutes into the 8th brace with birds up and shot fired. Her next spectacular find was an hour and 5 minutes into the brace. Another covey flushed as she held her point high and tight for wing and shot. Ten minutes farther into the course, at 1 hour 15 minutes, she had her third and final find. Birds flushed rapidly upon arrival and she held her classy point until shot was fired.
Cantrell retrieved his dog on Paul's Hill and pleasingly returned with her. The dog wagon blew his horn and friends in the gallery that were anxiously awaiting her arrival applauded excitedly as he finished his dramatic brace.
The beautiful north Florida weather with sunny, bluebird skies and 70 temperature provided the perfect setting for this Tuesday afternoon.
THE RUNNING
Redhill's Rose (PM/ Paul Daniel) and Myakka Time Shifter (PM/Beth Brown). Rose ran a nice race on this first morning with temperatures at 58 and rainy conditions. She had two blank stands and Daniels elected to pick up. Myakka wasn't suiting her handler and was picked up at Cadillac Field at an hour 3 minutes.
Game Rebel (PM/Fred Corder) and Touch's Breakaway (PM/Gary Futch). Rebel had his first find at 1 hour 22 minutes at the top of Boyd Corner. A second find was seen and birds flushed wild before handler was able to dismount. There were two divided stands at 12 and 48. Both proved to be blank. Touch's Breakaway was picked up at 52.
Southern Bear Necessity (PM/Kent Cantrell; Paul Daniel) and Mohawk Mill Gangster (PM/ Gary Winall). Bear had a nice run with two finds at 45 and one hour 20 minutes. Gangster had two finds and a divided find at 15 min. He finished strong out front.
Notorious Dominator's Hei (PM/John Mathys; Ian McTavish) and Touch's Blue Knight (PM/ Woody Watson; Cecil Rester). Dominator was up before the hour and a half's end. Knight ran his exciting championship effort.
Chipper Jones (PM/Ruthann Epp; John Ivester) and Game Wardon (PM/Fred Corder). Chipper failed to respond to handler and was up at 58 minutes. Birds flushed wild for Wardon before judicial arrival. Corder called point but elected to take dog on. oAt 36 minutes dog was on a stylish find at the base of Pike's Peak. Wardon had a blank stand at an hour 26 minutes.
Mohawk Mill Knight Hawk (PM/Gary Winall) and Casey Creek Crystal Ice (PF/Buster Tucker). Hawk had a blank stand at 29 and chalked up a find at 59. A whitetail deer excitedly flushed from the pines. Hawk was picked up at an hour 5 min. Ice was up at 57.
Rester's Cajun Charlie (PM/Cecil Rester) and Confident Nation (PM/Scott Jordan). Charlie had an impressive find at 4 minutes across the main breakaway field. He finished the race strong and out front. Jordan picked up the retrieval device at an hour 15 minutes. When he was retrieved, Jordan's Confident Nation said "we couldn't hear him calling point."
Game Heir (PM/Fred Corder) and Touch's Dancing Nancies (PF/Kent Cantrell).Game Heir faded out of sight failing to return at 30 minutes. Nancy ran her classy runner-up heat.
Mohawk Mill Trail Warrior (PM/Gary Winall) and Dubose's Wonder Dog (PM/Bobby Dubose). Winall called point at 43 minutes. Quail were seen by judge but dog was not seen. Handler requested the device at the hour hour. Wonder Dog's unit was retrieved at 38.
Dialed In (PF/Jim Pendergest) and Showtime Mocking Jay (PF/Larron Copeland). Breakaway for this duo was on top of Acorn Hill. At 39, Pedergest was requested for the retrieval unit Dialed In. Jay had a point at 10 and birds flushed wild before judicial arrival. At 12 another point was called and covey flushed for the big hat, little hat team. Jay then had a blank stand at 52 and was picked up at 56.
Always Dreaming (PF/Kent Cantrell; Paul Daniel) and Cheyenne Nation (PF/Scott Jordan). Dreaming was picked up at 34 minutes. Cheyenne had a blank stand at 27 and was picked up at an hour 7 minutes
Both Storm's End (PF/Matt Pendergest) and Marques Armed Robber (PM/John Ivester; Ruthann Epp) ran an exciting, forward race. Temperatures were not in the dogs' favor this hot afternoon and both handlers elected to pick up at an hour 9 minutes.
Pendy's Good Grace (PF/Matt Pendergest) and Rester's Cowboy Bill (PM/Cecil Rester). Grace covered the ground and had a forward moving race. The retrieval unit was picked up at an hour 28 minutes. She was found by her handler still performing and holding a steady point. The device was requested for Bill at the Y at an hour 13 minutes.
Showtime Game Changer (PM/Larron Copeland) and Rebel Grace (PF/David Williams). Point was called for Showtime at 50 minutes. Covey flushed, birds were seen, but dog had moved out to the front. He was picked up at 55 minutes. Grace wasn't suiting her handler and was picked up at an hour 11 minutes.
A warm afternoon and temperatures challenged both Mohawk Mill Image (PM/Gary Winall) and Southern Shadow T Rex (PM/Brian Peterson). Handlers secured their devices at 41 and 53 minutes, respectively
Dunn's Tried'n True (PM/Will Dunn) was scratched. Rebel Dreams (PF/David Williams) was a bye dog. Williams called point at 23 minutes but covey flushed wild before handler was able to dismount. He was relocated and more birds got up. He was picked up at 23 minutes.
Both Lester's Top Recruit (PM/Lance Servais) and Rebel Survivor (PM/David Williams) ran an exciting last brace. Top Recruit had a divided find at 35 minutes. He was relocated but had a blank stand. He then had a handsome find at 41 minutes as birds got up to side of dog. He was relocated but had an unofficial find due to judges not seeing the birds. At 52 minutes he was front dog on a divided find and held steady for wing and shot. Servais elected to pick up at 54 minutes to give Rebel a fair chance to get it done. Rebel had a stylish find at 26 minutes and two divided finds, backing both times at 35 and 52. His Last point was at an hour 3 minutes. Rebel finished strong with Williams at his side at the end of his 90-minute brace.
Greenville, Fla., February 28
Judges: John Hicks and Frank LaNasa
NATIONAL AMATEUR QUAIL CHAMPIONSHIP [Ninety-Minute Heats] - 30 Pointers and 4 Setters
Winner-TOUCH'S BLUE KNIGHT, 1680548, pointer male, by Touch's Knight Rider-Touch's Maswood Anne. Woody Watson, owner and handler.
Runner-Up-TOUCH'S DANCING NANCIES, 1680402, pointer female, by Touch's Big Whiskey-Blackhawk's Sunflower. Charles Cantrell, owner and handler.
AMATEUR DERBY CHAMPIONSHIP WINNERS
The last brace of the day proved to be a very exciting one on Saturday afternoon. Both forthcoming winners of the Derby Championship were braced together for this nail-biting hour.
Erin's Code of Honor, handsome pointer male owned and handled by Sean Derrig, took the took No. 1 spot. Rester's Powered Up, pointer male owned by and by Cecil Rester with Woody Watson scouting, secured runner-up.
These dogs ran a very forward, true all-age style brace with distance and class. Powered Up started the excitement with a find at 36 minutes. Birds were well located. He held steady for wing and shot. Both dogs were on a thrilling cast out front and both of handled extremely well. They raced to the top of the hill south of the big lake and each had a classy find with separate coveys at 50.
Honor had two more finds at 52 and 59. We held our breath as birds flushed in the last few moments of the brace. Both dogs finished the exhilarating 10th brace leaving the gallery wanting more.
Judges: Terry Chastain and Terry Chastain, Jr.
NATIONAL AMATEUR DERBY CHAMPIONSHIP - 32 Pointers and 2 Setters
Winner-ERIN'S CODE OF HONOR, 1696057, pointer male, by Erin's Redrum-Erin's Miss Maggie. Sean Derrig, owner and handler.
Runner-Up-RESTER'S POWERED UP, 1694447, pointer male, by Showtime Sam Houston-Rester's Katie Lee. Cecil Rester, owner and handler.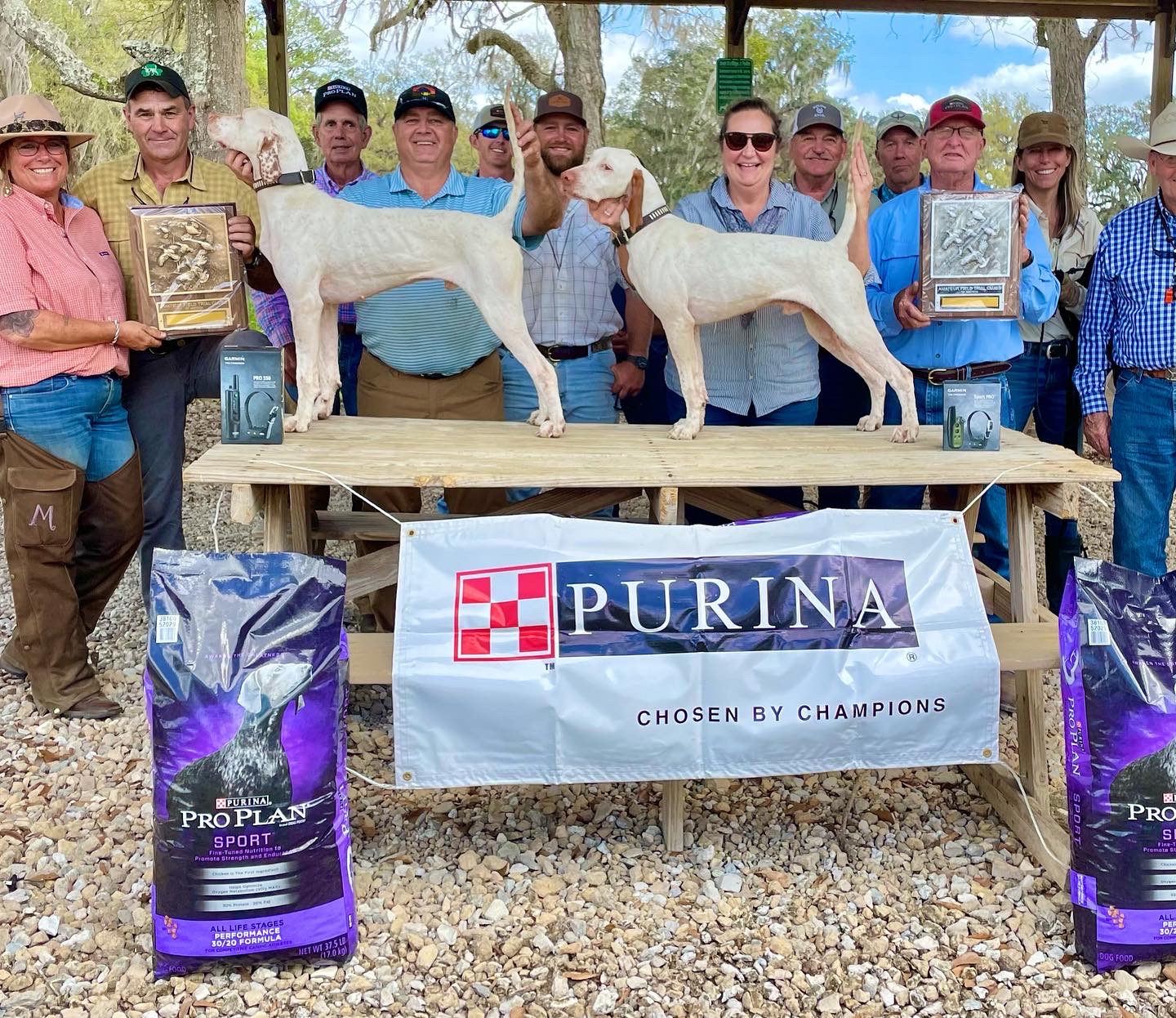 Amateur Derby Championship Winners. From left to right: Maria Bassham, Sean Derrig with winner's plaque; John Milton, John Mathys with Erin's Code of Honor; Shannon Braden, Judge Terry Chastain, Jr., Holly Rester with Rester's Powered Up; Judge Terry Chastain, Sr.; Ian McTavish, Cecil Rester with runner-up plaque; Lorrie Beaulieu Bohl, and Til Hankley.