Result: Sedgefields Youth Field Trial
Location: Union Springs, Alabama
Post Date: Jun 30, 2022
Submitted By: Written by: Connie Hicks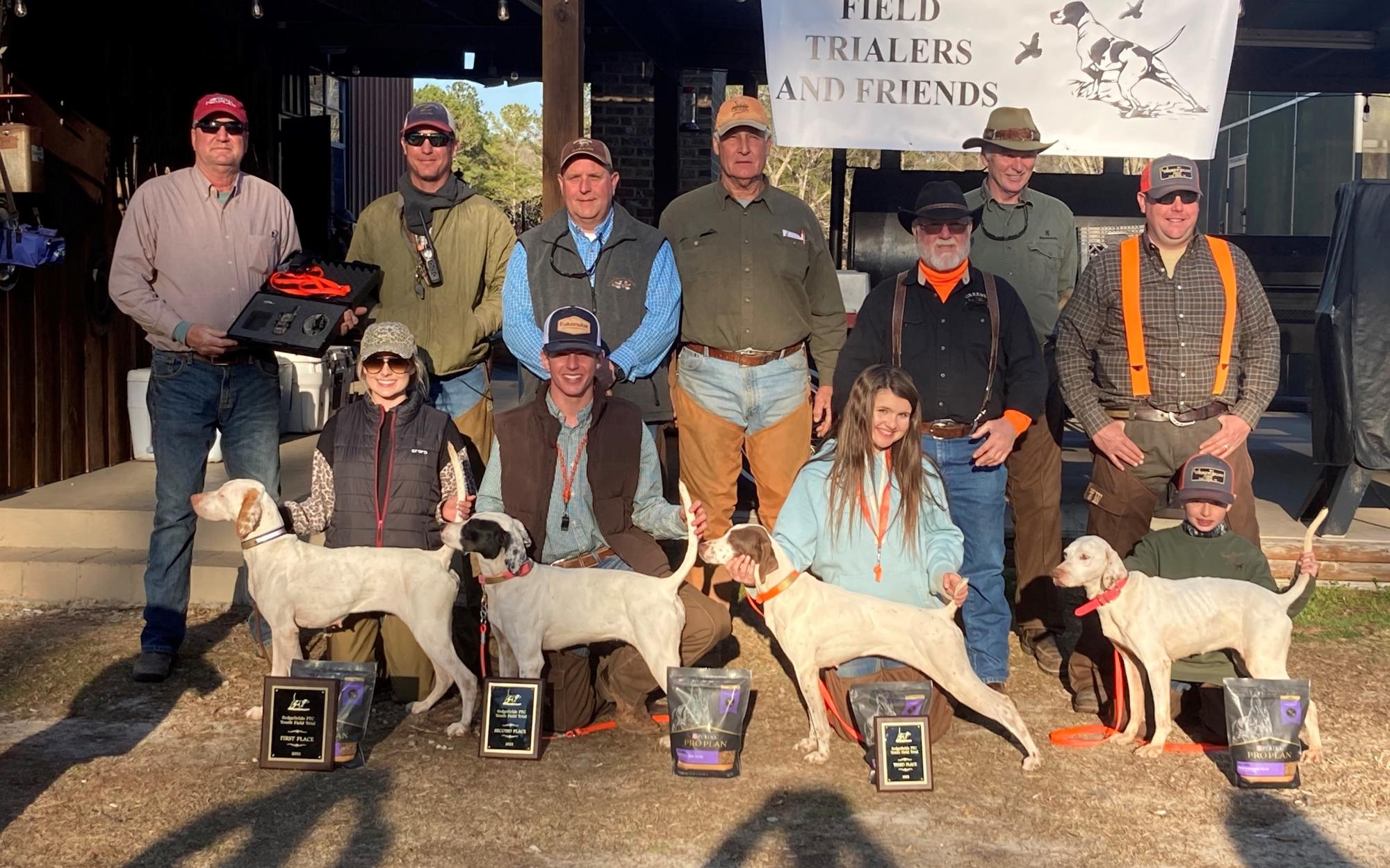 1st place Addison McDuffie with Dot, 2nd place Braden Renfroe with Rook, 3rd place Reese Gree with Josie, Honorable Mention Sterling Woodruff with B,
Hunter McDuffie, Judge Bo Brewer, Gabe Renfroe, Judge Tommy Hicks, Mike Green, Darron Hendley and Woody Woodruff.
[Rode and Dictated by Morgan Brewer]
Sedgefield's Field Trial Club held its annual Youth Field Trial on February 19. This one-day continuous course trial was held on the beautiful grounds of Greenway Sportsman's Club in Union Springs, Ala. This was the 5th consecutive year that Greenway has hosted this great trial. A very special thanks goes out to the Green Family, Mike, Jan, Justin and Cody, for their continued support, and always going above and beyond for our youth.
Mrs. Jan prepared a wonderful lunch of chicken spaghetti with all the fixings, Mike and Justin always do a superb job hosting and marshaling, and Cody handles the dog wagon. Many thanks to Robert Moorer, Darron Hendley, and the Alabama Field Trial Association, and the Youth Field Trial Alliance for their endless support for Youth Trials in the South. The beautiful trophies were donated by Jack and Fran Miller, and as always Purina with all their generous gifts to our youth. Judges for the day were Tommy Hicks and Bo Brewer. With 16 entries, these judges were ready for a very exciting day.
It was a beautiful picture perfect morning, with breakaway at 10:00, the temperature at 50 degrees, and a very large gallery; dogs were called to the line.
THE RUNNING
Brace one started right on time with Addison McDuffie and her pointer female Dot, and Katie Bell Varner with pointer female Sassy. Five minutes into the brace Varner had her first fine, and McDuffie came in with bird work at 12, with Varner honoring with a back.
Brace two was called to the line with Hayes Green, our youngest handler with his pointer male Jake, and Sterling Woodruff with his pointer female Sammy. Green got busy with a find at 6, 9 and bird work at 12 and 19. Woodruff came in with a divided find at 6 and 9 and finished out the brace with bird work at pickup.
Bell handled by Ella Grace Montgomery and Ole Red handled by Addison McDuffie were in the 3rd brace. Montgomery scored her first find at 9, and another at pick up. McDuffie had an unproductive at 15 after a lengthy relocation.
After breaking for lunch, the afternoon braces started back at 1:00 with a temperature of 60 degrees.
Fourth brace was on the line with Reese Green and her German Shorthair male Bo, and Braden Renfroe with his pointer female May. Three minutes into brace, Renfroe had a nice find. Green and Renfroe had a divided find at 15. Green had a find at pick up with Renfroe honoring with a back.
Fifth brace was called up with Shelby Street and her pointer female Jenny and Hayes Green with his pointer male Jack. These youngsters worked their dogs hard; unfortunately time was called with no bird work.
Jane handled by Claire Street and Clay handled by Katie Bell Varner were in the 6th brace. Street had a find at 17. Varner had at find at 4, and an unproductive at 15 after a good relocation.
Seventh brace was called up to the line with Sterling Woodruff and his pointer female Bee and Ella Grace Montgomery and her setter female Jill. Woodruff struck early with bird work at 7, and had his second find at pick up. Montgomery had a good race but unfortunately fell short with bird work.
Rook handled by Braden Renfroe and Josie handled by Reese Green came to the line for the 8th brace, the last brace of the day. Renfroe had an unproductive at 4 but finished the brace with perfect finds at 14, 16 and 19. Green had a nice find at 7.
As all participants, family and friends gathered, the anticipation of the announcement brings so much excitement, as it should. These youth work so hard, they might compete against one another; however, they are one of the closest groups of kids you will ever meet.
The Winners
1st- Dot- A. McDuffie
2nd- Rook- B. Renfroe
3rd- Josie- R. Green
Honorable Mention- Bee- S. Woodruff
Thanks again to the Green Family for graciously sharing their beautiful grounds for all of us to enjoy. Also, thanks to our judges, Tommy Hicks and Bo Brewer for their dedication and time to help our youth grow and love our beloved sport.

All the participants along with parents, grandparents, family members and well wishers.