2023 Hall of Fame Nominations - Updated Weekly
Submitted by peers in the field trial community
May 26, 2023
Source: Dinora Wellmann
Department: UKC Hunting Ops/American Field
Email: dwellmann@ukcdogs.com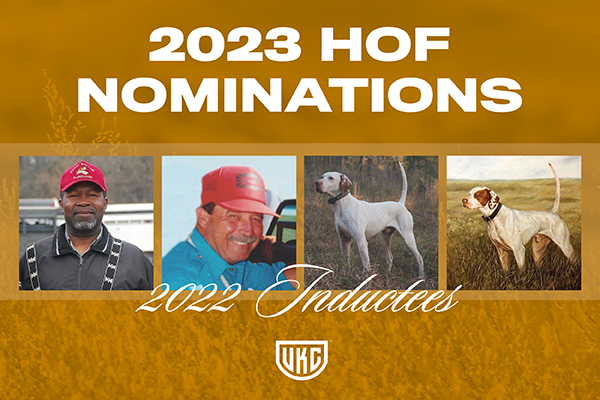 Pictured above are the 2022 inductees: David Johnson, Fred Rayl, Miller's Happy Jack, Just Irresistible. Read more on the 2022 inductees on page 2 of the December UKC Field Newsletter
Nominations received as of 5/26/23. Nominations are updated weekly, each Friday.

For questions regarding the UKC Field Newsletter, email Gina Smith at gsmith@ukcdogs.com
***Ballots and voting instructions will appear in the September issue of the UKC Field Newsletter. *** Subscribe to the UKC Field Newsletter
UKC reserves the right to edit nominations for length.
HALL OF FAME / FIELD TRIAL PERSONALITY
Gary Lester
Submitted by Jack Griffin
During the twenty years I have known and observed Gary Lester, I have come to appreciate his knowledge and dedication to the sport. Gary has won six National Championships. He conducts himself as a gentleman and is always willing to help others. Gary is qualified and deserving to be in the Field Trial Hall of Fame. I ask you to join me and honor Gary Lester's dedication and success by voting for him to be elected into the Field Trial Hall of Fame.
Gary Lester
Submitted by Joe Don House
I would like to nominate Gary Lester for the Field Trial Hall of Fame. I have personally known Gary for over twenty-five years. He more than meets the qualifications for this honor. He has much knowledge about handling champion birddogs and is always willing to share his insights with others. Gary has campaigned many champion dogs in his distinguished career. He is consistently giving back and showing his dedication to the continuation of the sport of field trialing which he has been involved with for the past twenty years. Gary has won most of the larger trials in the United States including the National more than once. He has been involved in managing trials and judging field trials at all levels.
Rich Robertson
Submitted by Robert Pettit
Casting my vote for Rich Robertson. An honorable man who believes in fair play and the best dog wins. I competed against Rich in the seventies and eighties. As a trainer/handler there's none better. As a friend he's at the top of the list. He's developed and handled many Champions in top flight competitions. There are many people deserving of the Hall Of Fame but Rich Robertson should be at the top of that list.
Richard Robertson, Jr.
Submitted by Stephen Asher
This letter is in support of the nomination of Richard Robertson, Jr. for the Field Trial Hall of Fame. I have known Richard for over 40 years during which he has demonstrated qualities not only as a trainer and handler, but also as a mentor, judge, club member, and trial organizer. We were together on the Canada prairies where I saw his wizardry with the dogs he later campaigned throughout the U.S.
His skills have led to 32 appearances at the National Championship, where he has handled 64 separate dogs, including Tekoa Mountain Hope, Tekoa Mountain Knikki, Tekoa Mountain Sunrise, Hick's Rising Sun, Alamance Little Rock, Brick Church Sundrop, Desert Rambler, Pacesetter's Equinox, Tommy B, T's Gunrunner; two of these are now in the Field Trial Hall of Fame.
Although he has competed with other pointing breeds, Richard's dedication has been to the all-age English Setter. As a result of the Robertson's breedings, their dogs have become the foundation of the modern setter. He has been a sound and encouraging voice for novices to the sport and a resource of wisdom for those more knowledgeable.
Richard Jr. represents the best qualities that serve to perpetuate the essence of field trialing.
David Williams
Submitted by Jim Atchison
I have known David Williams for more than 30 years. I believe he is one of the most passionate people about field trialing I have ever known. In fact, I think he "checks every box" for induction into the Field Trial Hall of Fame and hope you will join me in supporting his nomination. In this limited space (200 words or less) I would like to mention some of those numerous contributions he has made to this sport. They include the outstanding field trial venue he has created and which he generously shares with numerous other clubs and organizations. Additionally, David has served a leader who has held many elected and appointed offices on the local, regional, and national levels. He breeds, raises, trains, and successfully campaigns his dogs of the "Rebel" bloodline. He judges, scouts, marshals, and freely helps many individuals and clubs. He supports the professional counterpart of field trialing. And finally, David's character, demeanor, and hospitable ways are most admirable. His love for his family, his reputation as an honorable man, and his welcoming and hospitable ways add immeasurably to field trialing. Please help secure this Hall of Fame recognition for our friend, David Williams.
David Williams
Submitted by Lisa Corinne Suiter Little
Throughout my field trial experiences, I have had the honor of meeting many fantastic people. But I believe it is difficult to find a field trialer that gives more generously to our sport than David Williams. I would like to draw your attention to two examples of that generosity that I have personally witnessed. In the summer of 2020, military personnel at Fort Campbell Military Installation informed me that we would no longer have access to the grounds. In response to the situation, David invited us to permanently move the American Quail Classic Open All-Age field trial, along with the Clarksville Pointer & Setter and the Clarksville Bird Dog amateur field trials to the Huntingdon, TN grounds. Those three trials would no longer be in existence if it wasn't for this wonderful gift. In May of 2019, I was elected to the position of the Region 6 Secretary. During my tenure I have relied upon David's insight and wisdom in various situations. I could not have asked for a better friend, mentor, counselor, and fellow competitor. I encourage each of you to support the nomination of David Williams into the Field Trial Hall of Fame.
David Williams
Submitted by Allison Williams Daniels
I have had the amazing privilege to have been exposed and encouraged to participate in our great sport since I was born. I am forever grateful and have my father, David Williams, to thank for laying that foundation in my life.
My father's passion began at a young age quail hunting around his home in West Tennessee. Since the 1980s, he has taken great pride in breeding, developing, training, handling, scouting and judging dogs in Amateur and Open stakes, in both the Shooting Dog and All Age circuits. He has given endless time and effort, volunteering on numerous boards and committees over the years -- my dad has always served without hesitation.
The most significant and beloved part of my dad's involvement in this sport is hosting field trials at my family's farm in Carroll County, Tennessee. Since the early 90s, he has graciously hosted in excess of 100 stakes on this land that he put together. The time, enormous financial commitment and devotion to this part of his hobby is all for his love of the sport.
Through his extraordinary efforts, my father has been a true ambassador to field trials in every aspect for nearly the past half century. I proudly nominate and ask for your support in electing this very deserving man, David Williams, into the Field Trial Hall of Fame.
David Williams
Submitted by Gary McKibben
I bought a setter puppy from David Williams in 1979. Our first conversation was about bird dogs and over the last 44 years 99% of our conversations have been about bird dogs. I'd wager our last conversation will also be about bird dogs. David is and has always been dedicated to the advancement and preservation of field trials and bird dogs. To look at the field trial grounds he has bought and developed in Carroll Co Tennessee are proof. David has participated in all aspects in the field trial world. He breeds, raises, trains and runs most of his dogs. He has offered his time and energy in many different capacities as officer in numerous clubs including past president of the AFTCA. David has exhibited all of the qualifications that are expected of someone that is enshrined in the Field Trial Hall of Fame. Please join in his support of this honor.
David Williams
Submitted by Quintin Wiseman
Before I met David Williams I had heard of his Carroll County grounds and all the work and money he puts into them and his pre-release program to ensure a top quality field trial. Fast forward to when I went there for the first time to judge the Carroll County Open All-Age. I could instantly see there had been a lot of time and money invested into the grounds. The way I was treated by David while there judging was unbelievable. About the time I thought we judges were being treated special, I took notice he was treating everyone with the same respect! David Williams is the epitome of the HOF as he has selflessly given as much or more back to the sport as anyone involved and never asks for anything in return. He and I had lengthy talks and he was a big supporter getting the United States Amateur Derby Invitational off the ground and he was full of advice when asked. I enthusiastically support David Williams for HOF!
HALL OF FAME / FIELD TRIAL DOG
No nominations received yet as of 5/26/23
WANT TO MAKE A NOMINATION?
Additional nominations are welcomed and will be accepted via email to Dinora at dwellmann@ukcdogs.com
For questions regarding advertising and the print version of the UKC Field Newsletter, contact Gina Smith at gsmith@ukcdogs.com
An official entity of United Kennel Club (UKC), the American Field legacy, mission, and Field Dog Stud Book certified pedigree database is carefully managed by UKC for the continued betterment of field trial dogs. UKC is committed to the American Field community, and all hunters, breeders, clubs, associations, and participants.
Back to American Field News >